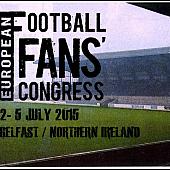 The event is being hosted by the Amalgamation of Official Northern Ireland Supporters' Clubs (AONISC), an FSE member with support from the Irish Football Association.
Over 250 fans from 30 countries will be in attendance at the event and will be joined by fan project workers, Supporter Liaison Officers, fan lawyers, fan researchers, governmental officials, politicians and representatives of the governing bodies of football.
After a get-together and meet and greet on Thursday evening, the #EFFC2015 programme will start on Friday morning.
Workshops, meetings, panel discussions and the first part of the AGM will start on Friday afternoon at Seaview and continue on Saturday at Stranmillis College. On Sunday morning, the final part 2 of the FSE AGM will take place at Stranmillis College, where members of FSE will - amongst other things - elect their new Committee for the coming year.
For more information visit: www.fanseurope.org