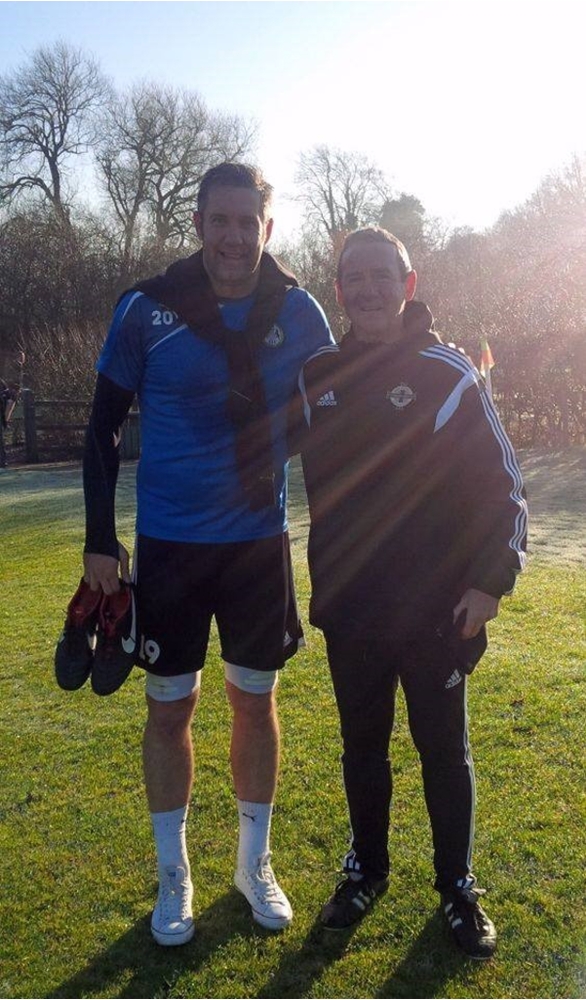 Their six day pre-season trip will all be based around fitness training with sessions planned each day at 7am, 11am and 4pm.
After meeting up recently with manager and friend Adrian Pennock, Seamus Heath, the Irish FA's Grassroots Development Officer for Newry, Mourne and Down described to Aidy the excellent indoor and especially the outdoor facilities in the Mourne area.
"I got to know their manager over the last four years as we did the UEFA Pro Licence together and have kept in touch," said Seamus.
"It didn't take much selling to Adrian when he saw what facilities were on our doorstep, from the Castlewellan Lake, Donard Park mountains, Cross-fit gym and Murlough beach.
"As Forest Green are known as the most Eco friendly club in the world it is great to see that they are more than a football club.
"Their activities both on and off the field are a credit to the whole sporting world with the awards which they have achieved."
Forest Green Rovers are the only football club in world football to achieve the gold mark standard for environment performance. Their initiatives at the club include underground water irrigating the pitch, LED lights lighting the ground, organic pitch principles used and organic food served throughout the ground.
It has been planned for representatives from Newry, Mourne and Down district council to meet up with Forest Green Rovers chairman Dale Vince to discuss his excellent environmental views and implemented ideas at his club.
Grassroots football would like to thank Hillyard House for arranging all their accommodating needs, Cross-fit gyms for their facility use and Downpatrick FC's Tony McShane who assisted with their travel needs.
Seamus added: "It is also planned to organise a Q&A evening with their manager, fitness coach and captain for all our local coaches to enhance their football knowledge with the latest topics, ideas and answered questions."