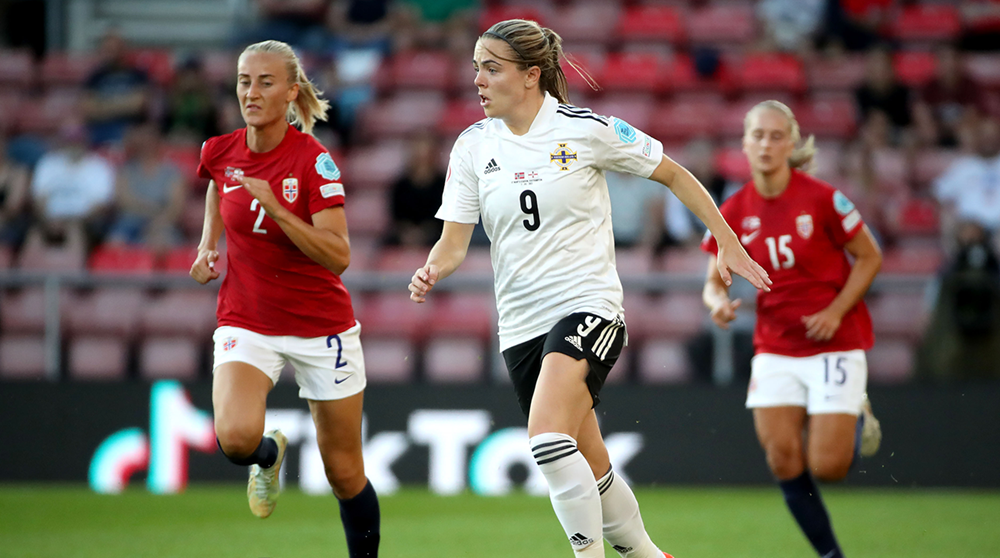 Northern Ireland striker Simone Magill is featured in a new UEFA TV documentary series looking at the rise of women's football in Europe.
The striker exited UEFA Women's Euro 2022 last summer after damaging her knee in Northern Ireland's first group match – and in the third episode of the six-part series she discusses the ACL injury and how it impacted her involvement in the tournament.
Equals, which puts viewers one-on-one with some of the top stars in the women's game like never before, is now available free to view on uefa.tv, the online TV channel of European football's governing body.
The series examines the rapid rise of women's football across Europe as well as the challenges that remain, against the backdrop of a record-breaking UEFA Women's Euro 2022 which captivated audiences the world over.
It includes snippets of footage from Northern Ireland's three group matches at the Euros.
Episode three, entitled Hero to Zero, shows how injury and illness took their toll on some of the game's leading lights, including Magill.
In the episode the Northern Ireland striker reflects on her participation at the tournament. It also shows her undertaking rehabilitation work at her new club, Aston Villa.
Nadine Kessler, UEFA managing director of women's football, said about the series: "I am incredibly grateful to the players who shared their stories and emotions for this series in the midst of last summer's historic UEFA Women's Euro 2022.
"Because of that Equals gives viewers unprecedented access with the top stars in our sport, from the highest of highs to the lowest of lows. Fans will experience the game like never before, as well as better understand the exciting future that lies ahead for women's football."
Each episode features a principal theme as players from all 16 teams that participated in Women's Euro 2022 candidly share their experiences and opinions and also discuss the road ahead for future development.