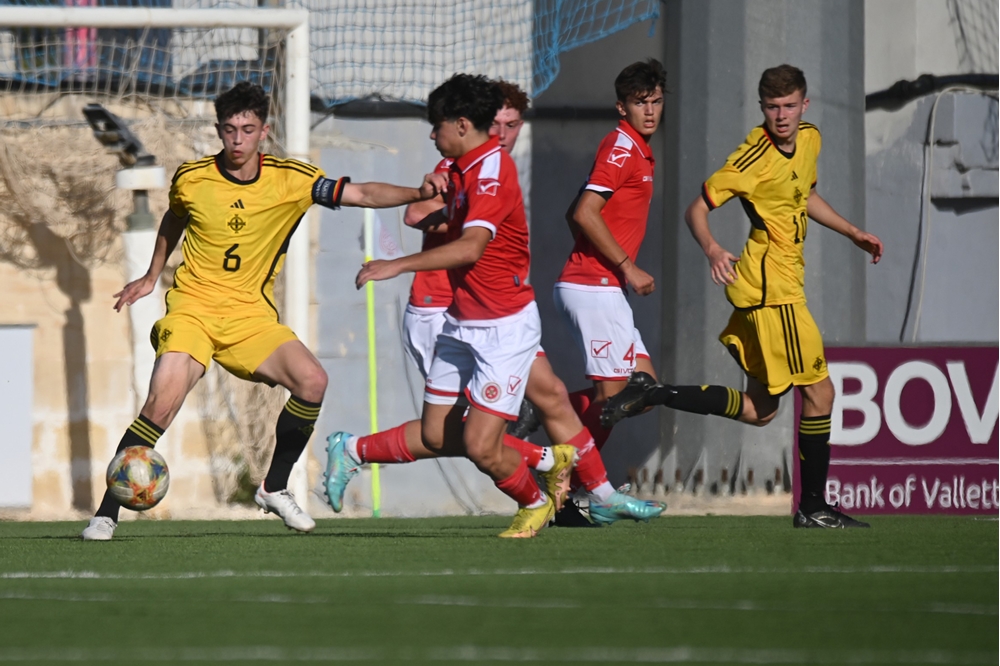 Image: Ryan Donnelly, seen here in action for Northern Ireland U17s against Malta U17s back in the autumn, has been included in the JD Academy squad for the match against Australia's U17s.
An Under-15/Under-16 team from the Irish FA JD Academy are set to take on Australia's U17s in a friendly later this month.
The game will be staged at the Blanchflower Stadium, home of Harland and Wolff Welders, on Monday 23 January (7pm kick-off).
All the players in the 20-strong squad for the friendly in east Belfast currently attend the Irish FA JD Academy. Based at Ulster University's Jordanstown campus, it is Northern Ireland's only full-time residential academy for young footballers.
Kris Lindsay, who will be in charge of the academy team, said: "The game against Australia will allow our young players the opportunity to experience a different style of play than they are used to when facing European opposition.
"It will be an excellent aid to their development as young players, and it is also a rare opportunity for our players within the Irish FA JD Academy to come together as a team and implement within a game situation the technical and tactical work that is the focus of our academy sessions."
There's free entry to the match on 23 January.
The Irish FA JD Academy squad for the friendly v Australia U17s:
Goalkeepers – Dara McAuley (Derry City/Belfast High School), Joshua Gracey (Glenavon/Belfast High).
Defenders – Theo McToal (Glentoran/Belfast High), Nikhil McFaul (Linfield/Belfast High), Logan Graham (Glentoran/Belfast High), Conor Haughey (Glentoran/Blessed Trinity College Belfast), Calum Moreland (Linfield/Glengormley High School), Conor McVeigh (Linfield/De La Salle College Belfast), Callum Cowan (Linfield/Ballyclare Secondary School).
Midfielders – Ryan Donnelly (Dungannon Swifts/Hazelwood Integrated College Belfast), Blaine McClure (Linfield/Boys' Model Belfast), Jack Doherty (Derry City/De La Salle), Callum Burnside (Linfield/De La Salle), Dylan Stitt (Linfield/St Mary's CBGS Belfast), Oilibhar McCart (Cliftonville/Colaiste Feirste Belfast).
Forwards – Jude Johnson (Glentoran/De La Salle), Braiden Graham (Linfield/De La Salle), Kenzie Beattie (Linfield/Lagan College Belfast), Rhys Walsh (Glentoran/De La Salle), Cole Brannigan (Linfield/Edmund Rice College Newtownabbey).