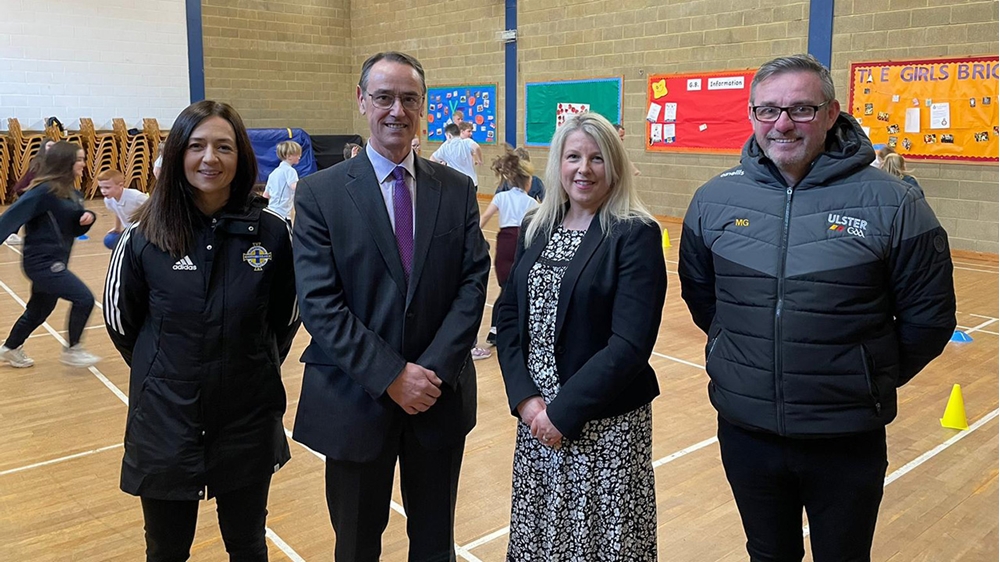 Department of Education Permanent Secretary Mark Brown visited Clandeboye Primary School to see the work of the Irish FA GAA School Sports Programme.
The School Sports Programme is funded by the Department of Education, delivered by Irish FA Foundation staff and the Ulster GAA. It is aimed at pupils aged 7-11 and designed to provide specialist expertise to support delivery of the Key Stage 2 PE curriculum and runs in approximately 300 primary schools across Northern Ireland each academic year. 
Let Them Play Officers from the Irish FA deliver sessions in curriculum time in the areas of Athletics, Dance, Games and Gymnastics with the aim of raising confidence, resilience, self-esteem, and motivation of all pupils.
The Permanent Secretary met staff from Clandeboye Primary School, Michael Glover, Regional Hurling Development Officer (Ulster GAA) and Chris Lyttle, Head of Public Affairs (Irish FA) to hear more on the benefits of the programme and the level of engagement coaches have with both pupils and staff.
Mr Brown said:  "It was a pleasure to meet Principle Julie Thomas at Clandeboye Primary School in Bangor today, to see first-hand, a Year 6 class engaging in the Department's sports programme and the contribution it makes to the physical well-being of children in schools."
For more information about the Sports Programme please contact Claire Rea – Sports Programme Co-ordinator - claire.rea@irishfa.com.