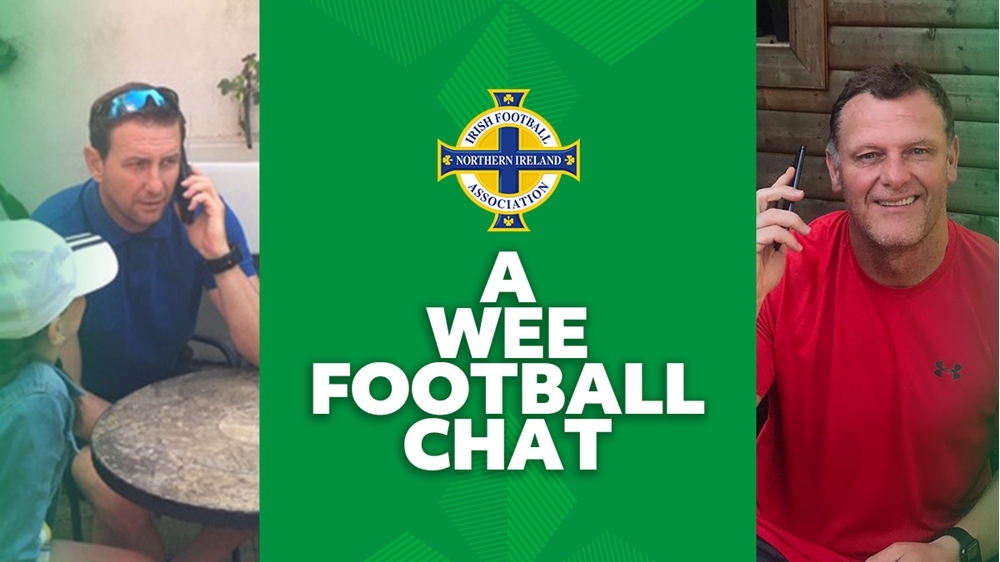 An Irish Football Association initiative aimed at tackling social isolation is proving to be a big hit with Northern Ireland fans of all ages, former and current international players, volunteers and even managers.
The 'A Wee Football Chat' campaign pairs socially isolated people with volunteers so they can chat about football over the phone. It's an extension of the popular tours provided at the Irish FA Education and Heritage Centre at the National Football Stadium at Windsor Park.
More than 60 calls have been made to date, with the bulk of them being handled by the volunteers who are normally deployed conducting tours of the EHC and the stadium.
However, there have been some special guests getting involved, too, including present and former Northern Ireland players.
Norwich City goalkeeper Michael McGovern and Aberdeen winger Niall McGinn have both made calls, while former Northern Ireland striker Gerry Armstrong had a chat with a fan as well.
Former Northern Ireland captain Jim Magilton, now the Irish FA's Director of Elite Development, had a conversation with 80-year-old Raymond Graham from Larne.
They chatted in depth about Northern Ireland's adventures on the international stage down the years and some of the stars of the past.
Northern Ireland U21s boss Ian Baraclough, meanwhile, enjoyed a chat on the phone with Gordon Stewart (76). Gordon played for Bangor and Dundela in the 1970s and went on to be both manager and chairman of Ards Rangers, a position he held up until last year.
Ian revealed afterwards: "We chatted for just short of half an hour about his involvement in football. He also gave me his thoughts on the current predicament with the season not ending and how we should go about things when we are all back and playing. 
"His favourite Northern Ireland player was George Best but he did play with Gerry Armstrong for a couple of seasons at Bangor so he still keeps in touch with him."
Ken Breakey, a volunteer who has been making calls, pointed out: "The people I spoke to really enjoyed the chat and I enjoyed reminiscing with them. Billy (82) saw us qualify for the 1958 World Cup, while another Billy (74) enjoyed going to the Euros in 2016. And a chap called Eddie (75) went to school with George Best and played football with him at Cregagh playing fields."
Recipients of the calls, which usually come as a big surprise to them, are loving the football chat.
Michael Graham, who nominated his dad Stanley to receive a birthday call, explained: "Dad was at first taken by surprise as we hadn't told him about the call, but when he realised it was Gerry Armstrong on the phone he was really made up. They had a good chat and it really made his birthday."
And it's not only older socially isolated people who can avail of the scheme.
Ten-year-old Zac Agnew was on the receiving end and afterwards he said: "The call was brilliant. My favourite part was when he asked me to make up a five-a-side team of any players in the world and who they'd play against. I said my dad's team and I said the other team would definitely win because my dad has holes in his goalie gloves." 
News of the scheme has even travelled to other parts of the world. Lorraine McCutcheon revealed: "I told my daughter while skyping to Kenya about the scheme and her eyes filled with tears and she said 'Mum, the Northern Ireland people really are the best'."
To request a chat simply fill in the form by clicking here.