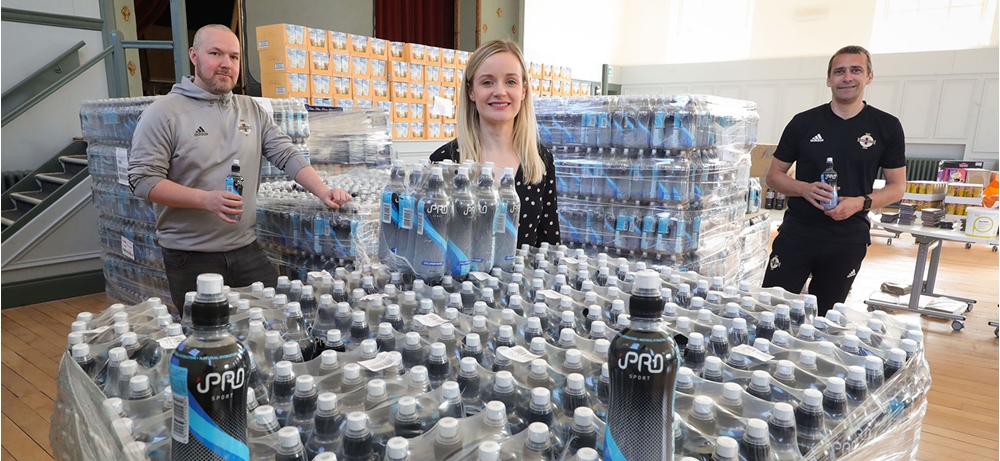 A consignment of water earmarked for Northern Ireland's international football teams has been diverted to the fight against Covid-19 instead.
iPRO, the official hydration partner of the Irish Football Association, delivered more than 10,000 bottles of water to the National Football Stadium at Windsor Park last month for use by Northern Ireland's men's and women's international teams.
But with international football postponed until further notice the association and iPRO decided the water should instead go to workers operating on the frontline in the fight against coronavirus.
The water has been donated to the Belfast Health and Social Care Trust and will be used in the NHS Nightingale Centre in Belfast as well as across a range of other locations in the Belfast area, including care homes.
Sean Murphy, chief operating officer at the Irish Football Association, said: "Football is rightly taking a back seat during the coronavirus pandemic and we felt this was a good way to make use of the water originally destined for our international teams.
"Everyone has to do their bit in the ongoing battle against this deadly virus, however frontline healthcare workers are in the eye of the storm and we hope this, in a small way, will help bolster their efforts."
He added: "We would like to thank iPRO for their support in making this donation and we would also like to thank our logistics partner, TR Logistics, for kindly arranging the transport of the water from the stadium to the donation centre."
iPRO commercial manager Lucy Darrall added: "It is an absolute privilege to work with the Irish FA and show our gratitude for the hard work key workers are doing in this time of need.
"Hydration is key to boosting the body's first line of defence against illness so we hope that our donation can help both staff and patients at the Belfast NHS facilities. It is important that staff working long hours under stressful conditions stay hydrated, especially those wearing full body PPE.
"iPRO would like to extend a huge thank you to all those working on the front line during this time and our best wishes to everyone. We will get through this."
A leading supplier of healthy hydration drinks to the world of sport, iPRO provides healthy hydration to Northern Ireland's international teams, Irish FA representative teams, its coach education programme, referees, disability football, the Irish Cup and summer football camps.
Image: Kerri McAuley from the Belfast Trust accepts the donation from the Irish FA and iPRO. Stephen Bogle (left) and David Currie from the Irish FA, with help from TR Logistics, delivered the 10,000 bottles of water.