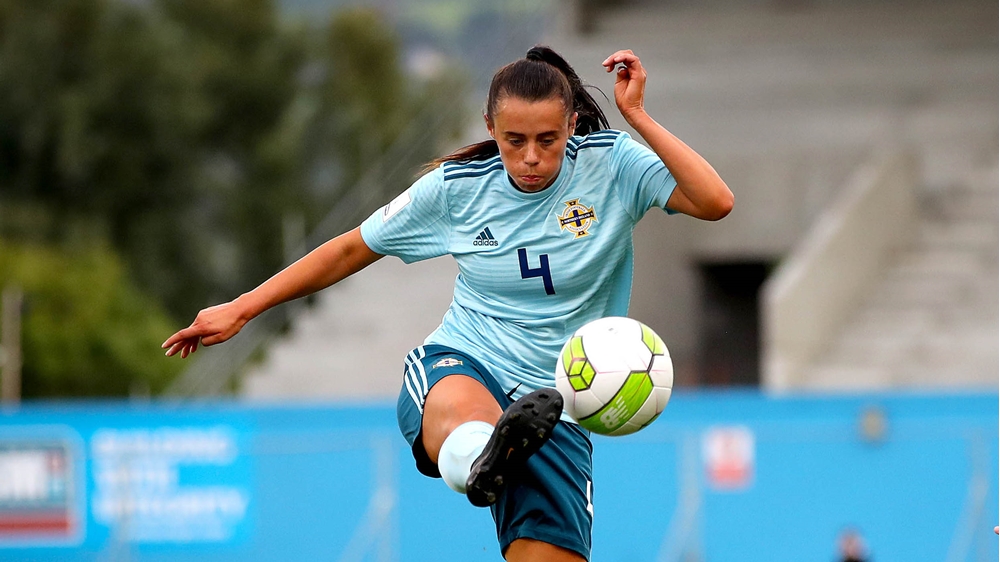 In
the first in a series of
Q&As
when we catch up with
members of 
our 
senior
women's team to see how they're doing in lockdown.
First up, it's Brighton and Hove Albion WFC defender Laura Rafferty.
How did you get into football?
My family loves football, so I got thrown in the deep end but I took to it very quickly and then no-one could get me away from a ball.
Who was your football inspiration growing up?
Growing up I was a Liverpool fan and played centre-midfield, so Steven Gerrard was my idol. He was someone that would score goals and he made things happen and I just loved the passion he showed every match. 
What has been your personal highlight in a match?
Making my debut at international level at the age of 15. I will always be grateful for my opportunities to wear the Northern Ireland shirt. Nothing comes close!
What is your favourite part of training?
I love small possession games; the fast tempo in a small area. It always gets so competitive and it is a great way to sharpen up!
Who would be on your dream five-a-side team?
Kelly Smith (England)
Lucy Bronze (England)
Virgil Van Dijk (Netherlands)
Lionel Messi (Argentina)
Allison Becker (Brazil)
How are you staying fit and active during lockdown?
I have gym sessions with Brighton four times a week. We are all on Zoom so we can motivate each other. I also have pitch sessions and competitions with the girls. I am also still completing my rehab programme following my injury.
What else have you been doing during lockdown?
During lockdown I have been spending time with family, reading mindset books and learning new cooking recipes.
What is on your lockdown playlist?
I love afrobeat music, especially when working out. Dude - Beenie Man would be the favourite! And I am a fan of 80s music too. 
What have you been watching on Netflix during lockdown?
I would highly recommend Extraction – a great film with Chris Hemsworth!  
What would you say to any young girls who are looking to get into football?
Enjoy making new friends, learning new skills and dream big! Take every opportunity and make it all count!