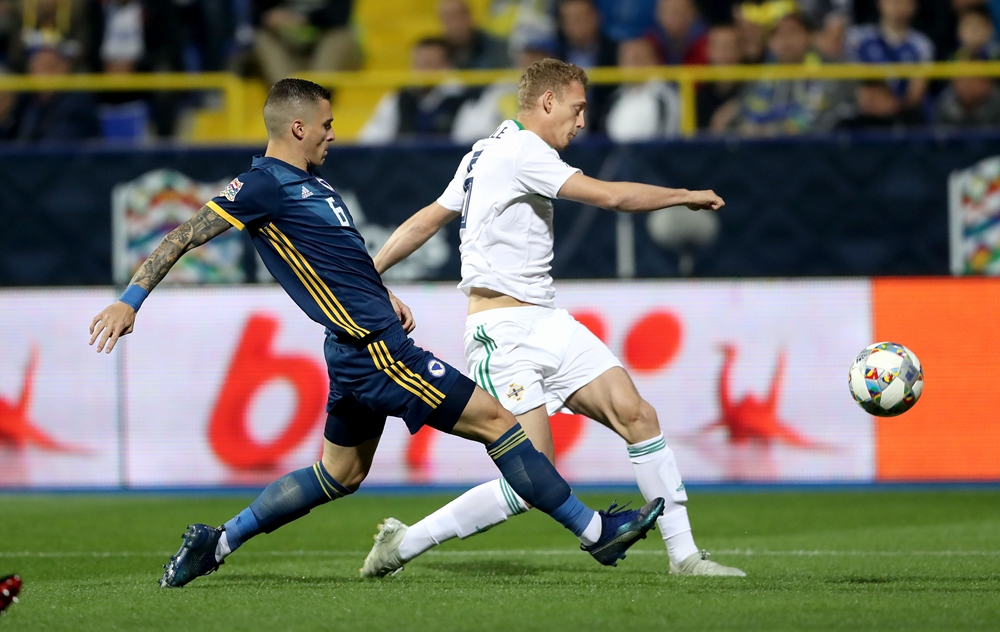 UEFA's Executive Committee today postponed all international matches in Europe scheduled for June.
The move means Northern Ireland's Euro 2020 Path B play-off semi-final against Bosnia and Herzegovina is off until further notice.
And Northern Ireland senior women's two UEFA Women's EURO 2021 qualifiers scheduled for June will also now take place at a later date.
It's the second time the senior men's play-off match against the Bosnians has been postponed due to the coronavirus outbreak. It was originally set to be played on 26 March before UEFA provisionally rescheduled it until 4 June in Zenica subject to the evolving situation around Covid-19.
The senior women's team were due to play Euro qualifiers against Belarus away this month and then Belarus and Faroe Islands at home in June, however all three matches have now been postponed.
Irish Football Association chief executive Patrick Nelson said the decision to postpone matches was "not surprising" given the ferocity of the coronavirus outbreak in Europe at present.
He said: "It would have been good to get the UEFA Euro 2020 play-off semi-final match against Bosnia and Herzegovina played in June, and to have played the Women's Euro qualifiers, however we are mindful that many European countries are struggling to deal with Covid-19 as are numerous countries around the world.
"This move is not surprising. It is a sensible decision by UEFA in the midst of a global health crisis which has already claimed many, many lives."
The UEFA European Under-19 Championship final tournament scheduled for July 2020 has also been postponed until further notice.
The Irish FA chief executive said: "We were looking forward to staging the tournament in Northern Ireland at the end of July, but again it makes sense to postpone the U19 Euros given the virus outbreak and the predictions that it could last for several months."
The decision by UEFA's Executive Committee to postpone national team matches followed a videoconference meeting with the general secretaries/chief executives of all 55 UEFA member associations."