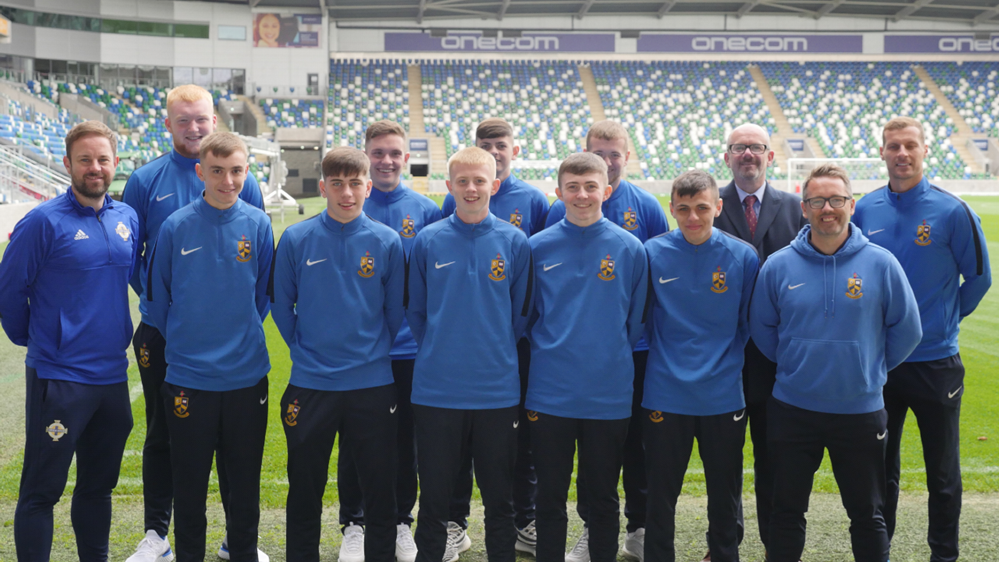 Schools may be closed these days due to the ongoing coronavirus pandemic but the Irish FA Foundation is still acting as mentor and teacher.
The foundation's education officers, Gareth Allen and Diarmuid McNeice, are continuing to provide lessons for a group of pupils at Ashfield Boys' High School in east Belfast.
Last September the foundation launched its first Development School programme in partnership with Ashfield.
Part of the UEFA-supported Schools in Football Education and Employability Programme, it involves Year 13 and Year 14 pupils at the school attaining various coaching qualifications and broadening their knowledge of the game.
Diarmuid revealed: "We are still working closely with the students and staff at the school.
"Through the partnership we deliver part of the students' Pearson BTEC Level 3 National Diploma in Sport course and we are determined to continue this partnership and complete this academic year.
"As the students are now at home we are sending them classroom sessions and assignments that will go towards their final grade for this year. We are in regular contact with staff at the school and the students and their parents to offer help and support when needed with their academic work."
The foundation officers deliver two modules. One focuses on rules, regulations and officiating in sport, while the other deals with sports injuries.
Diarmuid continued: "Over the coming weeks and months we will continue to send through classroom sessions and resources for their assignments. We will be marking assignments and giving the students feedback throughout this process. 
"Despite this being a difficult time we aim to offer the students as much support as we can and make learning from home as seamless as possible."
The Ashfield students have already completed the first module as well as a number of Irish FA courses, including the Referee Award, Grassroots and Futsal Introduction Awards and the Coaching Disabled Footballers Level 1 Award. 
The students are now in the process of doing their sports injuries module which will look at common sports injuries and their symptoms, how injuries can be prevented and how they can be treated. They will also be planning and constructing a rehabilitation programme.  
Michael Boyd, Director of Football Development with the Irish FA Foundation, pointed out: "We made a commitment to the school and we are determined to see it through." 
Image: Irish FA Foundation education officer Gareth Allen (left) with students and teachers from Ashfield Boys' High during a visit to the National Football Stadium at Windsor Park earlier this year.