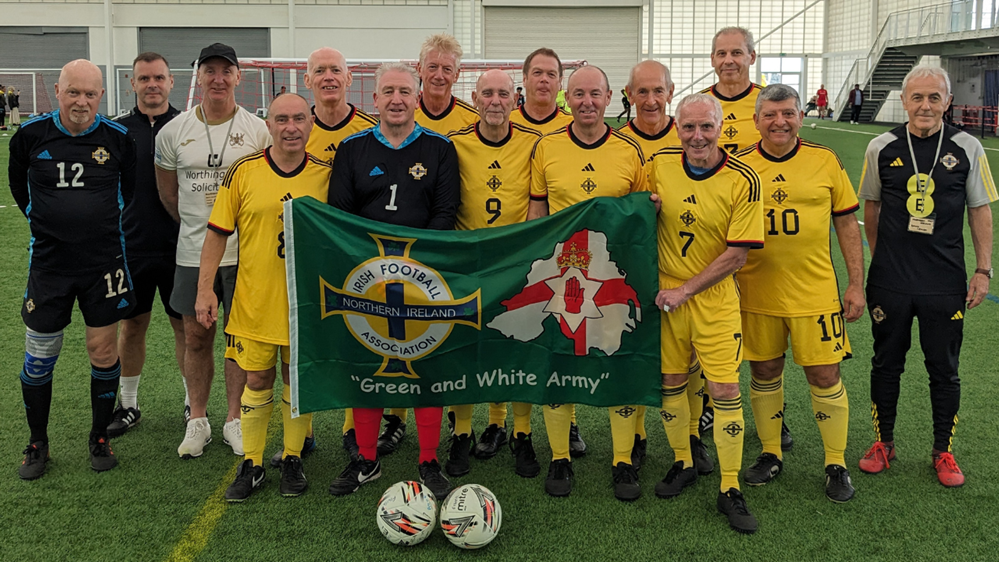 Northern Ireland's Over-60s walking football team reached the last eight at the inaugural World Nations Cup.
They were narrowly beaten 1-0 in the quarter-finals by Canada after finishing second in their qualifying group.
St George's Park, the FA's national training centre in Staffordshire, hosted the inaugural Federation of International Walking Football Associations (FIWFA) global competition.
Northern Ireland were drawn in Group B along with Italy, Australia, Wales, Caribbean and Czechia (Czech Republic).
After an inspirational video message from Northern Ireland captain Steven Davis, the quest for glory got under way with a group game against Australia - and a solid, confident performance resulted in a 1-0 victory.
A similar scoreline followed against Wales and the final opposition on the first day were a talented Italy side. That game ended in a 0-0 draw, which was a great result against one of the pre-tournament favourites.
The fine form continued into day two with a 2-0 victory over Czechia followed by a 2-2 draw with Caribbean.
The final group tables made great reading for Northern Ireland, who finished second to Italy in their group, while Group A was topped by England and France.
Northern Ireland's quarter-final encounter against Canada on day three of the tournament was a tight affair - and just two minutes from the end Canada snatched the decisive goal.
Afterwards manager Gary Barclay was full of praise for his team: "I could not be prouder of our entire squad and the effort and commitment they have shown, not only at this tournament but throughout the year. For a team which was only formed one year ago the progress has been astonishing and it sets the standard for going forward."
He said it was disappointing not to reach the semi-final stage of the tournament but added that it was a great achievement to get as far as the quarter-finals at the inaugural World Nations Cup.
England won the Over-60s section at the tournament, beating France 3-0 in the final. They also won the Over-50s section on penalties following a 1-1 draw with Czechia.
The Northern Ireland Walking Football Federation (NIWFF) in conjunction with the Irish FA are encouraging men and women aged 40+, 50+, 60+ and 70+ to go along to their nearest walking football centre and get involved.
People of all abilities are welcome and details of sessions across Northern Ireland are on the Irish FA website or can be obtained from NIWFF Secretary David Lemon at squeezy.lemon@btinternet.com.
Anyone interested in trying out for the Northern Ireland walking football team should also contact David Lemon, who will liaise with the manager to put arrangements in place for a trial.
Image: The Northern Ireland Over-60s walking football team and support staff. They are: (back, from left) Will Smyth, Gary Barclay (manager), Sam Lewis (physio), Eamon Quinn, Joe Smyth, Ray Hunter, Eddie Kelly and Ken Armstrong; (front, from left) Michael Haddock, Joe Hendron, Ricky Gardiner, Michael Mahood, Keith Campbell, Anthony Cafolla and David Lemon (secretary/admin).