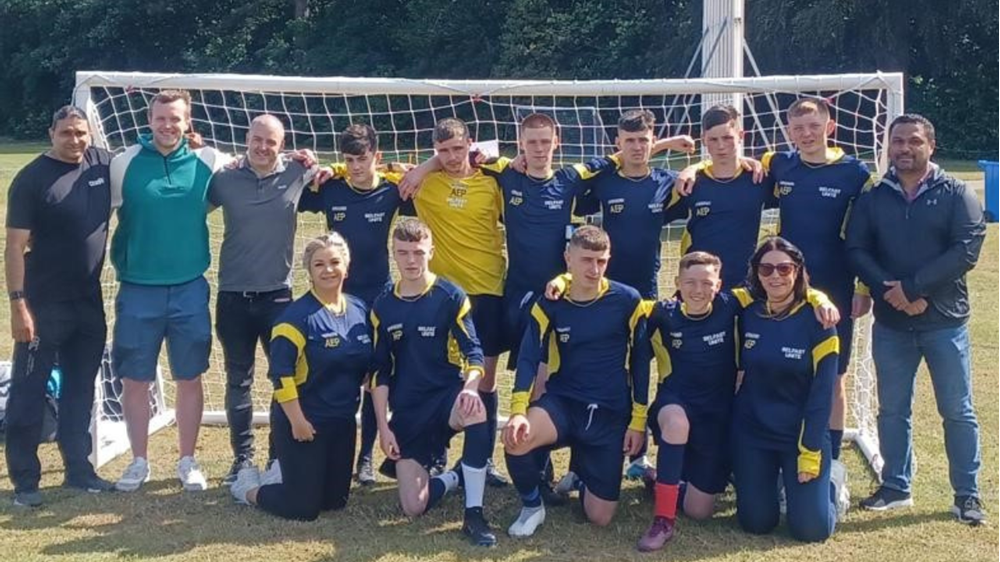 A team from Belfast represented Northern Ireland at the finals of a multi-cultural national football competition staged in England.
Belfast Unite, an Under-16 team comprised of students from different EOTAS centres in Belfast, travelled to Bromley in Kent for the national finale of the KickOff@3 competition after winning the Northern Ireland heat in June.
EOTAS (Education Otherwise Than At/In A School) is an alternative education provision for students that have experienced several suspensions from mainstream schools and risk becoming marginalised.
In the group stages at the national finale Belfast Unite lost 1-0 in their first game to Nottingham College before defeating Hope FC, the eventual winners, by a goal to nil.
They then drew their last game against Trinity Academy. They were unfortunate not to make the semi-finals, however they finished fifth overall in the competition.
KickOff@3, which is now in its fifth year, was established to foster good community relations via the medium of football across the UK and Ireland.
John Marshall, Fresh Start Through Sport Assistant Coordinator with the Irish FA Foundation, travelled with the Belfast Unite team to Kent.
He said: "It has been a privilege to be involved. It was a great way to share with the team the values around diversity, social inclusion and community cohesion.
"I worked closely with Andy George, a long-standing ally of the organisation and president of the Black Police Association, to organise the trip for Belfast Unite.
"It has enabled both the Irish FA Foundation and PSNI to build on our successful partnership to foster good relations within our local communities, helping to drive forward the important message of inclusion, diversity and respect for one another under the banner of football."
Belfast Unite player Declan Healy was named both player of the tournament and sportsperson of the tournament.
For more information on KickOff@3 please visit kickoffat3.com.