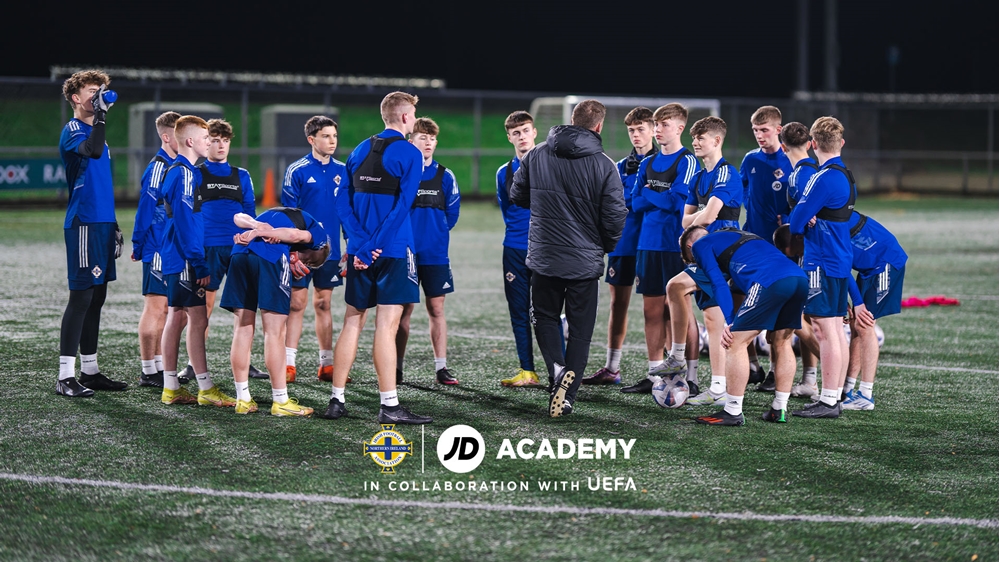 The

 

work of the

 
Irish FA JD Academy
is

 
set to be highlighted

 
at
 

showcase events

 
across Northern Ireland.
Academy staff will be taking to the road in the coming months to show clubs and coacheshow both the academy and the JD National Performance Programme operate. 
They will also be educating coaches about the association's elite player pathway, the Elite Player Development Game Model and highlighting coaching good practice within clubs. 
The first in a series of three Academy Way Days is due to be staged at Ferney Park, home of Ballinamallard United in Co Fermanagh, on Sunday 24 September. The event will run from 10.30am until 2pm. 
Coaches and other interested parties can register to attend the event in Ballinamallard via this link: CLICK HERE
Andy Waterworth, Head of Elite Player Development with the Irish FA, said: "As we did last year, we want to get out and about for a series of interactive sessions with clubs and coaches.   
"Ultimately our vision is that club and country are aligned as much as possible and this is an excellent opportunity to showcase the national training methodology of our elite player programme.   
"It's a chance for club coaches to engage with our team members from coaching, sports science and analysis. It will also be a nice lead-in to two Under-16 national preparation games versus Estonia and Finland at Ballinamallard United's ground in late September."
It should also be noted that five CPD points are available for UEFA B and C licence holderswho attend the Academy Way Day in Fermanagh.
The Irish FA JD Academy is Northern Ireland's only full-time residential academy for young footballers. 
It is based at Ulster University's Jordanstown campus and operated by the association in conjunction with the university, with support from UEFA. It is focused on developing emerging talent at school years 11 and 12 (U15 and U16).
On the Irish FA's pathway for elite young players the JD-sponsored National Performance Programme feeds in to the academy. 
NPP involves the selection of players from across Northern Ireland at U14 level.
The NPP revolves around four regional centres: Central, North-West, Mid-Ulster and South-West. Players attending the regional centres are selected through a team of Talent ID coaches and through communications with heads of club academies and club coaches.
The aim is to monitor each selected player over a period of time using an individual development plan.  
The players deemed best equipped for professional football are then offered scholarships to the JD Academy. Its main objective is to produce better players through a mixture of sporting, school and life skills education.