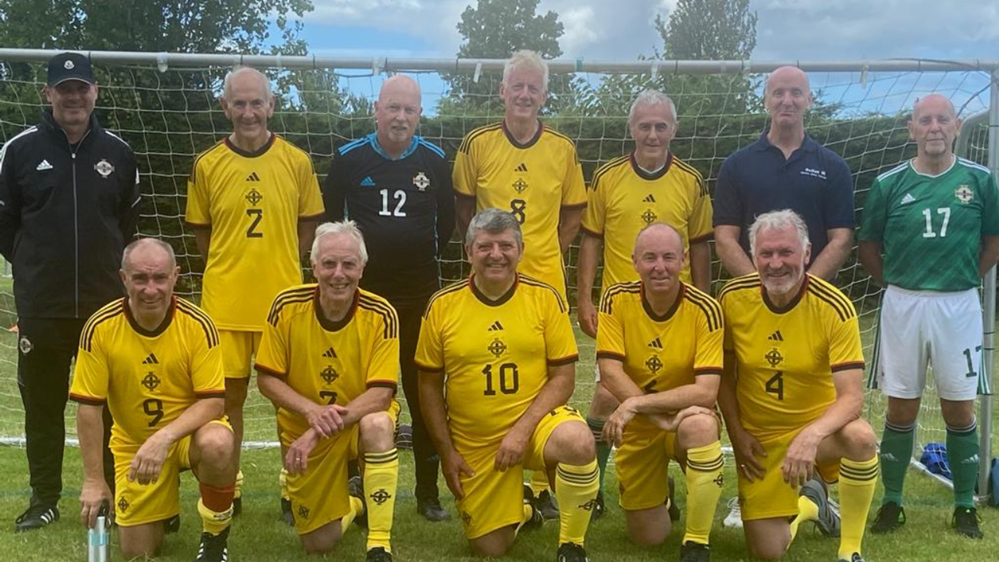 Northern Ireland's Over-60s walking football team will be in World Nations Cup action later this week.
St George's Park, the FA's national training centre in Staffordshire, is set to host the inaugural Federation of International Walking Football Associations (FIWFA) global competition from Thursday until Saturday (24-26 August).
Northern Ireland have been drawn in Group B along with Italy, Australia, Wales, Caribbean and Czechia (Czech Republic).
Group A, meanwhile, includes hosts England, France, Basque Country, South Korea, Japan and Canada.
Group games, which are 20 minutes each way, are due to be staged on Thursday and Friday, while the semi-finals and final will be held on Saturday.
First up for Northern Ireland is a match against Australia at 10.40am on Thursday, followed by encounters with Wales (3.40pm) and Italy (6.10pm).
Day two will see the boys in green and white take on Czechia at 11.50am and Caribbean at 3.10pm.
The top four from the group will go through to the quarter-finals, which are set to be played on Friday evening.
Hopes are high within the Northern Ireland camp and captain Keith Campbell is excited at the prospect of competing on the world stage - and bringing this version of the beautiful game to the attention of more and more people at home.
The squad has been preparing for the tournament over the past 12 months through training sessions, friendly matches and competing in various tournaments.
Team manager Gary Barclay said: "We have a talented squad and I firmly believe we have as good a chance of lifting the trophy as anyone else in the tournament, especially after some great performances at the Dublin International Tournament last month."
At that event in Dublin they enjoyed wins against eventual tournament winners England as well as Italy, Isle of Man and Switzerland. They also drew with France. Their only defeat came against the Republic of Ireland.
All the games at the FIWFA World Nations Cup are being livestreamed and can be accessed via the following link: http://recast.tv/FIWFA
Running alongside the 12-team Over-60s competition at the Nations Cup - Derby is the host city - there will be an Over-50s competition featuring 16 nations. Northern Ireland have not entered a team for that section.
The Northern Ireland Walking Football Federation (NIWFF) in conjunction with the Irish FA are encouraging men and women aged 40+, 50+, 60+ and 70+ to go along to their nearest walking football centre and get involved. People of all abilities are welcome and details of sessions across Northern Ireland are on the Irish FA website or can be obtained from NIWFF Secretary David Lemon at squeezy.lemon@btinternet.com.