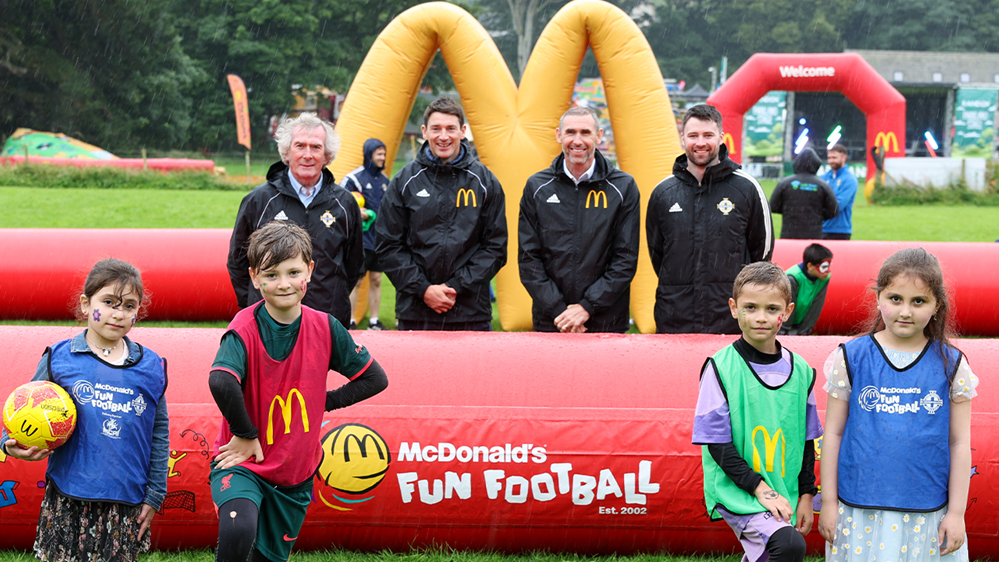 Northern Ireland legend Pat Jennings and former England international Martin Keown were in attendance as McDonald's hosted a special Fun Football Festival at Camp Dalfest in Co Antrim recently.
The pair – both Fun Football Ambassadors – were on hand to help showcase the power of the grassroots game as McDonald's announced that a quarter of a million children across the UK had benefitted from its Fun Football programme in less than a year.
The Fun Football Festival in Glenarm, which was delivered in partnership with the Irish FA, featured a series of activities, games and inflatables that were enjoyed by children and families.
It opened at Camp Dalfest – a day before the event officially kicked off – and was free to the public across Northern Ireland. It remained open throughout the weekend and was enjoyed by campers, families and attendees.
Former Arsenal, Aston Villa and Everton defender Keown said: "A career in football starts at grassroots level. That's how I started myself, so it's brilliant to see what an amazing impact that McDonald's and the Irish FA are having on communities right across Northern Ireland through the Fun Football programme.
"Football is a sport for all. It's so important to encourage all young people to give it a go – regardless of their background or age, their sex, or their natural ability for the sport. It's great to see a big brand like McDonald's championing grassroots football for all."
Paddy Cusack, franchisee at the McDonald's restaurant in nearby Larne, added: "McDonald's is passionate about feeding and fostering communities and supporting local families, be that by offering free Fun Football coaching sessions across the year or organising events like this festival.
"Now, more than ever, it's important the Fun Football programme is free, which means that no child should miss out. When families are feeling the pinch most, it's important this outstanding opportunity is there for kids at no cost."
Last year McDonald's announced its commitment to a new four-year Fun Football programme alongside the Irish FA, Scottish FA and Football Association of Wales, where it committed to providing over 10 million hours of free Fun Football to one million children across the UK by 2026.