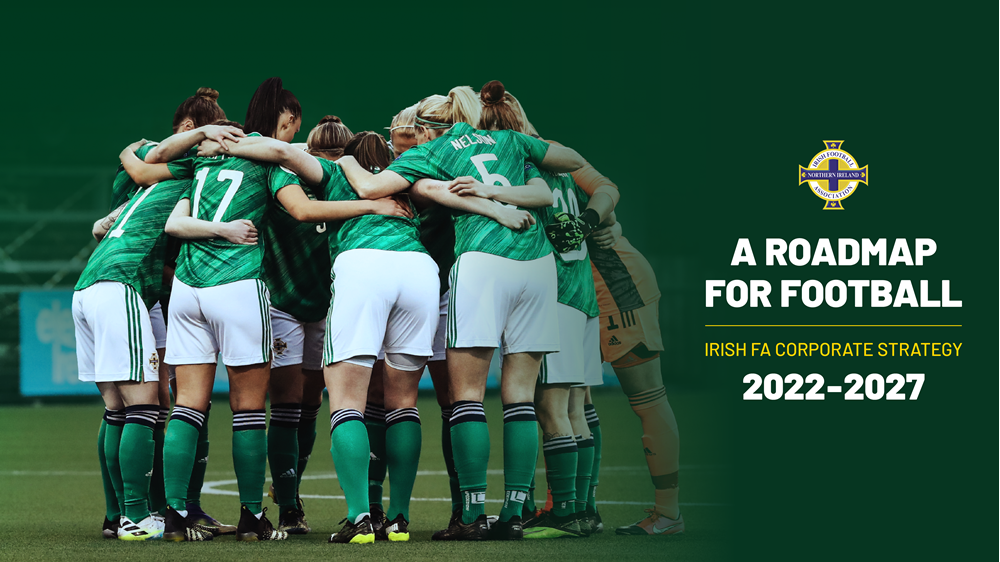 The Irish Football Association is continuing to work hard towards meeting strategic objectives outlined in its corporate strategy for 2022-27.
The latest half-year review of the strategy shows the association is making steady progress across the piece.
Launched in January 2022, A Roadmap For Football covers all aspects and levels of the game in Northern Ireland.
More than 30 strategic objectives and over 100 individual actions are included in the document as part of seven strategic pillars supported by four enablers.
The pillars focus on participation, performance, facilities, revenue, engagement, women's and girls' football plus corporate social responsibility, including sustainability.
The half-year review of year two of the strategy reveals progress is being made across all seven of those key areas.
It notes women's and girls' football has been boosted by the appointment of a women's football development manager, a girls' elite youth academy manager and a new boss for the U19 and U17 teams. And a performance pathway restructure has been completed, too.
In addition the Female Football Leadership Programme attracted 27 participants. It provides the tools for women to embrace leadership roles in football.
On the CSR front the launch of the association's first Sustainability Strategy was well received. The Irish FA is among a pioneering group of 10 national associations within the 55-nation UEFA family who have now launched sustainability strategies.
As part of the strategy launch - it was staged in June - clubs were provided with several case studies and online training on how they can respond to climate change.
In terms of engagement with fans a successful trial was rolled out in June - at the Euro 2024 qualifier against Denmark in Copenhagen – in which eight volunteers acted as supporter liaisons to help improve the fan experience at away games.
The review further reveals new products and merchandise are in the pipeline to help boost revenue, while the association continues to attract sponsors for its various activities and competitions.
When it comes to boosting participation levels in football, it notes a restructure of staff in the Irish FA Foundation will offer more specific and targeted support for the grassroots game in Northern Ireland.
On the performance front there has been positive engagement around scouting at elite levels, while there has also been movement regarding the inclusion of increased requirements in club licensing in relation to youth development.
The review also shows there has been significant interest from clubs in receiving financial support from the Irish FA/Department for Culture, Media & Sport (DCMS) Multi-Sports Grassroots Facilities Investment Fund. The fund aims to allow grassroots football clubs in Northern Ireland to improve and upgrade facilities to create a better grassroots football infrastructure foundation.