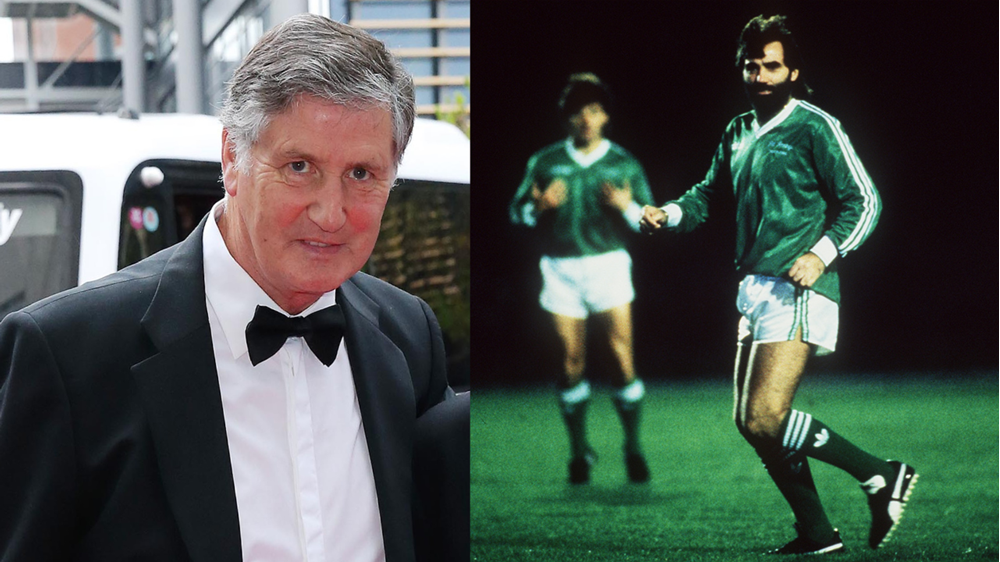 A wry smile curls its way across the face of former Northern Ireland goalkeeper Jim Platt as he recalls the first hurdle of Ballymena United's triumphant Irish Cup odyssey of 1984.
It was a 7-0 rout of Tobermore United made all the more memorable by the fact legendary Northern Ireland and Manchester United winger George Best was guesting for the Co Londonderry minnows. Picture Cristiano Ronaldo running out for Moyola Park at Mill Meadow.
"It's all a bit surreal looking back," said Platt, who was player-manager of Ballymena for a brief four-month spell at the tail end of the 1983-84 season.
"I had actually tried to sign George for Ballymena a few weeks earlier but he ended up playing against us in the Irish Cup.
"I was in talks with George's agent, Bill McMurdo, and we were looking at the possibility of a one-month contract, but the figures didn't add up.
"We would only have benefitted from having George for two home gates so it wasn't viable. It's a shame because I know he was keen. It would have been a real coup."
Platt recalls the conversation with McMurdo when the charismatic Scot rang to inform him that Best would be guesting for Tobermore in that year's competition.
What would you think if George played against you in the Irish Cup, asked McMurdo. I'd be really disappointed, replied Platt, adding that he would be really disappointed for George that he would only get to play one game in the competition!
It was a sharp riposte that came to pass as a couple of braces from Johnny Speak and Michael Guy and further goals from Brian Crockard, John Sloan and Roy Smyth secured an emphatic 7-0 win at a packed Fortwilliam Park.
"I actually felt sorry for George that day," said Platt, now 71 and living in Middlesbrough where he has been an independent councillor for the past four years.
"He was a class above everyone else on the pitch but he had no-one to play with. I told him that afterwards. He was on a different level but there wasn't much he could do by himself. 
"I was always confident that we'd progress to the next round if we played well."
As Best flew back to sunny Los Angeles and a rendezvous with former Miss World Mary Stavin, Ballymena prepared for a date with Dundela, a second round tie they would win 2-1.
United would go on to overcome eventual league champions Linfield and Cliftonville in the quarter-finals and semi-finals en route to a showpiece decider with unfancied Carrick Rangers.
"I remember when the quarter-final draw was made some of the Ballymena directors saying 'oh no, we've got Linfield'," said Platt.
"I said 'look, if we're going to win the Irish Cup we're going to have to beat Linfield or Glentoran along the way'. I thought we had a chance to beat Linfield at the Showgrounds and we did 2-1 thanks to goals from John Sloan and Johnny Speak."
A comfortable 4-1 win followed over Carrick in the Windsor Park showpiece, the last time Ballymena lifted the blue riband trophy at the south Belfast venue.
Graham Fox volleyed home an early opener before young defender Brian Crockard, who would lose his life in a tragic holiday accident in 1986, forced home the second after the break.
Alan Harrison added a third from the penalty spot and Speak, who bagged five goals during the 1984 cup run, made it 4-0 before Roy Fellowes scored a late consolation for Carrick.
"I must mention Brian Crockard," said Platt, suddenly interrupting the stream of vibrant memories. "I think he was only 22 at the time of the 1984 final but he was the heart and soul of our team.
"One of my most vivid memories of that day is Brian's goal. He had such a good career ahead of him and it was tragic that he lost his life at such a young age. It was heartbreaking."
As a flurry of sky blue ribbons were tied to the trophy, few realised that the 1984 Irish Cup final would be Platt's last appearance for the Sky Blues. A few months later he was appointed Coleraine manager, a post he would hold for six years.
"I never had any intention of leaving Ballymena," he insists. "But I bumped into Bertie Peacock after the cup win and a few weeks later he asked if I'd like to go to Coleraine.
"I was born and bred in Coleraine and my dad (Howard) and brothers played for the club, so it was a very natural draw to go there. It just made sense at the time."
Platt, still a popular corporate host at Championship club Middlesbrough where he made 481 appearances in the 1970s and 1980s, lifted one League Cup and two Ulster Cups as Bannsiders boss but 1984 proved to be his only triumph in the Irish Cup.
"Looking back, my two fondest memories in the Irish Cup were with Ballymena," revealed the 23-times capped former shot stopper who was part of Billy Bingham's famous Northern Ireland squads at the 1982 and 1986 World Cups in Spain and Mexico. 
"As well as lifting the trophy in 1984, I also played for the club as a teenager in the 1970 final. 
"We lost 2-1 to Linfield at Solitude, but I was scouted by Middlesbrough in our semi-final win over Coleraine that year and I left for England that summer."
The rest, as Jim Platt and Ballymena fans will readily testify, is history.
Words by Darren Fullerton.