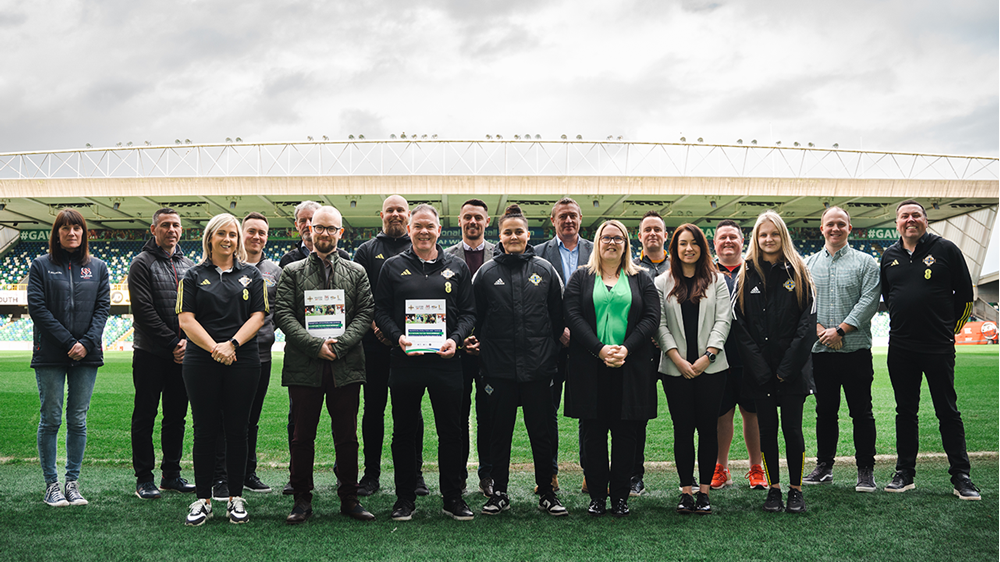 The Irish Football Association hosted an event at the National Football Stadium at Windsor Park to celebrate the Fresh Start Through Sport programme.
Representatives from the other sporting bodies involved - Ulster Rugby, Belfast Giants and Ulster GAA - attended the event to mark the end of a successful year. 
The celebration highlighted the programme's work to engage with young people who are potentially at risk from becoming involved in criminality.
It was also announced the project is being extended with the launch of a Fresh Start Through Sport Ambassador programme. 
The aim of the ambassador programme is to further engage past participants, upskill and sign post to employment or educational pathways. 
After gaining an Open College Network (OCN) qualification, ambassadors will begin a six- week 'Ambassadors Achieve' programme for goal setting and resilience. 
Irish FA Fresh Start Through Sport co-ordinator Mark Dennison said: "It was great to celebrate another year of Fresh Start Through Sport with our partners, Ulster Rugby, Ulster GAA and the Belfast Giants.  
"An Ulster University evaluation has demonstrated the value of the project and, from personal experience, we have made such a positive impact on many young people throughout our communities."  
He said the support provided by the Department for Communities, NI Executive's Tackling Paramilitarism, Criminality and Organised Crime Programme' and PSNI had been invaluable. 
"We look forward to the next part of the journey and the continued development of our OCN, Level 2 and other pathways," he added.
Dr Brendan Coyle, lecturer at Ulster University revealed its research had emphasised the positive impact of the programme across Northern Ireland and that the programme is vital in engaging with young people whose experiences and development have been shaped by the pandemic over the last few years.
"The programme represents an opportunity to actively engage and invest in the potential of young people, providing opportunity, encouraging activity and action, and for some, helping build a path towards a true 'fresh start'."
OCN NI partner with the programme to provide qualification opportunities for participants to create employment pathways, including OCN qualifications in sport and volunteer development. OCN NI Chief Executive, Martin Flynn said that Open College Network (NI) are delighted to be working in collaboration with the partners of the programme.
"This ground-breaking initiative provides an incredible prospect for young people to not only gain an understanding of sport, but it also enhances their employment opportunities through the attainment of a qualification. Leveraging the appeal of sport in this innovative way to help young people gain qualifications will help cement pathways for young people," he added.