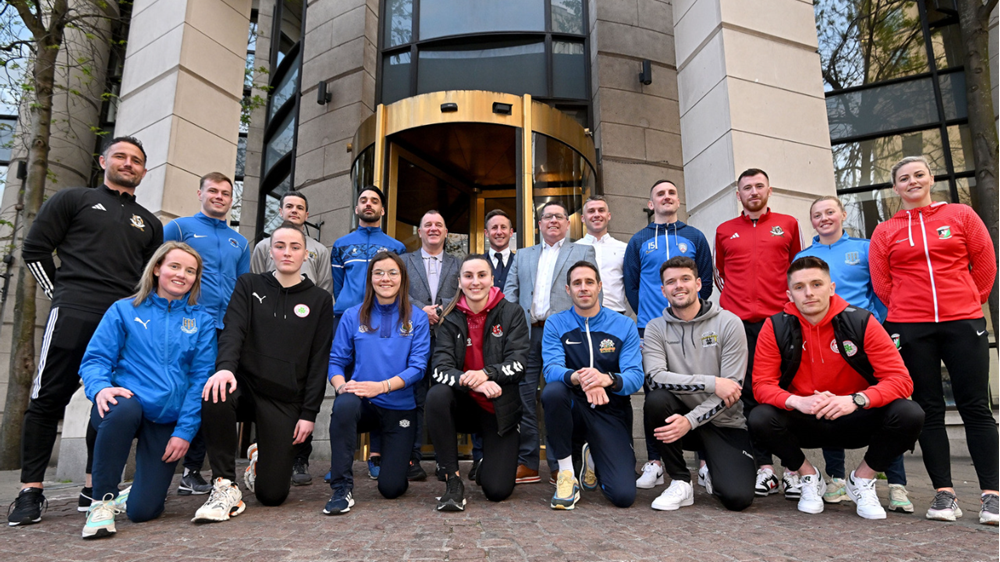 A new players' union designed to support and protect professional footballers in Northern Ireland has been officially launched.
The Professional Footballers' Association Northern Ireland (PFA NI) made its bow last night at an event in Belfast's Europa Hotel which was supported by the Irish Football Association and the Northern Ireland Football League (NIFL).
Irish FA chief executive Patrick Nelson and NIFL chief executive Gerard Lawlor attended the launch event along with club representatives and players from across the NIFL Premiership, NIFL Championship and NIFL Women's Premiership.
Michael Carvill, from PFA NI's management committee, said: "As a newly formed entity we have worked tirelessly to develop the organisation, build a strong foundation and a sound governance structure. 
"As football in this country continues to grow, so too have the demands on players, with more full-time professional contracts being awarded than ever. The lack of a players' voice and support mechanism was identified by the players and hence the formation of the union, which we are now delighted to formally announce."
The organisation will lead the way in contractual advice, legal support, personal development and player wellbeing with a significant emphasis on players' mental health.
Carvill explained the growth of the women's game has been a key driver for PFA NI.
He pointed out: "The introduction of contracts in the women's game is an indication of the current growth and once again highlights the education needed for players around their employment rights and contractual obligations."
Northern Ireland senior women's international and Crusaders Strikers captain Julie Nelson said: "It's a fantastic time to be involved in the game and I'm delighted to be part of this new initiative. The women's game in particular has gone from strength to strength and having our own PFA can only help quicken that process."
Fédération Internationale des Associations de Footballeurs Professionnels (FIFPRO), the world governing body for all player unions, has pledged its support to PFA NI. It will support the growth of the new union and provide the resources to help it grow to meet the demands of its members.
Stephen McGuinness, from PFA Ireland and a FIFPRO member, said: "PFA Ireland backs the launch and subsequent work of the PFA NI and will work collectively with its staff team to help grow the organisation across Europe and throughout the global football family."
Irish FA chief executive Patrick Nelson said: "We welcome this new venture which will provide a dedicated support function to our players on a range of issues. I am particularly pleased to see it cover the women's game, too, and it is a welcome and needed addition to Northern Ireland's ever growing football family."
And NIFL chief executive Gerard Lawlor added: "The launch of the PFA in Northern Ireland is a hugely important milestone in our game that we at the NI Football League welcome. I look forward to working alongside and supporting the PFA for the benefit of all our NIFL member clubs and their players."