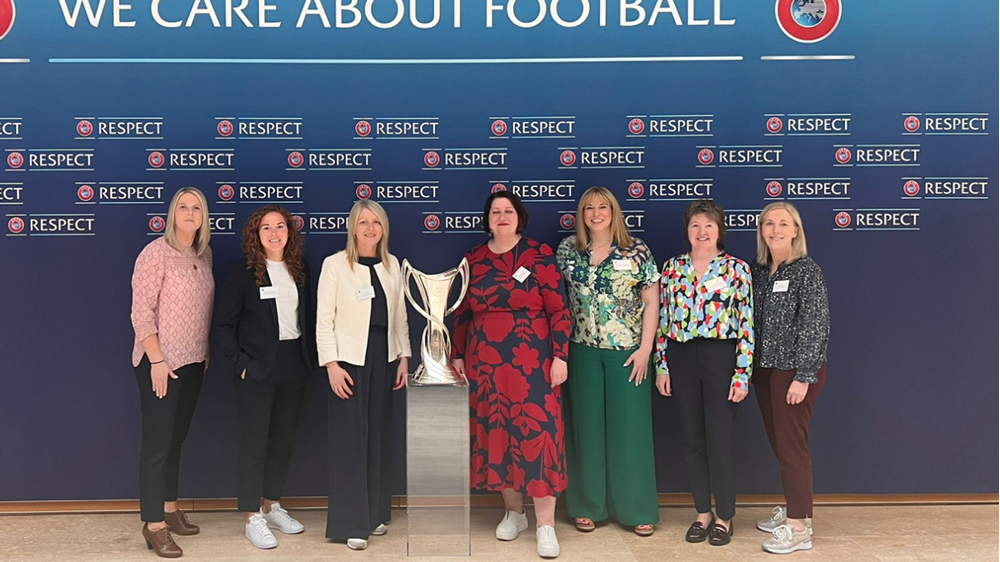 Participants on the Irish FA/Electric Ireland Elite Female Leadership Programme have visited UEFA HQ to learn how European football's governing body develops female coaches and organises its women's competitions.
The visit to the UEFA campus in Nyon was part of a two-day trip to Switzerland which also included a club visit and a meeting with alumni of female football leadership programmes.
Part of the Game Changers movement and developed in response to the Irish FA's five-year strategy to grow the women's game at all levels, the Electric Ireland-backed Elite Female Leadership Programme is a seven-month course based on the latest neuroscience, positive psychology and peak performance research.
It evolved following the success of the Electric Ireland Female Football Leaders Programme that has been in place since 2013 and has to date enabled more than 120 women to use their influence and leadership skills within sport to positively impact communities.
First stop for the group from Northern Ireland in Switzerland was a visit to Geneva-based club Servette.
Staff from Servette, whose senior men's and senior women's teams compete in their respective top flights, made presentations to the group, who were also taken on a tour of Stade de Geneve, Servette's home ground.
Then it was off to Nyon where they had lunch with alumni of female football leadership programmes before Thomas Junod, Head of UEFA Academy, delivered a presentation on UEFA activities and structures.
Emma Sykes, UEFA Senior Women's Development Manager, outlined how UEFA's women's competitions are organised before women coaches development expert Sonja Kienzler focused on the development of female coaches. The group also enjoyed a tour of the UEFA campus.
Six participants are in the Elite Female Leadership Programme 2023 cohort. They are: Northern Ireland Women's U17/U19 manager Gail Redmond, Northern Ireland senior women's team captain Marissa Callaghan, Northern Ireland senior women's team player Julie Nelson and Northern Ireland Women's Football Association trio Patricia McCullough, Elaine Junk and Colette Young.
Patricia McCullough said afterwards: "This trip presented an amazing opportunity for me, as a course participant, to gain an insight into a high level football club and how they are run and the values that they work towards.
"It also provided an opportunity to learn about the work being done to promote women's football and female leaders in football throughout UEFA, to share ideas and concerns, to discover areas for further personal development and to network with peers in UEFA whilst strengthening the network we have already developed amongst our own group.
"I think the others would agree that we have all benefitted from the experience and we are excited to take back our learnings and to continue the work we do in both men's and women's football."
Irish FA Chief Executive Patrick Nelson said it was important to have more female football leaders within the overall football ecosystem and particularly within Northern Ireland.
Reboot leadership coaches Sinead Sharkey-Steenson and Lisa Strutt have designed and delivered the Electric Ireland Female Elite Leadership Programme 2023.
Sinead Sharkey-Steenson said: "At Reboot we feel privileged to be able to bring the work we are doing with top level leaders in business into the football space.
"It's fitting that the Electric Ireland Elite Female Leadership Programme builds on five years of work we have done to drive change in women's football through empowering and developing women leaders from the Electric Ireland Female Football Leaders Programme. The elite programme provides a pathway for women leaders that are instrumental in being catalysts for change."
And Reboot co-founder Lisa Strutt added: "The trip to Switzerland has cemented and validated just how far ahead of the curve we are in our approach and in our delivery, so that we can facilitate greater strides forward in the football arena.
"Our programme combines the latest research in neuroscience and mental fitness, with peer and individual coaching, mentoring and experiential learning. We are proud of our inaugural programme. We are already beginning to see the impact, with our participants moving into key leadership roles in international women's football and administrative roles within the Irish FA."