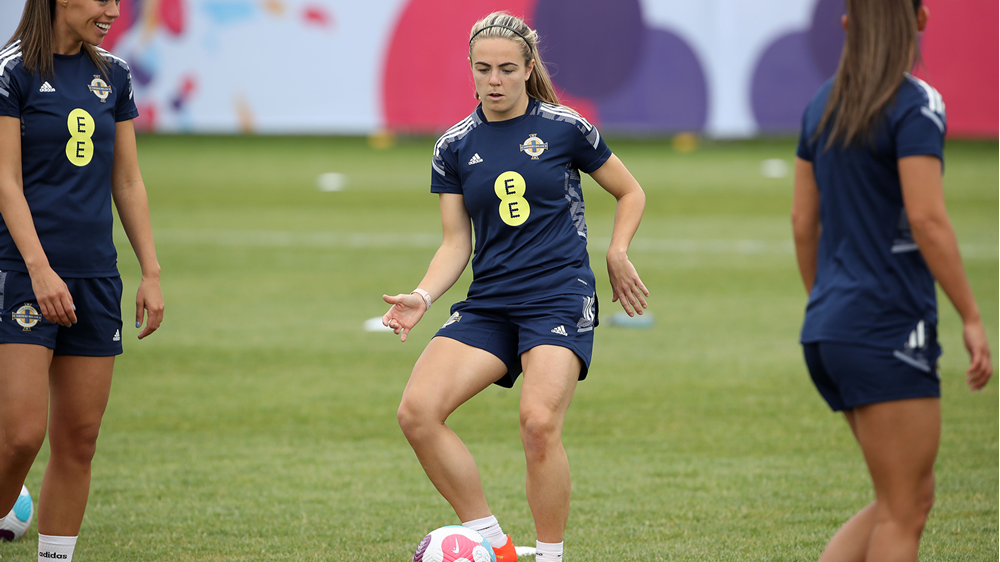 Northern Ireland senior women's star Simone Magill says she can't wait to pull on the green shirt again.
The striker had been sidelined for 10 months after picking up a heart-breaking anterior cruciate ligament (ACL) injury at UEFA Women's Euro last summer.
She made a long-awaited return to action with Aston Villa Women at the weekend.
I just can't wait to get back playing for Northern Ireland. It's just such a huge part of my life and I think it will be a really special moment when I pull that shirt on again
In an exclusive interview with @NorthernIreland, the 28-year-old Women's Super League player speaks extensively about her journey back to fitness and her burning desire to play for her country again.
"Like anyone who goes through these injuries, you have to be really resilient and made of strong stuff to get through it because it's a long process," she said. "It's a lonely process and if you can get through those dark days, in my opinion, you can get through anything.
"When you place yourself back in a team environment, you're going to be a much better version of yourself than you were before and hopefully that's the case with me."
Magill, who moved to Villa just before picking up her ACL injury in the opening group game against Norway last July, made her debut for the club in the 5-0 win over Reading on Sunday. Now she is targeting a return to the international stage.
"That was the one thing when I picked up the injury that I was so gutted about because I just love playing for Northern Ireland so much and I don't want to miss anything. Especially just recently with where the women's game is now. It's at an exciting point and I want to be part of every bit of that if I can," she commented.
"The girls in the Northern Ireland set-up have been great. I said it when I picked up the injury initially. They were all there immediately and they've been there every step of the way.
"They are always checking in on me and when I talk about celebrating some the wins on my road to recovery, they're some of the first to text me.
"It just makes me feel great because I know they're genuinely there rooting for me and when they say they can't wait to have me back I know they mean it. That carries me through.
"I just can't wait to get back playing for Northern Ireland. It's just such a huge part of my life and I think it will be a really special moment when I pull that shirt on again."
Watch 'Simone Magill – Full Circle'