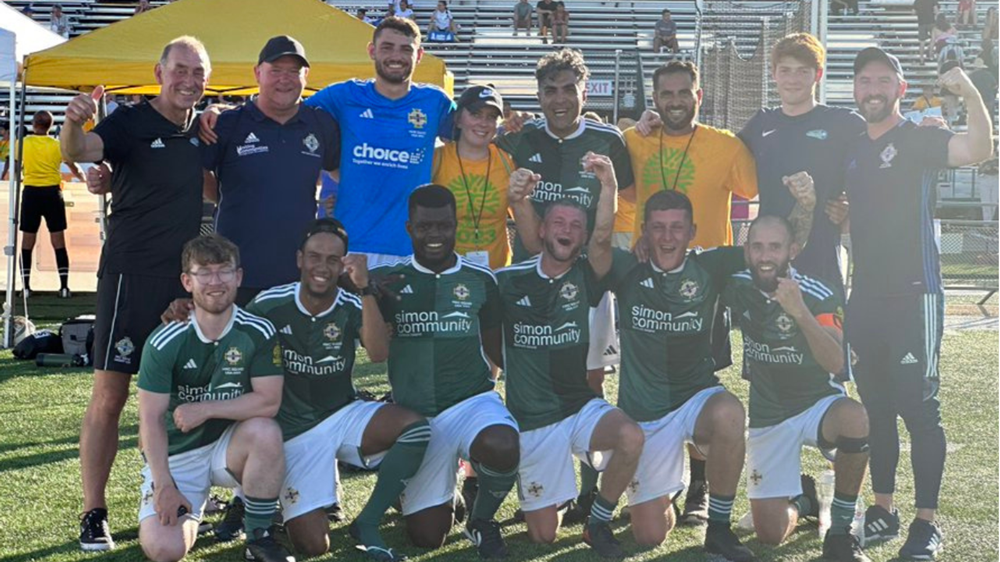 Northern Ireland have reached the quarter-finals of the Homeless World Cup.
They finished second in their stage two four-team section to book a place in the last eight of the tournament, which is currently being staged in California.
Standing between them and a semi-finals berth in the USA are Portugal, the only team to beat them in stage one of the four-a-side competition.
The two countries are set to face each other later today at California State University's Hornet Football Stadium in Sacramento, which is hosting this year's Homeless World Cup.
The last eight match is due to start at 19.40 (US time), and whoever comes out on top in that game will meet the winners of the QF tie between Chile and Costa Rica in the semi-finals at 21.20 for a place in tomorrow's final.
After winning five of their six games in the group stages at the tournament, finishing second in seven-team Group B just a point behind table toppers Portugal, Northern Ireland won two of their three games in Section 1 within stage two of the competition (Group A).
They followed up a 9-1 win over Austria in Group A with a 5-3 victory against a strong Poland side and that was enough to earn a quarter-final place.
In their final Group A game they battled it out with Mexico to see who would top the group. The Mexicans edged it on a 4-3 scoreline.
Although Northern Ireland lost 6-2 against the Portuguese in round one, the team have grown in confidence since then and will fancy their chances later today.
Even if they lose to Portugal they are already history makers. Reaching the last eight means Northern Ireland are guaranteed their highest ever finish at the Homeless World Cup, which is run annually by the UK-based Homeless World Cup Foundation.
Street Soccer NI, a charity working with homeless people and disadvantaged groups across Northern Ireland, has put the eight-strong Northern Ireland squad together. Team NI are being supported this year by Simon Community NI, Choice Housing, Nationwide and the Irish FA Foundation among others.
Image: Northern Ireland celebrate the win against Poland which earned them a place in the quarter-finals of the Homeless World Cup.