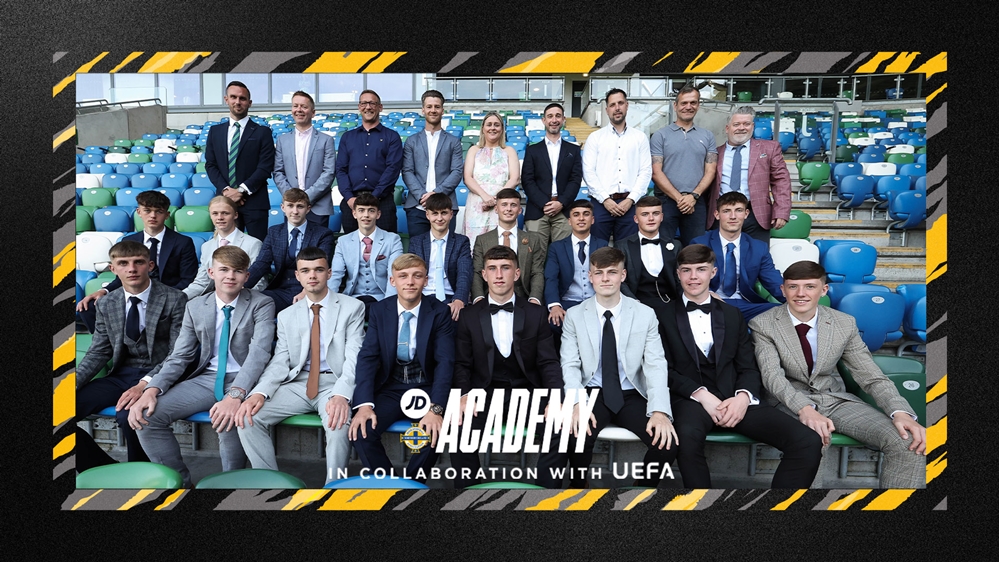 The JD Irish FA Academy's class of 2021-2023 have been snapped up by teams in Britain and closer to home.
This summer several graduates from the academy have been signed by clubs in England and Scotland, while others are staying with NIFL Premiership clubs.
Northern Ireland's only full-time residential academy for young footballers is based at Ulster University's Jordanstown campus - and operated by the Irish FA in conjunction with the university, with support from UEFA. It is focused on developing emerging talent at school years 11 and 12 (U15 and U16).
Graduates heading for England this summer after spending two years at the academy include midfielder/winger Cole Brannigan and defender Calum Moreland, who have both signed for Premier League side Aston Villa. The pair previously played for Linfield.
And midfielder Dylan Stitt has left the Blues to join Premier League new boys Luton Town.
Another Linfield duo, midfielders Callum Burnside and Blaine McClure, have signed for Scottish Premiership giants Rangers.
WATCH: JD Academy Graduation Night Recap
EFL Championship side Leicester City have snapped up midfielder Ryan Donnelly (Dungannon Swifts), while EFL League One outfit Fleetwood Town have signed defender Conor Haughey from Glentoran and midfielder Jack Doherty from Derry City.
And near neighbours Blackpool, who were relegated from the EFL Championship last season, now have defender Conor McVeigh-McDonald (ex-Linfield) on their books.  
Staying with Linfield are forward Kenzie Beattie and defenders Nikhil McFaul and Callum Cowan, while Glentoran trio Jude Johnson (forward), Rhys Walsh (midfielder) and Theo McToal (defender) are remaining at the Oval.
Defender Logan Graham, meanwhile, has switched from the Glens to Larne, and goalkeeper Dara McAuley is continuing his development with Derry City.
Andy Waterworth, Head of Elite Player Development at the Irish FA, said: "Huge congratulations to all the players. Over the past two years they have shown a lot of dedication and we are very proud that they have all signed either scholarships or professional contracts. It shows the elite performance pathway is working.
"I would also like to thank our domestic clubs. The players are with us at the academy during the week, however the clubs look after them at weekends and do a terrific job. We have good collaboration with the clubs."
Image: The class of 2021-23 with staff from the JD Irish FA Academy in collaboration with UEFA.