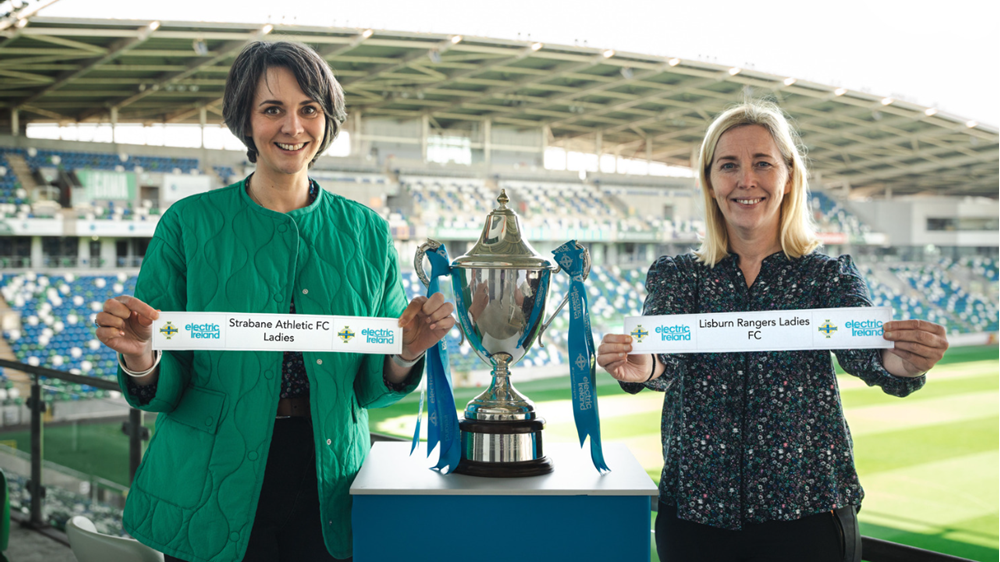 This year's Electric Ireland Women's Challenge Cup competition will begin next month.
The draws for the preliminary round and the first round have been staged at the National Football Stadium at Windsor Park.
Eight teams are set to compete in the preliminary round on Friday 12 May (all games will kick off at 7.30pm). And the four winners of those matches will then advance to round one on Friday 16 June (7.30pm starts).
1st Bangor Ladies are due to take on Valley Rangers Ladies in the tie of the preliminary round, while the other matches will see Strabane Athletic Ladies face Lisburn Rangers Ladies, Belfast Celtic Ladies up against Antrim Town Women and Lisburn Distillery Ladies competing against Shorts Women.
Eight teams who received byes at that initial stage will compete in the first round along with the four triumphant teams.
The winners of Distillery v Shorts will be at home to Bangor Ladies in round one, while the winners of Belfast Celtic against Antrim Town will host Craigavon City Ladies.
Comber Rec Ladies are set to be at home to the winners of the tie of the preliminary round, 1st Bangor or Valley, and St James' Swifts Ladies are scheduled to host Bloomfield.
A home tie against Donegal Celtic Ladies awaits the winners of the match between Strabane Athletic and Lisburn Rangers, and Ballyclare Comrades Ladies and Belfast Ravens are also set to meet in the first round.
The teams competing in the early rounds all play in NIWFA leagues. The 10 teams from the NIFL Women's Premiership will enter the competition at the round two stage at the end of July.
Anne Smyth from Electric Ireland said: "It's great to see the Electric Ireland Women's Challenge Cup get under way once again. We look forward to plenty of great cup ties as the competition progresses."
Image: Electric Ireland's Anne Smyth (left) and Elaine Junk, chair of the Irish Football Association's Women's Challenge Cup Committee, made the draw for the opening two rounds of this year's Electric Ireland Women's Challenge Cup competition.
v
P
P
AET ({{fixture.homePenaltyScore}} - {{fixture.awayPenaltyScore}}) penalties
{{fixture.compName}} {{getType(fixture)}}
{{fixture.dateFormatted2}}, {{fixture.timeFormatted}} Kick Off Time TBC at {{fixture.stadium}}