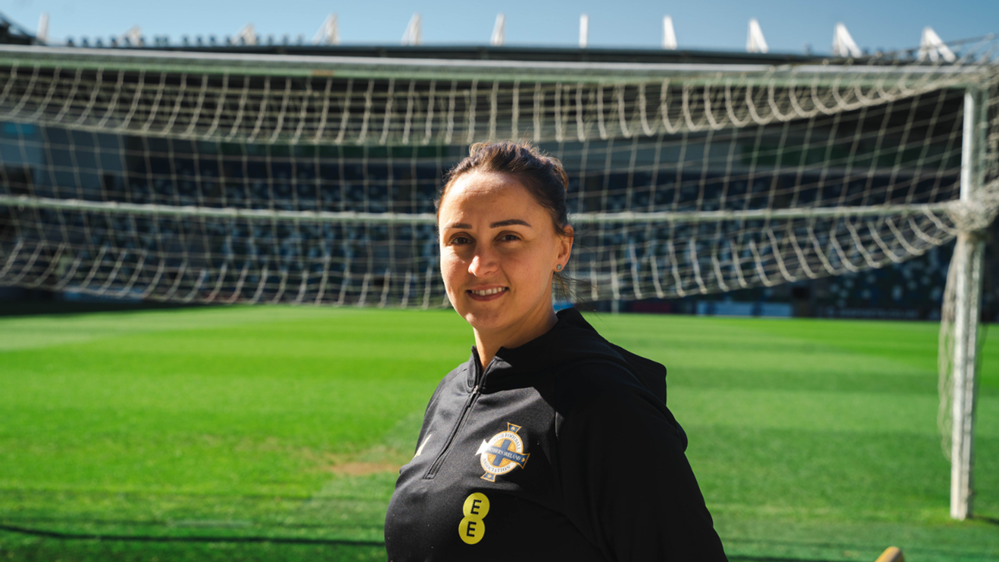 Former Northern Ireland international and experienced coach Danielle McDowell Tuffey has been appointed as the Irish FA's first Girls' Elite Youth Academy Manager.
In the role McDowell Tuffey will lead the association's girls' elite player talent ID and development programmes (up to age 16).
She will be responsible for sourcing, recruiting, training and the retention of youth players for national Under-15 and U16 development squads at elite international level, and preparing these girls for life as future senior internationals/professional footballers.
McDowell Tuffey, who is currently Women's Football Development Officer at the Irish FA, brings a wealth of both coaching and playing experience to the new role.
She said: "I can't wait to get started. I am immensely passionate about youth development and guiding young players to fulfil their footballing potential.
"I have myself progressed through the Irish FA youth international pathway to senior international as a player, so I know what it takes."
For the past 17 years she has coached and managed in boys' and girls' youth football, within youth excellence programmes and within senior women's football. She is currently studying for the UEFA Pro Licence.
Since 2012 McDowell Tuffey has been head of development at Crusaders' Girls' Academy. And she has been first team coach with NIFL Women's Premiership side Crusaders Strikers since 2021. However, she will be leaving her roles with the Crues to take up her new post with the Irish FA.
Other previous coaching roles include head coach/co-ordinator at the Irish FA's girls' excellence programme within Co Antrim and assistant head coach of the Northern Ireland U15 girls' development team.
Since 2018 she has been head coach/development officer at the Irish FA Women's Performance Academy based at Ulster University Jordanstown. And that's another role which she will vacate on taking up her new position.
Angela Platt, Director of Women's Football at the Irish FA, said: "I am delighted to have Danielle appointed to this important new role for the Irish FA's girls' elite pathway.
"Danielle comes into the role with great experience in developing players within girls' and women's football, particularly through her time leading our Ulster University Performance Academy programme.
"Her experience as a former international player and her coaching knowledge gained from several roles in girls' and women's football will enable her to establish our new talent ID and academy programmes for our girls' pathway.
"It is an exciting new role and I look forward to working closely with Danielle to ensure we provide the opportunities to identify and develop the future generation of Northern Ireland players within our girls' pathway."
McDowell Tuffey was a Northern Ireland youth international at U15, U17 and U19 levels before becoming a senior international in 2004. She won 43 caps for her country between 2004 and 2016.
She has played for Crusaders Strikers for the past 21 years. During those two decades she won six Premiership titles, one Irish Cup and three League Cups. She had two spells as club captain and served as interim player-head coach at different periods.
During some of those years, when it was the off season in Northern Ireland, she also played in the USA - for Lee University Tennessee (2005 and 2006) and with semi-professional side Mississippi Fuego (2014).