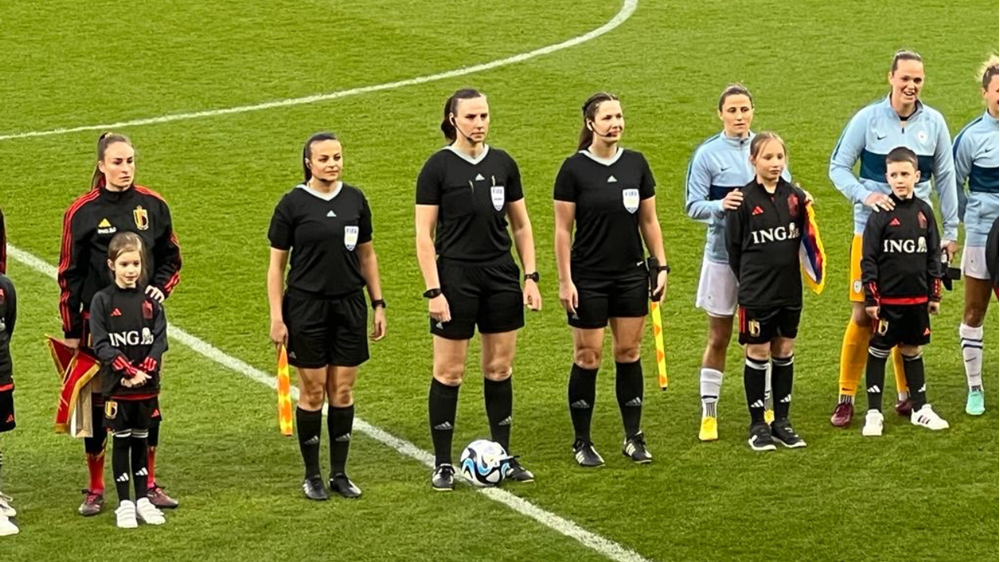 Northern Ireland referee Louise Thompson has had a busy start to spring this year.
She has taken charge of two friendly internationals, attended a coaching day for female referees run by the Scottish FA and taken part in a training camp organised by PGMOL, the body responsible for providing officials for all Premier League, EFL and FA competitions in England.
First up was the PGMOL camp in mid-March where she was trained on the VAR (video assistant referee) system and took part in pitch sessions which covered match scenarios and included training drills.
Analysis of officials' decisions in Women's Super League matches was also part of the mix.
Then earlier this month it was off to the Cherry Red Records Stadium in Kingston upon Thames - it's the home stadium of Chelsea Women - where she took charge of an international friendly between Australia Women and Scotland Women, which the Scots won 1-0 thanks to a Nicola Docherty strike.
The following week Thompson, who is a FIFA referee, was the official in the middle for a friendly involving Belgium Women and Slovenia Women. It was staged at the King Power at Den Dreef stadium in Leuven and finished 2-2.
Also part of the team of officials for that game in Belgium was an assistant referee from Northern Ireland, Victoria Finlay.
Thompson's travels this month further included a coaching day for female officials in Scotland at the weekend.
It was run by the Scottish FA at the Oriam in Edinburgh and included practical sessions, theory sessions, debates and coaching discussions.
The Fermanagh referee said: "It has been a very busy few weeks but very beneficial and full of great experiences and opportunities."
Trevor Moutray, the Irish FA's Head of Refereeing, said: "I am indebted to the Royal Belgian FA, the Scottish FA, The FA and PGMOL for inviting Louise to officiate in two high profile international friendlies and also to attend two training events for female officials.
"Louise and Victoria both gained significant benefit from these invitations and both can only benefit from these experiences moving forward."
Image: Louise Thompson (with ball) and Victoria Finlay (to Thompson's left) line up with the players ahead of the friendly in Leuven.