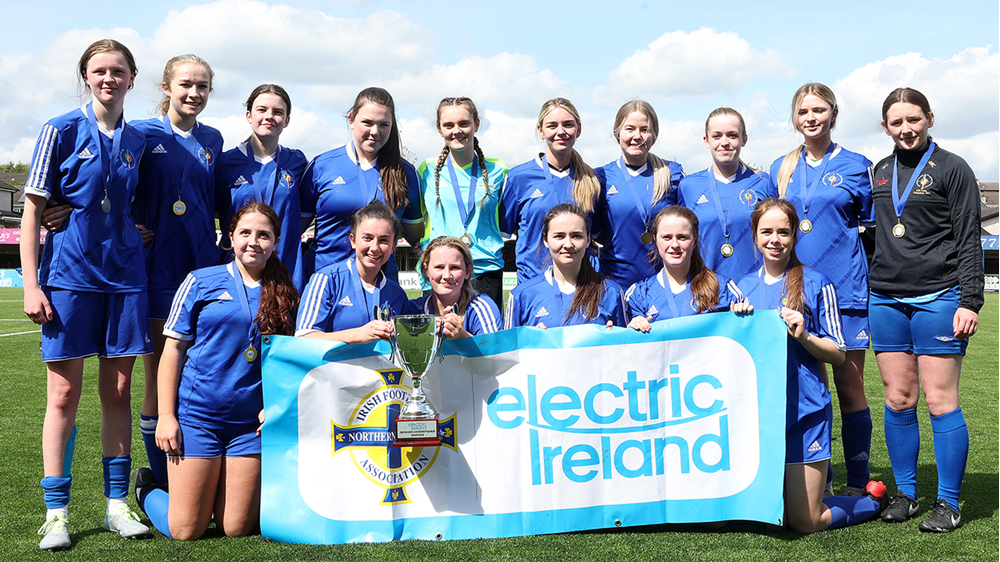 Holy Cross College retained the Electric Ireland Schools' Cup for senior girls' teams thanks to a ruthless first half display against Kilkeel High School in the final.
Two goals from Ciara McAleer and another from Rosie Harper were enough to seal the cup success for the Strabane school.
The Co Down v Co Tyrone clash at Stangmore Park in Dungannon yesterday drew a huge crowd and they were treated to an entertaining final.
An early breakaway goal from Holy Cross set the tone for the first half. The Strabane side kept breaking down Kilkeel attacks early and they soon found themselves two up.
Before half-time it was 3-0 thanks to another blistering Holy Cross attack. The Kilkeel goalkeeper tried in vain to keep the ball out but it looped over her head and dropped into the net.
The second half was a very different game to the first, with the two school teams going toe to toe. 
Kilkeel battled for every ball and gave as good as they got, but unfortunately for them the damage had been done in the first half.
Holy Cross ultimately ran out deserved winners on a 3-0 scoreline thanks to a solid all-round team display and the goals from McAleer and Harper.
Northern Ireland senior women's team captain Marissa Callaghan was on hand to give out the medals and hand over the Electric Ireland Senior Cup. 
She pointed out: "It's amazing for me to be part of these big occasions in girls' schools' football. 
"It was fantastic to see the level of support coming from the stands for both teams and it bodes well for the future. It's clear that schools are investing in girls' football. I hope we will be seeing these girls continue their footballing journey and there is no telling where it could take some of them."
Damian McLaughlin, Irish FA Foundation Schools and Futsal Officer, thanked Electric Ireland for supporting the Schools' Cup and other competitions for girls' teams within schools.
He said: "The girls are being given the opportunity to play the game in a beautiful stadium in front of their schools. Days like these are incredible and the memories will certainly last for the girls involved. 
"This competition continues to grow each year with more schools entering and looking to be crowned Electric Ireland senior champions. I am already excited for next year when I hope this competition will be bigger and better again."
Electric Ireland Schools' Cup - senior girls'