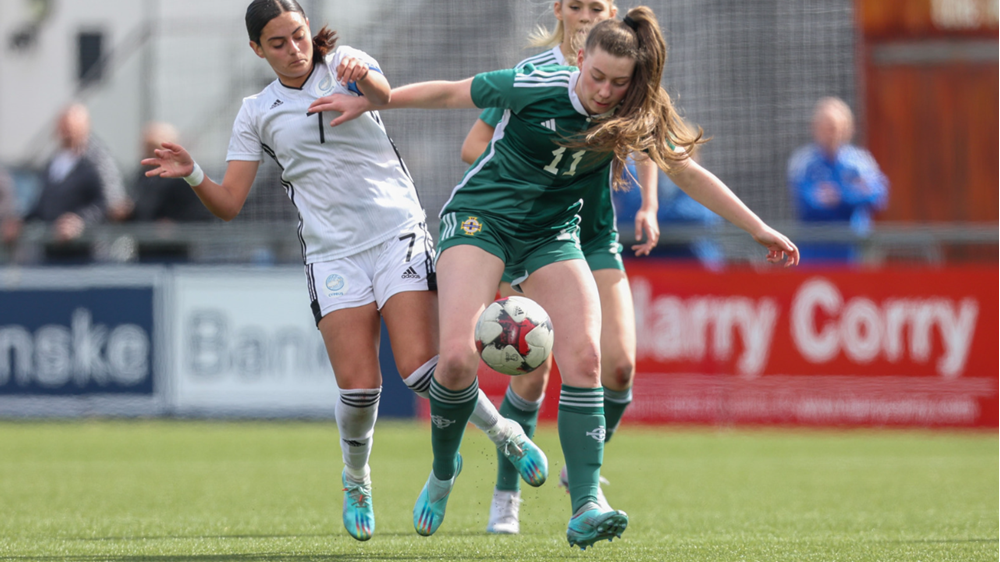 Northern Ireland's Women's Under-19 team

suffered a disappointing 2-1 defeat against Cyprus in a Euro qualifier in Belfast this afternoon.
Competition
WU19 Euro 2023 Qualifiers - League B Group 3
Scoreline
Northern Ireland WU19s 1-2 Cyprus WU19s
Scorers
Northern Ireland: McLaughlin (81')
Cyprus: Dionissiou (8'), Panagiotou (24')
Venue
Seaview Stadium, Belfast
Date
Friday 7 April 2023
Team News
WU19s interim coach Lynne Carroll rung the changes in the starting eleven after Northern Ireland defeated Latvia 5-0 earlier this week.
Goalkeeper Rachael Norney, attackers Keri Halliday and Emily Reid plus centre back Caoimhe Mulholland all came in to the team after being subs for the Latvia game.
How it happened
Northern Ireland fell behind after eight minutes and that early setback knocked them out of their stride a little. The goal was scored by Cyprus midfielder Sophie Dionnissiou following a sweeping move.
Reid had Northern Ireland's first chance of the game six minutes later, however her effort was off target.
Cyprus doubled their lead on 24 minutes when Cyprus captain Maria Panagiotou's free-kick from 35 yards found the top corner. Northern Ireland keeper Rachael Norney got a hand to the ball but could not keep it out.
Towards the end of the half Norney clung on to a snapshot from Cyprus left back Georgia Terla.
Half-time: Northern Ireland WU19s 0-2 Cyprus WU19s
Northern Ireland showed more purpose after the interval and half-time substitute Eve Reilly had a shot blocked two minutes after entering the fray.
However, Dionissiou hit the woodwork on 51 minutes after racing clear of the home defence before Cyprus keeper Antriana Mila comfortably held on to a Naomi McLaughlin cross and then gathered a shot by McLaughlin.
On 73 minutes substitute Cara Tumelty hammered a free-kick just over the top from 35 yards.
Northern Ireland eventually pulled a goal back in the 81st minute. McLaughlin (pictured) picked up the ball around 30 yards out and smashed it into the net. It was a lovely strike.
Cyprus had defended resolutely up to that point, and they dug deep in the closing stages to secure the victory.
The WU19s will be at Seaview again on Easter Monday for their final B3 match. That game against the Kosovans is due to kick off at noon. And Latvia and Cyprus will be meeting at the same time on Monday at Solitude.
Today's disappointing defeat to the Cypriots means Northern Ireland must defeat Kosovo on Monday by two clear goals to give themselves a chance of promotion to League A for 2023-24 round one.
Kosovo beat Latvia 1-0 at Solitude earlier today, giving them six points from two games.
The Kosovans have a goal difference of five, while Northern Ireland (on three points) have a goal difference of four.
However, if Northern Ireland win and Cyprus also win then the Cypriots would top the group on the head to head.
Full-time: Northern Ireland WU19s 1-2 Cyprus WU19s
Line-ups
Northern Ireland: Rachael Norney, Sarah Jane McMaster, Ella Haughey, Aimee Neal, Caoimhe Mulholland, Helen Parker, Rhyleigh Marks, Aoibhe O'Neill (captain), Naomi McLaughlin, Keri Halliday, Emily Reid.
Substitutes: (used) Eve Reilly, Ellie-Mae Dickson, Sarah Tweedie, Cara Tumelty; (unused) Erin McAllister (GK), Cerys Madden, Mikayla Wildgoose, Erin Montgomery, Sienna Leckey.
Cyprus: Antriana Mila, Andria Efstratiou, Domna Stylianou, Maria Panagiotou (captain), Maria Zamani, Stella Panagiotou, Sophie Dionissiou, Christina Kyriakidi, Anna Sofocieous, Georgia Terla, Eirini Morou.
Substitutes: Antria Savva (GK), Aristi Prodromou, Antrea Silou, Theofano Chrysanthou, Ionna Christodoulou, Nastazia Nikolaou, Eleni Panayiotou, Marilia Constantinou, Eleonora Vasiliou.
Northern Ireland WU19s 1-2 Cyprus WU19s