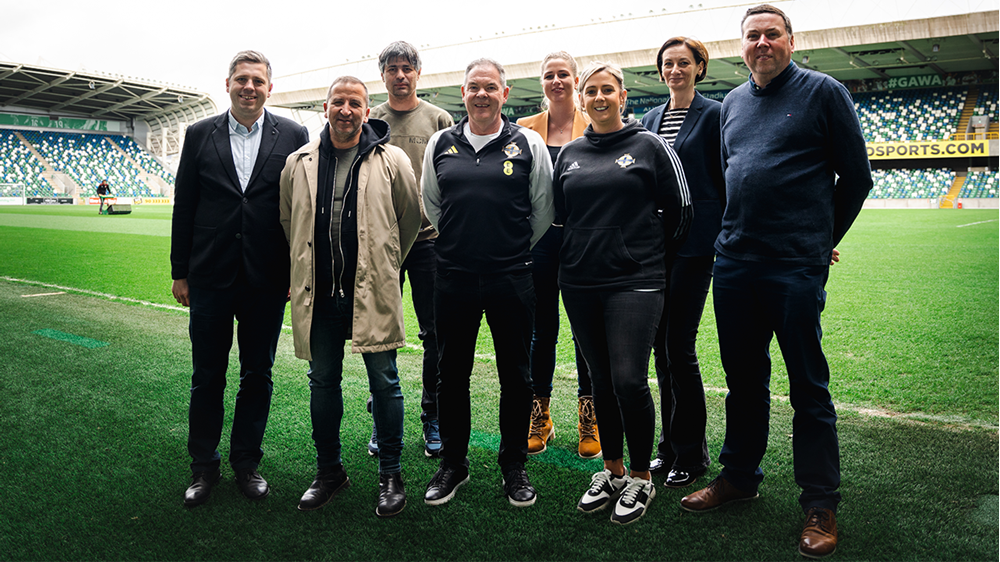 The Irish FA Foundation is set to deliver a European wide project, intended to address and prevent radicalisation through sport. 
Entitled the FAIRER project, it will run for 36 months and will provide a freely accessed methodology to help organisations fight radicalization within the football environment and beyond.
Partners involved in the FAIRER project are Universita di Modena and Reggio Emilia, the Romanian FA, the Latvian FA and the Malta FA.
The partners of the Erasmus+ FAIRER project were hosted by the Irish FA at the National Football Stadium at Windsor Park to discuss the launch of focus groups, Living Labs. These groups will give the opportunity to connect with stakeholders including football clubs, supporters, government agencies and local police. The aim is to discuss, propose and implement solutions for the communities within each association to eliminate radicalisation and violence.
During their visit to Northern Ireland, the project partners attended a Fresh Start Through Sport delivery session in Belfast, seeing the programme that will be used for this project by the Irish FA Foundation.
Speaking about the programme, the Irish FA Foundation Stay Onside Liaison Officer & Fresh Start Through Sport Co Ordinator, Mark Dennison said, "I am delighted to be working on this project in partnership with other football associations across Europe. The existing Fresh Start for Sport Programme aligns well with the vision of the FAIRER project as it engages with young people who are potentially at risk from becoming involved in criminality.
"It was a privilege to host the team involved in the launch and delivery of this project across each association, it was a productive visit that will be of great benefit as we look to implement our plans in the coming months."