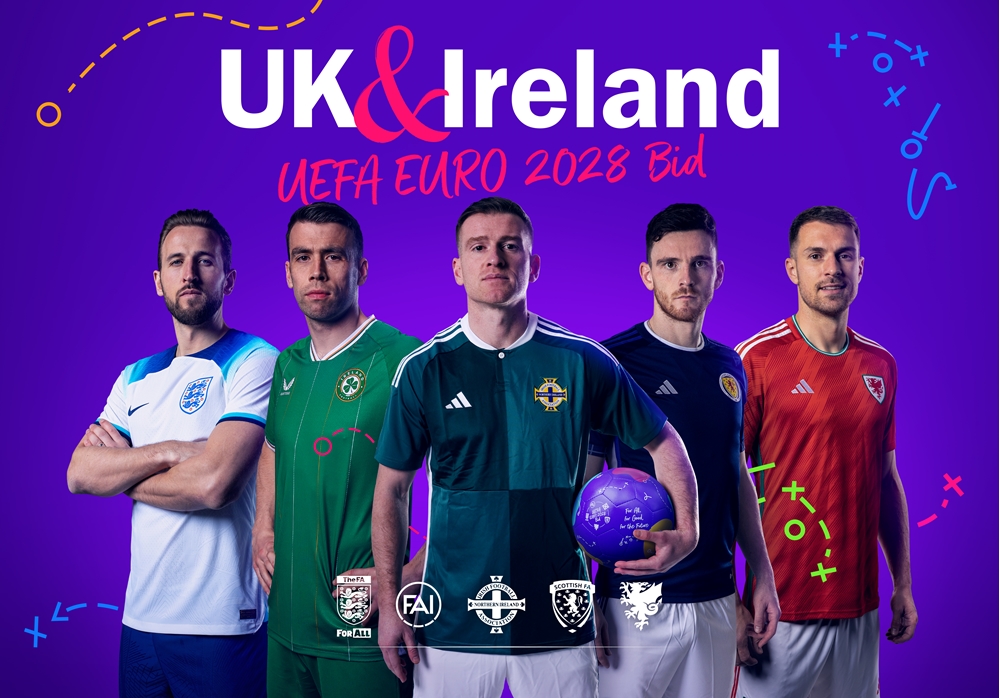 Today the UK and Ireland final bid to host UEFA EURO 2028 has been submitted. The bid is a detailed plan that shows how our nations are collaborating to stage an historic football festival for all of Europe and take the tournament to new heights.
We are delighted to propose to UEFA and the European football family a world class stadia concept tailormade for EURO 2028. This plan is enhanced by our excellent technical facilities and operational experience.
An online presentation of our compelling bid, including a joint statement of support by our Heads of Governments, is here: UK & Ireland UEFA EURO 2028 Bid Brochure. 
The proposed host cities and 10 stadia across the five partner associations are (in gross capacity order):
Cardiff - National Stadium of Wales (73,952)
London - Tottenham Hotspur Stadium (62,322)
Manchester - City of Manchester Stadium (61,000)
Liverpool - Everton Stadium (52,679)
Newcastle - St James' Park (52,305)
Birmingham - Villa Park (52,190)
Glasgow - Hampden Park (52,032)
Dublin - Dublin Arena (51,711)
Belfast - Casement Park (34,500)
High capacity, world famous football grounds and state-of-the-art new venues will provide the platform for the biggest and most commercially successful UEFA EURO ever – making us a low risk, high reward host:
- Almost three million tournament tickets available – more than any previous UEFA EURO
- Average stadia capacity of 58,000 so more fans than ever before will attend matches
- Matches hosted around our nations and regions to reach as many communities as possible
Our bid also places sustainability and good governance practice as top priorities:
- Compact and connected transport plan – more than 80% of ticket holders able to travel to matches by public transport
- Proposed match schedule to reduce emissions
- Adhering to UEFA's major event human rights principles to ensure an inclusive, discrimination-free and equal work environment for colleagues and volunteers
The UK and Ireland share a proud reputation as world-leading event destinations which have successfully staged some of the biggest global sporting tournaments – backed by strong government support. This includes the recent record-breaking UEFA Women's EURO 2022. 
Our vision – 'Football for all, Football for good. Football for the future' – is a promise to help our associations and UEFA grow a more diverse and inclusive game as well as connect with new audiences and the next generation of fans and volunteers.
To mark the bid submission moment, the captains of our men's national football teams showed their support for the UK & Ireland bid:
Harry Kane, England
Séamus Coleman, Ireland
Steven Davis, Northern Ireland
Andy Robertson, Scotland
Aaron Ramsey, Wales
We are delighted that our Government Partners are fully committed to hosting UEFA EURO 2028. They have signed the relevant tournament guarantees and will ensure the event is fully supported. This will create a welcoming, exciting and safe football experience that players and fans will enjoy in every city and every game.
CO-SIGNED BY FOOTBALL ASSOCIATIONS OF ENGLAND, IRELAND, NORTHERN IRELAND, SCOTLAND AND WALES