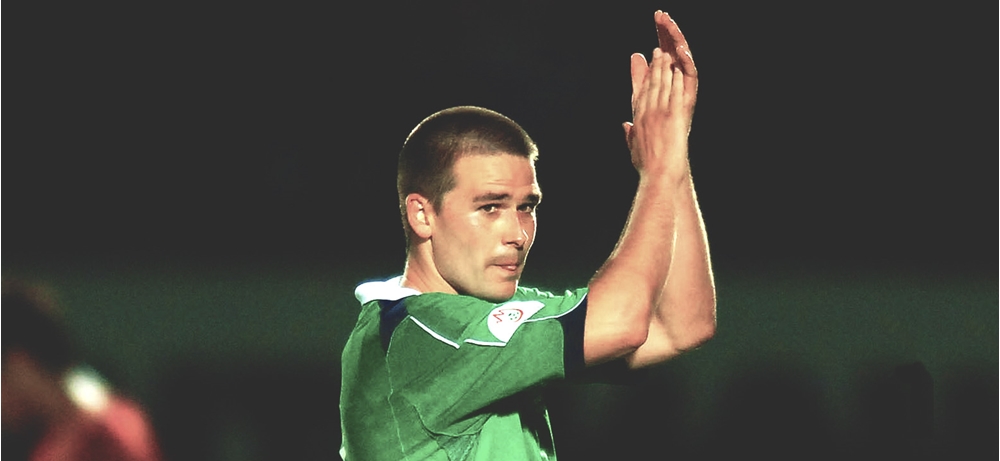 From the moment that David Healy found the net on his full international debut against Luxembourg in February 2000, it seemed he was destined to go on and break Northern Ireland's long-standing goalscoring record. 
In what was his opening game in charge, Sammy McIlroy decided to give the Manchester United striker his first full cap and the 20-year-old did not disappoint scoring twice in Northern Ireland's 3-1 win in the Grand Duchy.
Unfortunately for Healy, he failed to make the breakthrough at Old Trafford playing just one first-team game before being transferred to Preston North End for a fee of £1.5 million in January 2001. 
MORE: NI Hall of Fame
North End subsequently proved to be the Killyleagh native's most productive spell during his career scoring 45 goals in 157 appearances in nearly four years at Deepdale.
It was on the international stage that Healy really excelled though; who will ever forget his sensational winner against England in 2005 and a year later his stunning hat-trick which beat a sublimely talented Spanish side in a EURO 2016 contest at Windsor Park. 
The stand-out moment of Healy's international career though has to be when he set a new record for most goals scored in a qualifying campaign after hitting an incredible 13 in just 12 outings to overtake the previous record set by Croatia's Davor Suker twelve years earlier. 
On the club front he did enjoy some good times during a three year stint with Leeds United, but had an indifferent spell in the Premier League under former Northern Ireland boss Lawrie Sanchez leaving for Sunderland in 2008 after just twelve months at Craven Cottage. 
Following his departure from the Stadium of Light in 2011, he joined Glasgow Rangers where he won a League Cup winner's medal in a 2-1 win over Celtic. He also won the Scottish Premier League in the 2010-2011 season. 
Healy made his 95th and final appearance in a green shirt in a 2-0 home defeat to Israel in a World Cup qualifier at Windsor Park in March 2013.
After being released by his final club Bury at the end of the 2012/13 campaign, he subsequently announced his retirement from the game after a career which saw him score 99 goals in 430 matches.
He was made an MBE in 2008 for services to football and was also voted Northern Ireland Personality of the Year on no fewer than four occasions. 
In October 2015 he took up his first managerial post when he replaced his one-time international colleague Warren Feeney as boss of Linfield. He has subsequently led them to two League Championships and an Irish Cup. 
DAVID HEALY STAT PACK
When David Healy scored twice on his international debut in February 2000 he was the 22nd post war player to achieve this feat and just the fifth to score two goals on their debut.

Healy started a total of 82 of his 95 full international games for Northern Ireland and was subbed on no fewer than 40 occasions. 

He played a total of 7,014 minutes for his country in the following competitions.

  

World Cup Qualifiers: 2,465, Friendlies: 2,328, EURO qualifiers: 2,176 and Carling Nations Cup: 45 minutes. 

His 36 goals were scored in the following competitions:- Friendlies 14, EURO Qualifiers 13, World Cup Qualifiers 9.

19 of Healy's 36 goals were scored at Windsor Park – 10 were scored at the old Railway End of the stadium and 9 in front of the fans in the old Spion Kop. 

He was yellow carded 16 times for Northern Ireland, twice in the one game in a World Cup qualifier against Wales at the Millennium Stadium in September 2004, which led to a 21st minute red card just moments 

 

after giving Lawrie Sanchez's side a 2-0 lead.
Healy represented Northern Ireland while at 10 different clubs, they were: Preston North End (29 games), Sunderland (18), Leeds United (17), Fulham (9), Glasgow Rangers (9),

  

Manchester United (5), Norwich City (3), Bury (2) Port Vale (2) and Ipswich Town (1).
Healy is the only ever player to score two hat-tricks in different games for Ireland/Northern Ireland. His first was against Spain on 6th September 2006 and his second came in a 4-1 victory in Liechtenstein on 24th March 2007.

  

Healy's playing record in a Northern Ireland shirt was: won 25, drew 23 and lost 47. 

21 of his goals were scored during Lawrie Sanchez's reign, 8 under Sammy McIlroy, 6 under Nigel Worthington and 1 during Michael O'Neill's time in charge. 
David Healy is one of 10 Northern Ireland players featured in the Hall of Fame exhibit at the Education and Heritage Centre at the National Football Stadium at Windsor Park.