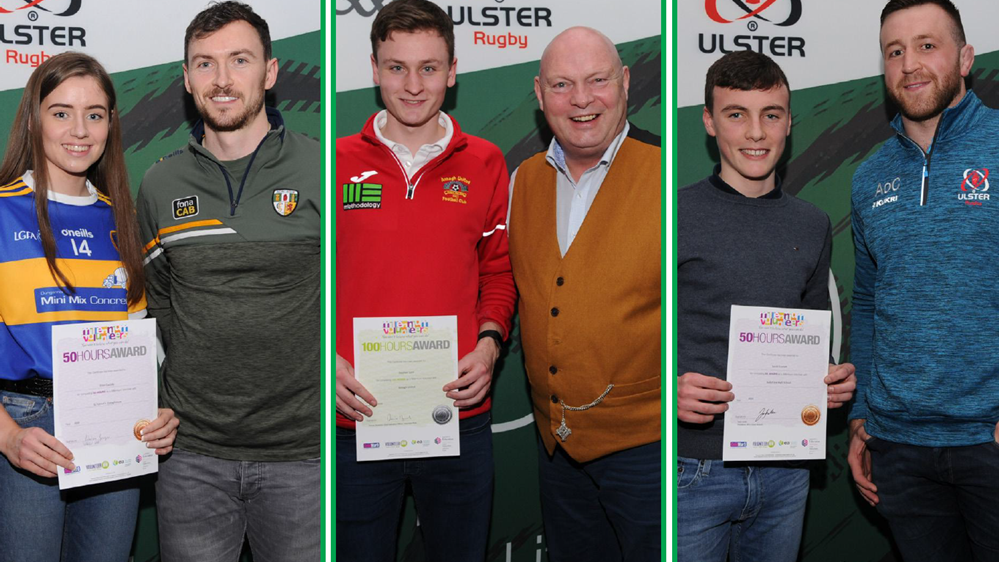 The Department for Communities 'Sport – A Home for Lifelong Volunteering' programme report for 2019/20 has been published.  
The programme began in 2015 with the Irish FA, Ulster Rugby and Ulster GAA working in partnership - and has continually catered for clubs, communities and volunteers nationwide. The funding, which is reviewed annually, was extended in 2019 to allow for the delivery of 2019/2020 programme.
Repeating the successes of previous years, the programme achieved all objectives and targets in 2019/20.
The continuous hard work and effort by the project officers from all three sports is a testament to the importance of working in partnership and of how effective this can be, not just in a sporting context but also across the voluntary sector and throughout our communities.
The full report can be found here.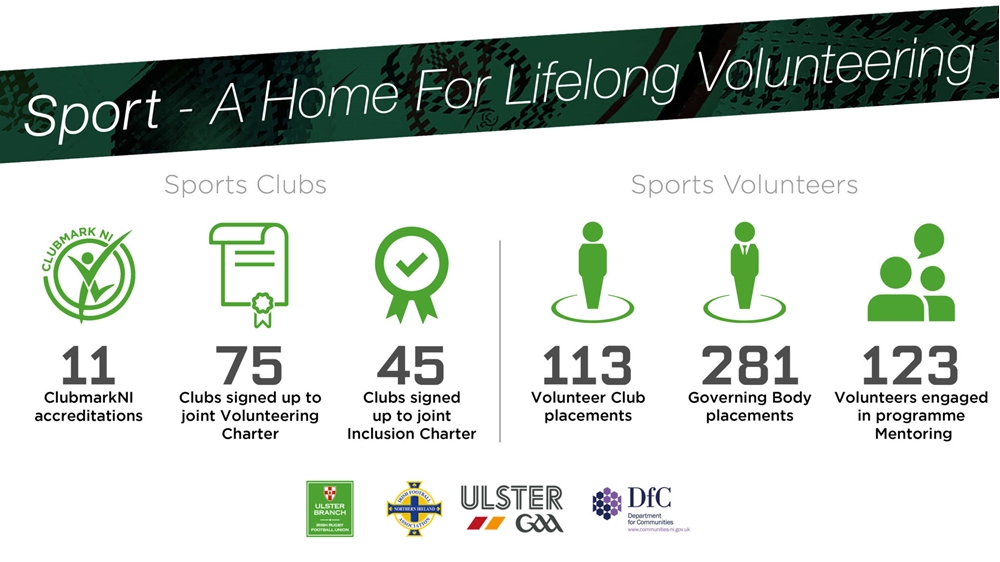 Programme Highlights 
Schools' Roadshows
Between September and November, the joint sports partnership delivered three multi-sport schools' roadshows. The Irish FA, Ulster GAA and Ulster Rugby delivered workshops to pupils at St Louise's Comprehensive College Belfast, St Pius X College Magherafelt and Royal School, Armagh.
Over 100 pupils aged 14-17 benefited from the sessions, all of which were greatly received by the respective schools.
The theme of the roadshows was based around young people's safety, wellbeing and tackling addiction. The Northern Ireland Fire and Rescue Service opened with a strong message around safety on the road and the implications of reckless driving.
Oisín McConville, former Armagh GAA footballer, reflected on his addiction to gambling and spoke of the signs that young people should be aware of.
The PSNI concluded the roadshow with an informative presentation highlighting the hard-hitting 'One Punch Can Kill' workshop with case studies on victims and on the impact their deaths have on families and communities.
Joanna McConway, Department of Communities, said: "I am pleased to see that this programme is tackling some of the difficult issues in society. Volunteering is an example of good citizenship and hearing first-hand of real life experiences is invaluable learning for young people as they embark on the journey to adulthood."
Multi-Sport Youth Forum
The Joint Youth Forum took place on 29 February 2020. Ulster GAA, in partnership with the Irish FA and Ulster Rugby, invited 24 young volunteers from each of the sporting codes to participate in our multi-sport youth forum in Silverbirch Hotel, Omagh.
The youth forum was aimed at being as interactive as possible. The group was made up of young adults between the ages of 16 to 24. The session started with icebreakers to help the participants feel more comfortable and to encourage the different codes to mix together.
The participants were then split into groups – each of which had representation from the three sports. They were asked to participate in interactive tasks and for their views on volunteering in sport. Each group was asked to draw their typical rugby player, footballer and GAA player and it was interesting to see the stereotypes associated with sport. The groups took some time to discuss the drawings and to reflect on their initial perceptions.
The groups discussed issues around volunteering opportunities for young people in sport and explored what young people felt were the barriers to getting involved as a volunteer and what they felt were the benefits of being involved in sport. They then had to present to the other groups a sales pitch on why you should volunteer. The presentations were excellent.
After the forum participants were offered the opportunity to volunteer at Healy Park and give out programmes prior to the Tyrone v Dublin All-Ireland game in the National League. All volunteers were given tickets to watch the game which was live on TV. They were also invited onto the pitch at half time to meet and have photographs taken with Sean Cavanagh, an ex-Tyrone, Ulster & Ireland player who is currently a TV pundit on RTE's Sunday Game.
Inter-organisational Placements
This year the programme provided multiple interorganisational opportunities for volunteers. Across the three sports 26 volunteers helped out at the following sporting events:
• Ulster v Clermont Heineken Champions Cup round two match – 22/11/2019
• Ulster v Harlequins Heineken Champions Cup round three match – 07/12/2019
• Ulster v Bath Heineken Champions Cup round six match – 18/01/2020
• Tyrone v Dublin Championship match – 29/02/2020
The volunteers had an opportunity to learn more about different sports, develop new skills, work with young children, work with people who have a learning disability and network with volunteers from different parts of the community. The events also provided them with the chance to learn more about event management and working with others.
"We all had a ball and felt very welcomed. The Fanzone at Kingspan Stadium is an excellent setup and we really enjoyed helping out and meeting new people."
When asked, our volunteers told us that their opinions had definitely changed regarding sports they hadn't previously experienced and they were delighted to be given an opportunity to volunteer at these events. They enjoyed meeting people from different parts of the community and from different backgrounds and getting the opportunity to watch a live sporting event they may not previously have had the opportunity to attend.
Multi-sport Lifelong Volunteering
In November 2019, three 'State of Readiness' workshops were held to provide clubs and volunteers with information on how to prepare more effectively for any future funding opportunities. Each code hosted an event at one of their facilities.
The first workshop was held at the Kingspan Stadium on 5 November 2019, the second at Dungannon Swifts Football Club on the 7 November, and the final event took place at O'Donovan Rossa GAA Club, Magherafelt on 11 November. More than 80 people attended the three events, with more than 60 clubs from across Antrim, Armagh, Derry / Londonderry, Down, Fermanagh, Monaghan and Tyrone represented.
The workshops were facilitated by Gavin Nelson (Irish FA Club & Community Development Officer), Fionntán O'Dowd (Ulster GAA Club & Community Development Officer) and Matthew Holmes (Ulster Rugby Club Services Officer). The theme of 'state of readiness' was chosen to help educate clubs on the importance of good governance and to plan ahead for any funding opportunities, so that the clubs would be in the best possible position should any relevant funding become available.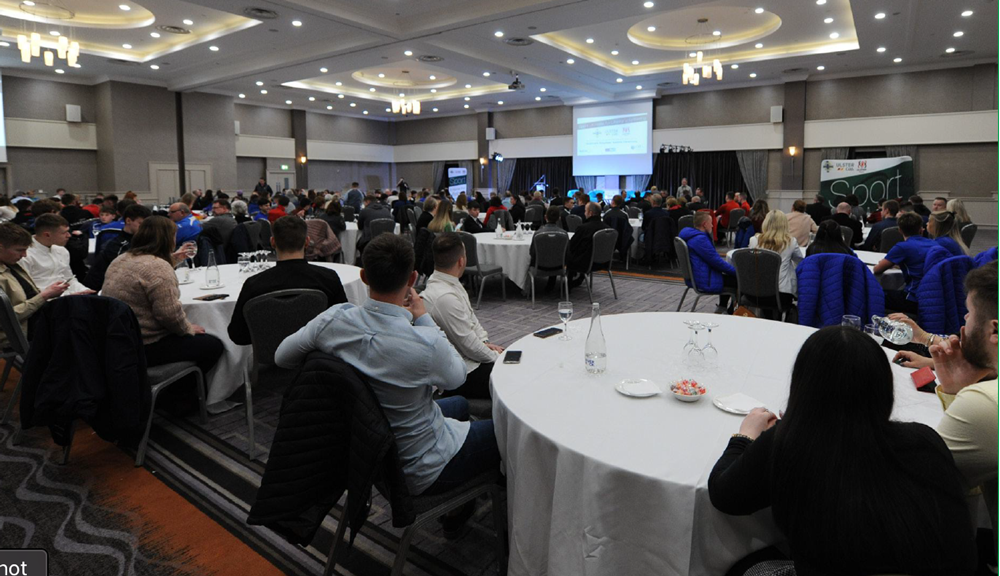 GoldMark Awards 2020
The GoldMark Awards highlight the huge volunteering effort across the three sports among young people aged 14-24 and was jointly organised by Ulster GAA, the Irish FA Foundation and Ulster Rugby.
The young people heard first-hand from three sports stars about their experiences of volunteering and the impact volunteers made on their sporting careers: David Jeffrey, Ballymena United manager, Connor McCann, Antrim GAA Hurling captain and Alan O'Connor, Ulster Rugby player.
The packed audience at the Crowne Plaza Hotel also heard from Caelan McEvoy of Kilcoo GAA who gave a powerful overview of his experience volunteering in sport when his playing career was cruelly cut short due to a severe illness. More than 100 young people were presented with a GoldMark Millennium Volunteers Award for 50, 100 and 200 hours of volunteering.
Irish FA vice-president Crawford Wilson said: "Through Department for Communities funding the Irish FA Foundation, Ulster Rugby and Ulster GAA are able to work together to increase participation in volunteering – promoting and recognising our volunteers and also developing their skills and knowledge. We also appreciate the ongoing support of Volunteer Now, supported by the Education Authority, in this work.
"Through this programme the spotlight shines on the positive contribution of young people to clubs and their wider communities."
Jamie Greer of Volunteer Now added: "Sport provides some of the best quality volunteering opportunities for young people allowing them to give back within their own communities, develop essential skills and have a positive experience all at the same time. Volunteers inspire each new generation to get involved and keep that sport alive. It's fantastic to see the recognition growing over the years and we commend the support provided by each of the governing bodies."