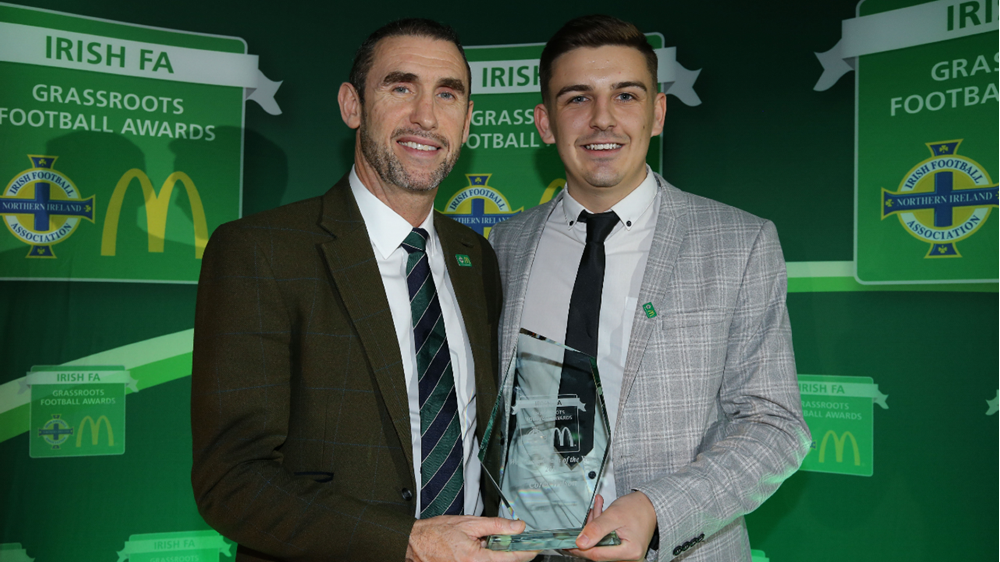 Ahead of this year's McDonald's Grassroots Football awards we caught up with Chairman of Braniel Football Club and 2018 'Wes Gregg Coach of the Year' winner Corey Wilson to delve deeper into how past winners are using this time to give back to serve their communities.
Following his prestigious award win in 2018, McDonald's provided Corey with funding for his UEFA B Licence Part 2 course, making him the first ever McDonald's bursary award winner.
"I normally work part-time in retail as I had started up my own coaching company at the beginning of the year, however with many of my colleagues vulnerable or living with someone who is vulnerable, my work became even more essential and I have stepped up to working as a shift leader 5/6 days a week.
"Although my hours in retail have increased, I am as dedicated as always to my role as Chairman of Braniel Football Club, seeing what we can do for members during this time and how we can eventually get back to the game."
"We have really focused on keeping our younger members active and engaged by hosting football related quizzes via zoom for all age groups, we had a create your own Braniel kit competition which was very popular and I've also been creating skills challenge videos for all the kids at the club to try and encourage practice at home."
"As a previous winner, I would encourage people to get voting for the unsung heroes of grassroots football who are doing so much for our communities at this time.
You can nominate your unsung hero HERE
This year's McDonald's Irish FA Grassroots Awards tour is undoubtedly different due to the unprecedented times we find ourselves in, but as many clubs throughout Northern Ireland find new ways to innovate and develop community spirit, shining a light on their efforts is more vital than ever.
As resilient communities continue to come together at this challenging time, it's not only on the pitch that we are seeing green shoots, it's off them too, and McDonald's for the 19th year running are seeking to champion the local heroes who, through their clubs are making a hugely positive civic impact during COVID-19.
You can submit a nomination for the 2020 McDonald's Grassroots Football Awards HERE