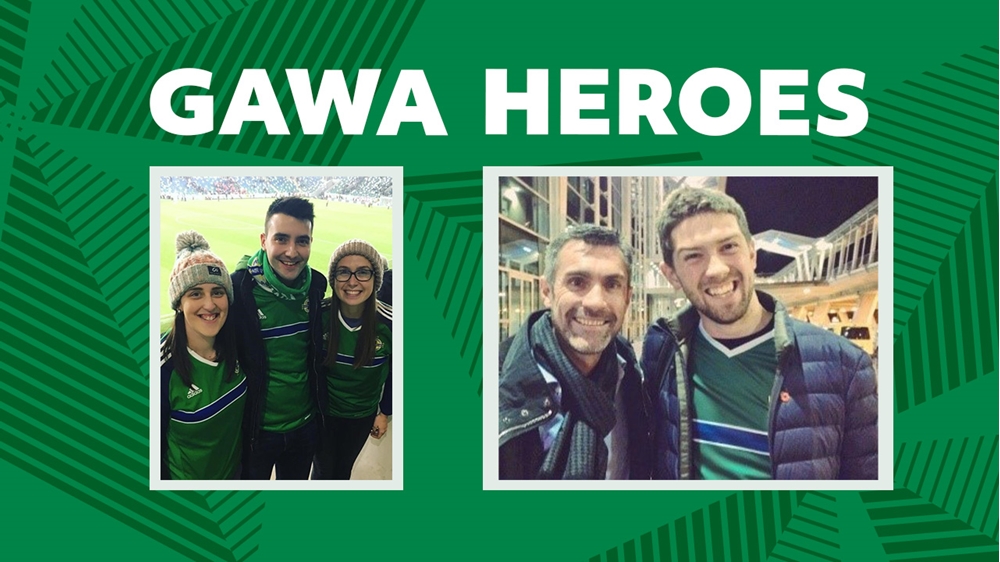 In a series of social media posts the Irish FA's digital team has been highlighting members of the GAWA who are currently in the frontline battling Covid-19, either within the NHS or as a key worker.
Among the 'GAWA Heroes' are Rachel Keys and Stephen Collins. Here are their stories…
RACHEL KEYS (26) FROM BALLYMENA
I am a junior doctor and always wanted to spend some time working in A&E - I rotate between the Royal and Mater hospitals in Belfast - but I never imagined that my four-month job in A&E would be extended to eight months and involve working through a pandemic.
The basics of my job haven't changed: assessing, examining, managing and providing care for patients who present to the emergency department.
But Covid-19 presented a new challenge of treating a disease that initially so little was known about. We just kept doing our job but quickly adapting to change on diagnosing, managing patients and PPE (personal protective equipment) guidelines. 
It can be daunting treating extremely sick patients, especially those with Covid, but I'm really thankful for the people who I work with. Nurses, doctors, cleaners, porters and clerical staff have become like a new family for me, especially as I haven't been able to get back to Ballymena to see my family and friends. 
I am a Ballymena United fan, but I've also been supporting Northern Ireland and been part of the GAWA for as long as I can remember. My dad and I were season ticket (campaign card) holders for many years.
I love watching all types of sport and going to as many matches or events as I can. I've really missed live sport during all of this and I can't wait to get back to Windsor Park soon.
STEPHEN COLLINS (31) FROM COLERAINE
I'm working as a respiratory doctor in Causeway Hospital in Coleraine at the moment.
In the respiratory team we've been doing our best to look after patients that have been coming through the doors with Covid-19-related illnesses.
That means a lot of time wrapped up inside PPE, face masks and visors. It can be tough, especially dealing with a virus that we've never seen before and are learning about all the time, but we've got a fantastic team at Causeway who go the extra mile for all the patients that arrive in with us.
In early April I picked up the virus myself and was floored for around three weeks, but thankfully I seem to have made a full recovery and I'm back on the wards now. 
I've been supporting Northern Ireland for the past 18 years. The first international match that I ever went to was when Spain beat us 5-0 at Windsor Park in April 2002.
Me and my mate Neal from school went along and it was a night I'll never forget. Even though we were outclassed that night, I was hooked on the atmosphere and before long I was counting down the days until the next match.
I'd never experienced anything like it, with every fan around us cheering at the top of their voices regardless of the score. I knew straight away that this was something I wanted to be part of.
My favourite club teams are Coleraine and Manchester United. My favourite current Northern Ireland player is Josh Magennis, while my all-time favourite Northern Ireland player has to be David Healy.
It's hard to pick what my favourite memory is of watching Northern Ireland play over the years. There genuinely have been so many. The win over Ukraine in the driving hailstones in Lyon. The party after the home win over Greece that guaranteed our place at the Euros in France. The night we toppled England and all their superstars.
Then there was the nervous tension of the World Cup play-off in Basel where we played out of our skins and only just fell short against Switzerland or the 4-1 defeat against Norway in 2004 that felt like a win after Healy scored our first goal in 14 games. The five minutes after big Josh's goal in Rotterdam last year where, for a short time, we were beating the Dutch in their own backyard. And so, so many more.
I just can't wait until we can all safely head back to Windsor and see the boys in action again.