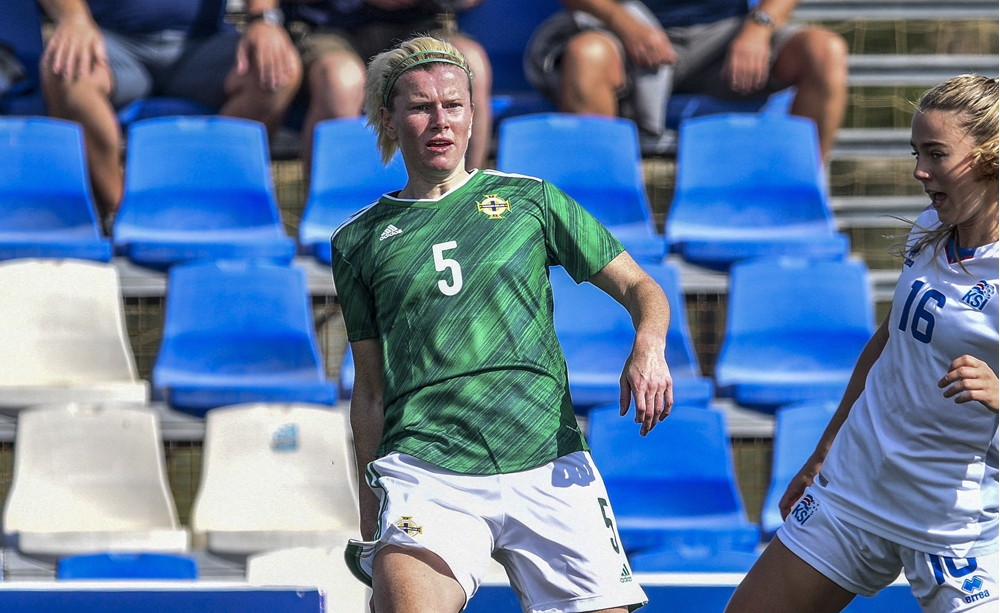 Continuing our series of Q&As we catch up with members of our senior women's team to see how they're doing in lockdown. This time it's the turn of Crusaders Strikers defender Julie Nelson
How did you get into football?
I lived beside Sandy Bay playing fields in Larne growing up and spent most of my free time there playing all types of sports with my older brother and the other kids that lived in the area. Football was the sport that we would have played most. I joined the football team in primary 6 at Moyle Primary School, that was my first experience of a team environment and my involvement grew from there. I joined a local girls team called Gilmour Gals when I was 11 and then joined Newtownabbey Strikers (now Crusaders Strikers) when I was 16. 
Who was your football inspiration growing up?
I'm an Arsenal fan so for me Dennis Bergkamp was great to watch. He had such class on the ball and everything always looked so effortless for him. I loved Thierry Henry as well. 
What has been your personal highlight in a match? 
My personal highlight in a match is probably scoring my first international goal in 2006, in my first match back after ACL reconstruction after being out of the game for 13 months. We were playing Romania at home at Drumahoe in a World Cup Qualifier and I got on towards the start of the second half. Rachel Furness delivered a great cross into the box from a set piece and I managed to connect with it and head it into the net. I barely had time to realise the ball had hit the back of the bet before Sara Booth had jumped on me to celebrate! We ended up losing the match but it was a fantastic feeling after a tough year of many hours spent working alone to recover from my injury and get back playing international football. 
What is your favourite part of training? 
I'd say small sided games are my favourite, I love the intensity and competitiveness of those and there's always a bit of banter between the players during them.  
Who would be on your dream 5 aside team? 
Difficult choice but I've gone for a team of current female players:
Christiane Endler (Chile), Julie Ertz (USA), Carli Lloyd (USA), Ji So-Yun (Korea Republic), Vivianne Miedema (Netherlands)
How are you staying fit and active during lockdown? 
I've been keeping active most days, it's my release each day after work and it's been great to get outdoors with the nice weather over the last 6 weeks. I was able to borrow some equipment from my work at Ulster University so I've been able to use that to maintain my strength work as well as mixing up my cardio training between running sessions, the rowing machine and going out on my bike. Our S&C coach, Johnny Pedlow, has been keeping in touch with us and providing us with programmes to follow and I also have team workouts for Crusaders Strikers and Northern Ireland on Zoom and Ulster Uni Sports Services are also providing some, so I've been doing some of those. 
What else have you been doing during lockdown? 
I'm still working from home during lockdown so that keeps me busy Monday to Friday during the day and then I usually train after that. Strange as it sounds, I haven't had much time to sit around and get bored. I enjoy cooking and baking so have been doing a bit of that, catching up with friends and family on FaceTime and Zoom and doing some odd jobs around the house that I wouldn't normally have time to do. Over the last few years I've been completing a Post Graduate Diploma in Applied Sports Nutrition and have to do an exam to finish and become certified so I'm planning on spending some of my spare time preparing for that as well.
What is on your lockdown playlist? 
I've been listening to all sorts of music while I'm working, for some background noise and I listen to more upbeat music when I'm training. I actually found my old iPod a couple of weeks ago so I've been enjoying listening to some throwbacks on that as well as some more current music like Picture This, ARIZONA and The Weeknd. 
What have you been watching on Netflix during lockdown? 
Believe it or not, I actually don't watch Netflix. I had toyed with the idea of subscribing when lockdown started but I like to keep busy and haven't been sitting around watching a lot of TV.  Recently, I've watched some of Gary Neville's SoccerBox and I enjoyed The Nest and Homeland that just finished last Sunday. The longer the lockdown lasts, I may eventually give in to Netflix….we will see. 
What would you say to any young girls who are looking to get into football? 
I would encourage them to go and give it a try. It's a great way to stay active and healthy, meet new friends, build confidence and travel the world. I've had some fantastic experiences from being involved in football including living in a number of different countries and that's not something I would have done otherwise.