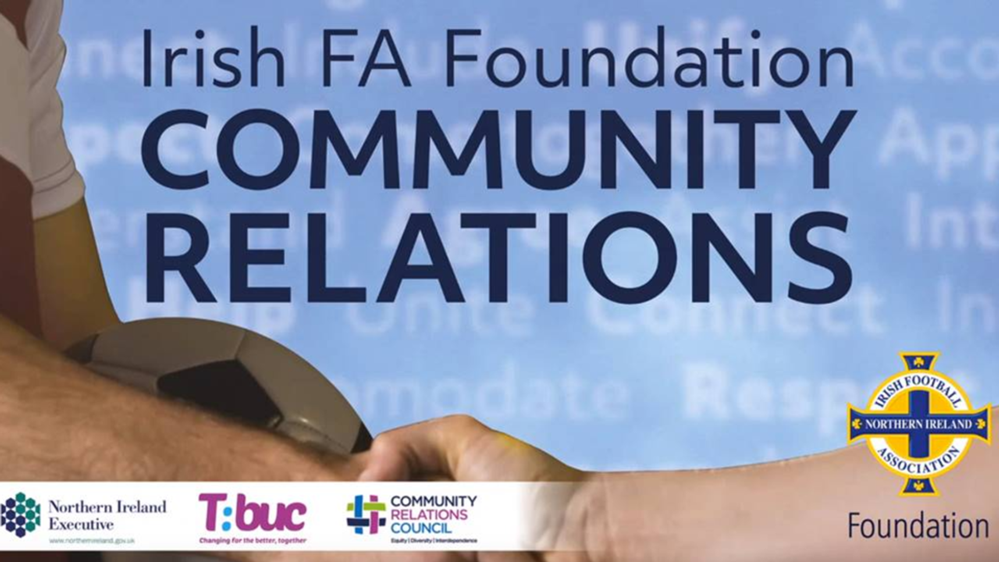 The Irish FA's Community Relations team convened last week for a webinar to discuss the ways in which they are working to support and inspire communities through football across the country.
Community Relations Officer Chris Wright led the session which featured a range of contributors including Jim Magilton and Marissa Callaghan who shared their own inspirational journeys during a special panel session chaired by the BBC's Thomas Niblock.
"These are challenging times. But it's precisely with that in mind that we have ensured we offer these programmes online. This webinar was the perfect opportunity to engage with different clubs and groups to offer continued support around effective community relations work. And I was particularly pleased to see so many clubs who joined us register their interest in future digital delivery of our programmes," said Chris.
Wright provided updates on work being delivered across the Irish FA Foundation, from the in-house Racism Awareness and Equality course and the Stay Onside programme to other outreach projects including Everybody's Game and Show Me the Way, the anti-sectarianism workshop.  
He was joined on the session by Kris Lindsay, who delivers on the PEACE IV funded Sport Uniting Communities programme.
Kris said: "It was great to be involved. From the SUC programme perspective it was a great opportunity to highlight the work that the PEACE team have delivered across the province over the last two years and the work we continue to deliver to implement our key objective of bringing communities together and using the power of sport to unite."
Attendees tuned in from outside Northern Ireland, too. JP Austin from Duyun Football Group in China was one of them.
He pointed out: "The webinar was great and engaging. The presenters were down to earth and the content was relatable. While viewing the presentation I was given ideas that could support my international projects and I would love to learn more from the Irish FA."
Joanne Patterson came from closer to home as a representative of Damolly FC.
She pointed out: "It didn't feel like the webinar lasted an hour, always a good thing, and the level of information given on the programmes was just right for the length of the session.
"The lighter interview piece during the second half of the webinar was really interesting to listen to and it was great to have female representation courtesy of Marissa. Short workshops like these are great to dip into and help keep your focus on developing players, volunteers and so on within your club, which is particularly important during this lockdown period, so the timing of the webinar was on the button, too."