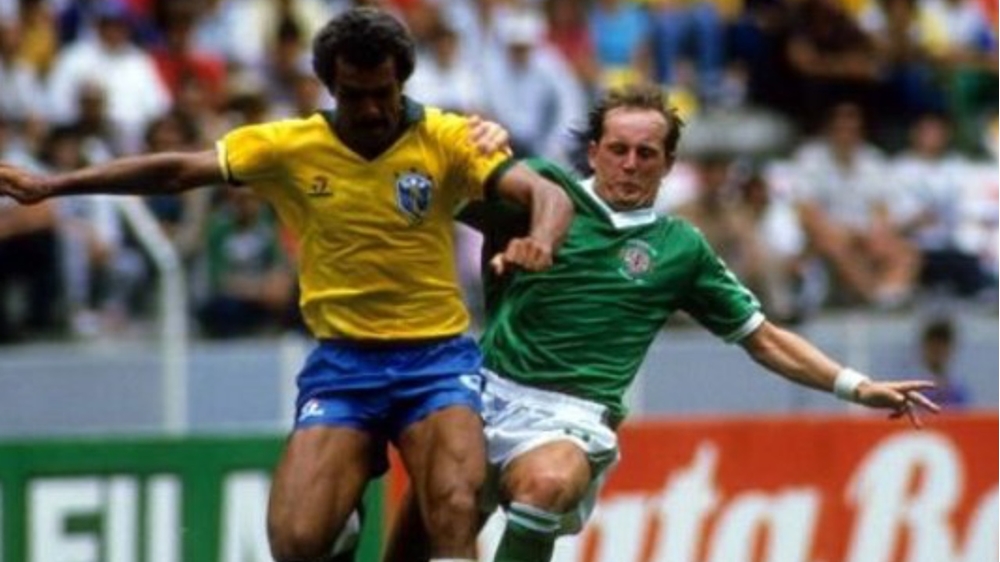 David McCreery was a midfielder who, during a career which spanned 20 years, played over 600 games for 11 clubs including Manchester United, Queens Park Rangers and Newcastle United. 
He won 67 full international caps for Northern Ireland - all of them under the great Billy Bingham - and played in both the 1982 World Cup in Spain and the 1986 finals in Mexico.
We caught up with him to discuss his memories of both those tournaments. 
What do you remember of the build-up prior to Northern Ireland heading to the World Cup in Spain in 1982?
I was based in the USA so I didn't get the true emotion of the build-up in Belfast, but my family kept me updated. There obviously wasn't the internet then but even in America people knew what a massive achievement it was already for Northern Ireland to participate. 
I signed an endorsement with Nike, who at the time who were looking to get into the soccer market and saw the World Cup as a great platform. I was actually the first player to wear Nike boots in a World Cup!
I met the squad in Brighton for 'warm weather' training when most other teams were going to Spain etc. I remember the training was very, very, intense but an excellent preparation both physically and mentally for building that unbreakable bond within squad.
What aspirations did the squad have going into the 1982 World Cup considering you were in a very tough group which consisted of both Yugoslavia and hosts Spain?
No one gave us a chance and we were seemingly there just to make up the numbers. I still feel it was one of the hardest groups in tournament, but we knew that with any game we went into we would have a chance of a result. The squad was full of excitement and to be honest we feared no one.
What were manager Billy Bingham's tactics going into the tournament?
We always knew we would be under pressure but with the defensive qualities we had, we knew if we stayed in the game we had a chance.
Pat Jennings was still one of the best goalkeepers in the world and gave everyone in front of him confidence. Chris Nicholl and John McClelland were two very underrated players, they commanded everything in front of them and with Jimmy Nicholl and Mal Donaghy in the full-back berths, it was very rarely anyone got past them.
My role was to sit in front of the back-four and provide that extra bit of cover and more often than not pick up the creative midfielder and track midfield runners. We practiced and practiced set-pieces, both attacking and defending. It was regimented; everyone knew their job and was accountable.
How did Billy Bingham manage to get the best out of the players?
Standards were set very high by Billy. No one could relax or give less than 100 per cent - on or off the field. However, he was a very good man manager and got the best out of all of us.
What for you was the highlight of the World Cup in Spain?
The highlight was obviously the Spain game. I played in over 600 games and never ever did I experience an atmosphere like it. I had goose bumps during the national anthems. The roar when the Spanish anthem reverberated around the stadium was frightening. The fans were intimidating but we knew we had an unbreakable team bond which the Spanish would never defeat.
At the final whistle I was exhausted. The last 10 minutes were so intense I also felt a huge amount of relief. I remember looking around and being immensely proud of everyone on the pitch, the Northern Ireland fans in the stadium, and I was, of course, delighted for everyone at home.
How different was the build-up going to the finals in Mexico four years later compared to 1982?
Media-wise, I had more of an experience of what the World Cup meant to the people of Northern Ireland as I was playing for Newcastle United at the time.
Drawing with England at Wembley to qualify was a fantastic night after many people and pundits had written us off.  We went early to Albuquerque, New Mexico to acclimatise to the heat. Altitude training was again intense, running the hills in over 100 degree heat certainly made us physically prepared. Preparation for the staff was similar to that for Spain in terms of intensity and I believe we played Scotland in a warm-up game prior to start of tournament.
Was playing against Brazil in the final game of the World Cup in Mexico a personal highlight for you?
Definitely! When you look back now at it what an amazing team Brazil had; Junior, Josimar, Zico, Socrates and Careca. Wow! World stars. One of my fondest memories in football was having had a midfield battle with Socrates. I saw he was jogging over to the touchline in the 68th minute. Great I thought, I can get a breather.
Next thing I know I see Zico coming on to pitch! I remember laughing to myself inside. What a team they had. We tried our best but on the day everyone would agree, they were far superior.
How would you compare the teams you played in in 1982 and 1986 with Michael O'Neill's Northern Ireland squad which took part in the EURO 2016 Finals in France?
I can definitely see a similarity between the two sides. Knowing Michael as I do his man management skills are second to none and his attention his detail would have been very similar to Billy. It is important to play to the strengths of your squad and not to over-complicate the game.
We had McDonald they had McAuley, they have Davis we had Sammy McIlroy. There was never, ever any in-fighting within squads. What both squads had was pride and passion in wearing our national team shirt and giving the people of Northern Ireland something to cheer about.
Finally, David, what are you up to these days?
I have just taken a position of Partner/Vice President at a newly-formed club Al Sahel FC in the Emirates. It is an exciting project backed by some very influential parties in the Gulf. We will start in Emirates League 2 with the aim of gaining promotion to top tier within the next five years. I'm looking forward to maybe someday welcoming the 'Green and White Army' to a game!