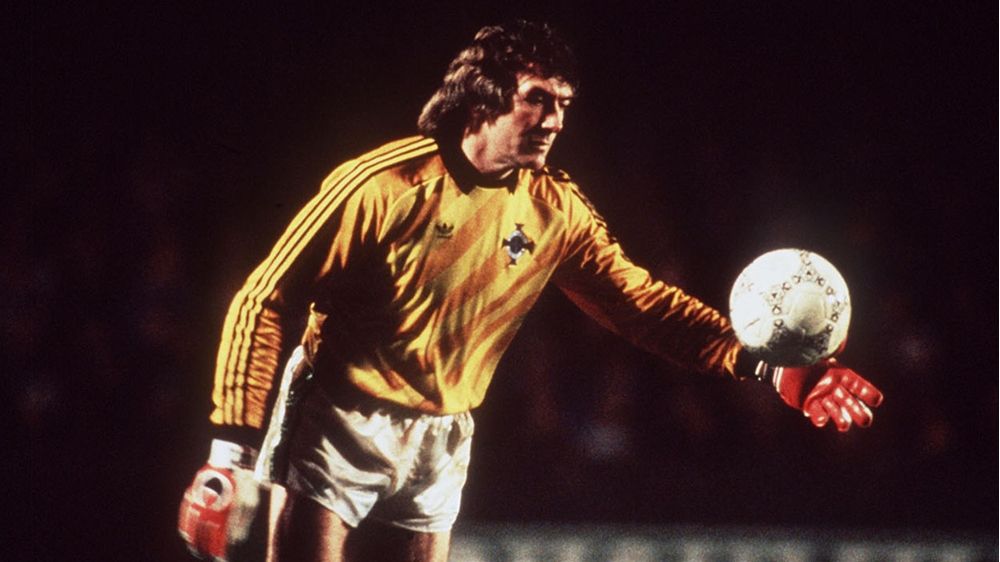 Northern Ireland have always had a reputation of producing first class goalkeepers, but very few people would dispute that Pat Jennings is the probably the finest of them all.
Jennings glittering career spanned an amazing 23 years during which time he built up a reputation of not only being the best goalkeeper in Britain, but undoubtedly in the world.
His journey to the top began when Watford signed him as a 17-year-old from his home-town club Newry in May 1963. After 48 consecutive appearances for the 'Hornets', who were then playing in the old Division Three of the Football League, Jennings was snapped up by Spurs boss Bill Nicholson who splashed out the princely sum of £27,000 for him in June 1964.
MORE: NI Hall of Fame
It was the beginning of a 13-year spell where 'Big Pat, won numerous trophies with Spurs including an FA Cup winners' medal in 1967 and a UEFA Cup winners' gong in 1972.
Prior to him joining Tottenham, Jennings had made his full international debut, alongside a 17-year-old George Best, against Wales in Swansea in April 1964. This was to be the start of an international career that yielded a record 119 caps over a 22-year period.
In 1977, after 591 appearances for Spurs, the then boss at White Hart Lane Keith Burkinshaw, concluded that at 32 Jennings' best days were behind him and allowed him to join North London rivals Arsenal for a paltry fee of just £45,000.
However, Burkinshaw was to come to regret that decision as Jennings proved he was far from finished; making nearly 400 appearances for the Gunners and playing in three successive FA Cup Finals as well as picking up a European Cup-Winners'-Cup runners' up medal and a further 42 caps for his country.
It was on the international front that he enhanced his reputation though, as on many an occasion he proved to be Northern Ireland's most reliable last line of defence.
In the 1982 World Cup Finals in Spain, when Northern Ireland defeated the host nation 1-0 in Valencia, Jennings single handedly kept the Spaniards at bay with an outstanding display of goalkeeping.
His performance at Wembley against England in 1985 is another that will live long in the memory when he once again produced astonishing reflex saves to earn Northern Ireland a goalless draw and the point they required to make it through to the 1986 World Cup Finals in Mexico.
Although he had retired from league football at the end of the 1984-85 season, Jennings, who had now re-joined Spurs, was still first choice for his country and kept himself fit playing for the reserves at White Hart Lane.
The tournament in Mexico was to be Jennings swansong though and it was fitting that his final game would be to be against the wonderfully talented Brazilians on his 41st birthday. Billy Bingham's side may have lost that match 3-0, but the score was largely irrelevant as one of Northern Ireland greatest ever players brought the curtain down on a long and distinguished playing career.
Jennings, who was awarded an MBE for his services to football in 1976, briefly returned to the Northern Ireland fold as goalkeeping coach when Lawrie McMenemy took over the running of the international side in 1998.
 PAT JENNINGS STATS
When he made his full international debut alongside George Best on 15th April 1964 against Wales he was aged 18 years and 308 days.
In his record 119 appearances for Northern Ireland, Pat kept a total of 43 clean sheets.
Jennings started every one of his 119 matches for Northern Ireland. He was substituted in just five of those games playing 10,478 minutes in total for his country.
He captained Northern Ireland just twice. The first was on the occasion of his 60th cap v England at Wembley on 11th May 1976 (lost 0-4) and then when he made his 75th appearance on the 7th Feb 1979 also v England at Wembley (lost 0-4).
Jennings holds the record for the longest run without conceding a goal of any Northern Ireland 'keeper which stands at 633 minutes. He set it between the 27th February 1985, following a 2-1 reverse at Windsor Park to England, and ending on 26th March 1986 when Northern Ireland drew 1-1 at home in a friendly to Denmark.
He played a total of 975 games at club level in England for Watford (52 games), Spurs (596) and Arsenal (327) between 1963 and 1986.
Jennings 119 appearances for Northern Ireland were achieved while at four different clubs: Spurs (71 caps), Arsenal (42), Everton (4) and Watford (2).
His first full international at Windsor Park was on 29th Apr 1964 v Uruquay (won 3-0) and his last v Morocco on 23rd Apr 1986 (won 2-1).
Jennings international games were played in the following competitions: British Home Championship (43); World Cup Qualifiers (33); European Championship Qualifiers (27); Friendlies (9); World Cup Finals (7)
His record during his 22 years of service for Northern Ireland was : won 40, drew 30 and lost 49.