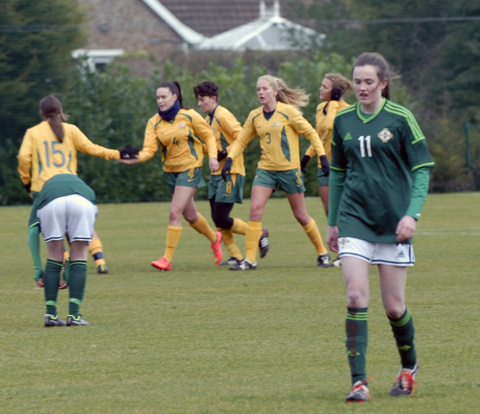 The Northern Ireland squad looked energetic from the beginning and started the brighter and created some early chances down the flanks. An early Aimme Mackin free-kick tested a nervous looking Australian defence, who managed to scramble the ball clear.
However it only took a matter of minutes before the Australians found their feet. Following some intense pressure from Australian's Emma Neville, she forced a Northern Ireland defensive mistake and sent midfielder Olivia Gurney through on goal with a lovely weighted pass.
Gurney showed great pace to dribble and finish confidently past goalkeeper Jessica Poots to put the Australians ahead after just 6 minutes. Australia began to grow with confidence and after some nice build-up play Jordan Baker's cross narrowly missed striker Jemma House at the far post.
The Northern Ireland squad continued to battle away in harsh snowy conditions but were finding it difficult playing against a tough gail force wind. Midfielder Chloe Mc Carron did come close on the 20th minute, but found her shot deflected for a corner.
Following a great spell of pressure from Northern Ireland, it was on the 27th minute when Aimme Mackin found herself in space and crossed a sublime ball to forward Moya Feehan, who expertly glanced a header into the far corner of the net, leaving Australia's goalkeeper no chance.
The weather began to clear and NI continued to apply the pressure and ended the half on the attack, with Annie Timoney coming close.
HALF-TIME: 1-1
Northern Ireland head coach Alfie Wylie decided to adjust his squad during the interval and made three changes for the restart.
Such a bold managerial decision proved to be the right call as substitute Sarah Connolly pounced on a long range effort to stab the ball past Australia goalkeeper, Sarah Easthope on the 55th minute. It wasn't long however until snowy weather conditions reappeared.
It was on the 70th minute that Aussie goal scorer, Olivia Gurney could not believe she had not equalised and doubled her tally, after missing from close range following a driven cross by Talitha Doro.
Gurney picked herself up and moments later was the hero as after some nice footwork on the wing, her low range cross found substitute Tara Pender at the back post to tap the ball into an open net on the 78th minute. The last ten minutes of the game became an intense affair with some great end to end action.
The closest effort to beat the deadlock came from Sarah Connolly whose sliding effort from a corner was cleared off the line by a strong Aussie defence in the dying minutes.
Congratulations to both teams for their performances in terrible weather conditions and providing an enjoyable spectacle for spectators.
FULL-TIME: 2-2
Northern Ireland Squad:
Jessica Poots, Chelsea Myles, Taylor Wright, Amy McGivern (Captain), Chloe McGlade, Clara Mulvenna, Victoria Carleton, Annie Timoney, Chloe McCarron, Moya Feehan, Aimee Mackin.
Substitutes:
Sarah Haddock (replaced Mulvenna at Half-Time)
Sarah Connolly (replaced Timoney at Half-Time)
Samantha Kelly (replaced McCarron at Half-Time)
Amy Burden (replaced Feehan on 79th Minute)