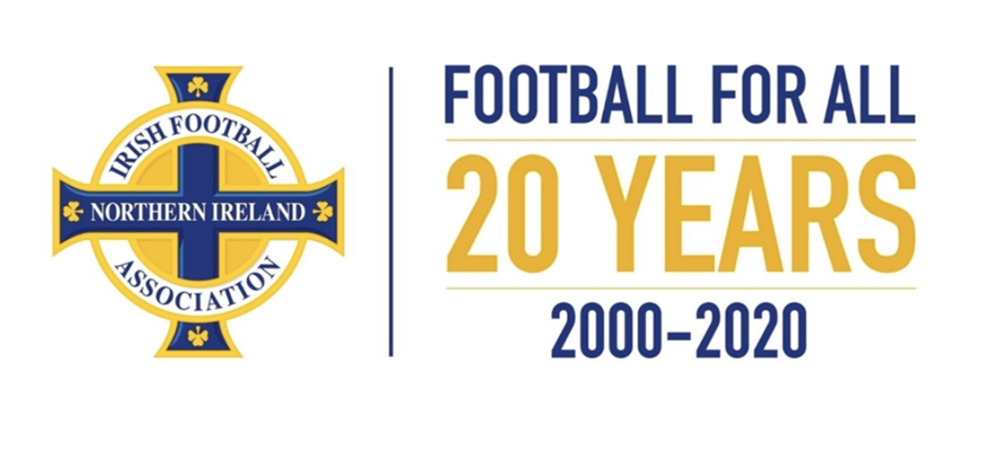 The Irish Football Association has created an advisory panel to keep its Football For All campaign moving forward.
The campaign, which has just marked its 20th anniversary, was originally launched with a focus to tackle sectarianism at Northern Ireland international games but later evolved to become central to the Irish FA vision statement.
The Football For All ethos has also been embedded in all aspects of the Irish FA / Irish FA Foundation's football development work and this was reflected in the new advisory panel's first meeting. Michael Boyd, Director of Football Development for the Irish FA, chaired the online gathering.
Members of the panel heard a range of presentations on the Irish FA / Irish FA Foundation's work in the community, including its cross-community and education/employability programmes and its work with the BAME (Black, Asian and Minority Ethnic) community.
Ahead of the Game, the foundation's mental health initiative, was discussed as well and there was a presentation on Sport Uniting Communities, which is run by the Irish FA, Ulster GAA and Ulster Rugby to promote good relations.
Also on the agenda was Fresh Start Through Sport, which is supported by Northern Ireland's three main sporting organisations alongside the Belfast Giants ice hockey team and is aimed at encouraging young people to undertake voluntary work within their communities.
The new advisory panel was set up following a webinar back in November which celebrated the campaign's 20th anniversary and looked to the future. It was hosted by TV/radio presenter and Football For All ambassador Colin Murray, who is also a member of the advisory panel.
Michael Boyd, who helped to drive the campaign when it began two decades ago, and continues to do so, said the panel would look at how Football For All could develop further going forward.
He pointed out: "At the first meeting it was great to reflect on the excellent programmes we already deliver, the positive impact they are making in the community and to start to think about how we can be even more strategic in the future, providing an even better service to the community. 
"We are very proud of our existing programmes and I would like to thank all our partners in this area for their ongoing support.
"Without support from organisations like UEFA, the UEFA Foundation, the Special EU Programmes Body, Community Relations Council, Department for Communities, Department of Justice, Department of Education and PSNI we simply could not deliver programmes that make such a positive impact in the community. 
"It is not an exaggeration to say some of these programmes are saving and transforming lives."
We fully recognise the important and positive role we can play in helping to build capacity within our community and are committed to doing as much as we can both now and in the future - Stephen Martin, Irish FA chairman
Representatives from UEFA, including Carine Nkoue from the UEFA Foundation, are among the panel members along with Stephen Martin, the Irish FA's chairman, who has joined the group to demonstrate the association's commitment to its many strands of outreach work in the community.
And the Irish FA chairman said afterwards: "I was delighted to join the advisory panel and hear about all the excellent work the Irish FA and its partners are doing right across our community. 
"Using the medium of connecting people through sport, we are determined to exercise our social responsibility to assist others, particularly those in need or at risk. 
"Our extensive programmes are raising awareness of, and helping to tackle, issues such as sectarianism, racism, gender inequality, offending and mental health. 
"We fully recognise the important and positive role we can play in helping to build capacity within our community and are committed to doing as much as we can both now and in the future."