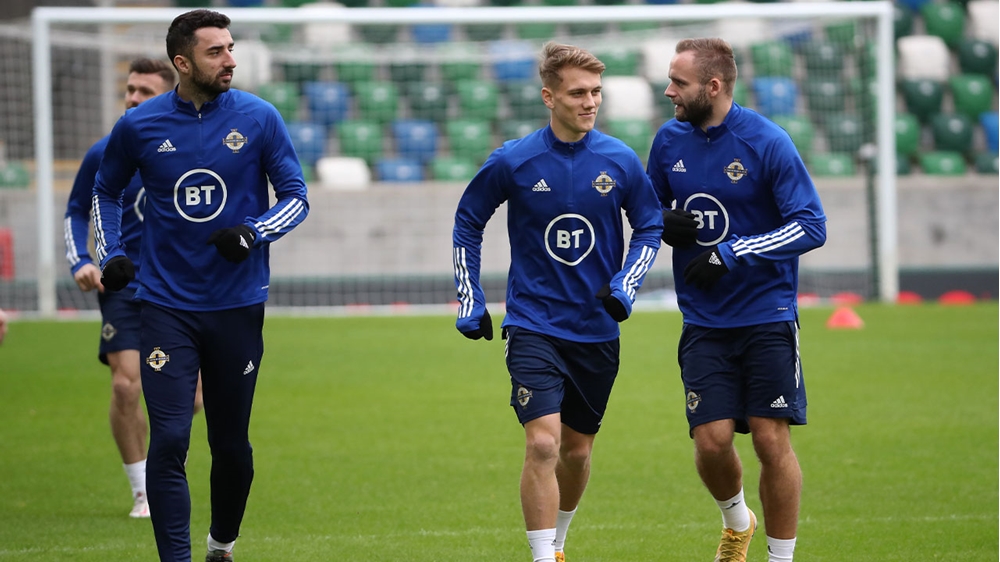 Brothers Ryan and Conor McLaughlin had to be content with a point apiece as Morecambe and Fleetwood Town played out a scoreless draw at the Mazuma Stadium at the weekend.
The result means that Morecambe remain in the bottom four in League One while Fleetwood, who are now unbeaten in their last three league fixtures, are two points off the automatic relegation places. 
Speaking to the Morecambe website before Saturday's encounter Ryan said: "It's a strange one, I've played against him about four times, I've played with him as well, I probably find it more strange playing with him than against him.
"It's always good, it's good for the family as well, but you have to forget about those type of things when you go on the pitch, it's all about the team and ourselves getting the result we want." 
Incidentally, Fleetwood had no fewer than six Northern Ireland players in their 18-man panel for the game, Conor McLaughlin, Paddy Lane and Carl Johnston, all of whom started, while Dylan Boyle, Chis Conn-Clarke and Callum Camps were substitutes, the latter two being used from the bench. 
The football programme across England was decimated because of Covid related issues, however, Leeds United's Premier League contest with Arsenal at Elland Road did get the go-ahead with Stuart Dallas plying the full ninety minutes of the home sides 4-1 defeat. 
Only three Northern Ireland players were on show in the Championship. Paddy McNair was again superb in a back-three as Middlesbrough recorded a single goal victory at home to Bournemouth, while Shayne Lavery and Josh Magennis both started for Blackpool and Hull City respectively. 
In-form Conor Washington was one of three players unavailable after testing positive to Covid as newly appointed Charlton Athletic boss Johnnie Jackson saw his side go down 1-0 at Plymouth Argyle. 
"The positive tests happened really late in the week and we've had to adjust what we're doing at the last minute really," Jackson told the club website. " So, that affects your preparation, what you're trying to do and obviously in Akin (Famewo) and Conor we've got two key parts of the team, two key cogs of the wheel." 
In the Women's Championship, Sarah McFadden was part of the Durham side which moved into second place in the table following a 3-1 home win over Blackburn Rovers. They are now just two points behind Rachel Furness' Liverpool outfit whose game against Charlton Athletic at the weekend was postponed. 
Meanwhile, goalkeeper Trevor Carson played his first game for Dundee United since the end of September in the 1-0 reverse to Rangers at Ibrox while midfielder Liam Donnelly made his first start for Motherwell since August in the 2-0 home success against St Johnstone. 
On the goalscoring front, under-21 international Paul O'Neill was on target in Cliftonville's 2-0 win over Carrick Rangers at Solitude, while striker Chris McKee, also an U21 international, scored his fourth of the season for Rangers 'B' team who defeated University of Edinburgh 8-2 in the Lowland League. 
Finally, there were assists for Oxford United's Gavin Whyte and Inverness Caledonian striker Billy Mckay.