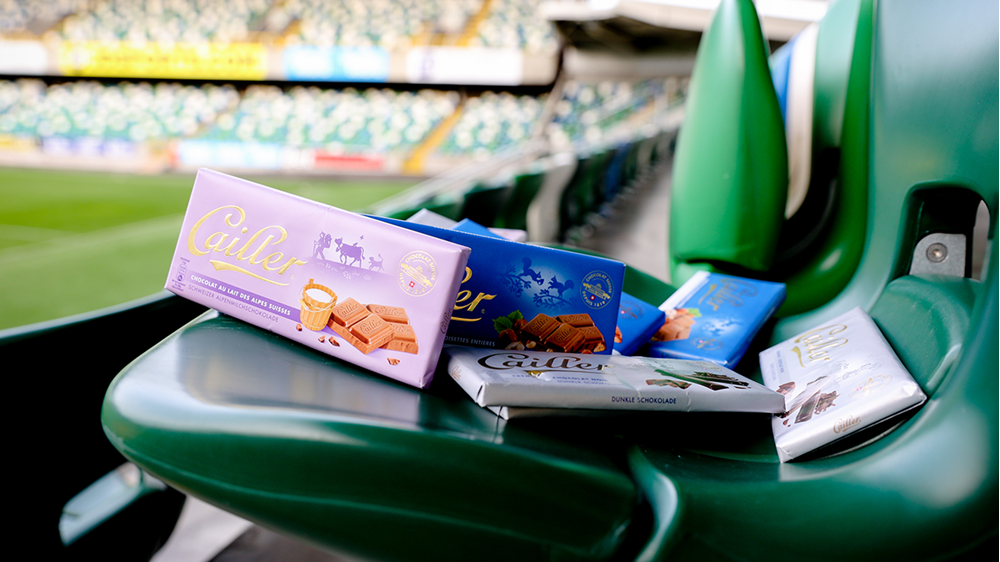 A gift of chocolate from the Swiss FA is to be sent to the Cancer Fund for Children so kids helped by the Northern Ireland-based charity can enjoy it this Christmas.
The Schweizerischer Fussballverband - Association Suisse de Football (Swiss FA) sent a box containing dozens of bars of chocolate to the Irish FA as a thank-you for the Northern Ireland team holding Italy to a draw in Belfast last month.
The goalless draw meant the Swiss automatically qualified for the FIFA World Cup 2022 tournament in Qatar after they defeated Bulgaria 4-0 in Lucerne the same night to top European Qualifying Group C following the final round of group games.
Players from the Swiss national team also sang 'Sweet Caroline' as a thank-you to Northern Ireland during a post match banquet. A video of the players twirling napkins and belting out the Northern Ireland fans' anthem has gone viral in Switzerland, attracting hundreds of thousands of views on social media channels.
The big box of chocolate bars was packaged by Swiss head coach Murat Yakin, who said he was grateful to Northern Ireland for playing so well against the Italians.
Stefan Baumgartner from the Swiss FA always believed Ian Baraclough's side could deliver against Italy.
He quipped: "I literally told everyone who thought Italy will get an easy win in Belfast not to underestimate the home team.
"We were suffering like hell and my prediction was a draw there and a 4-0 victory for Switzerland against Bulgaria (two from Gavranovic, two from Shaqiri). The goalscorers were wrong, but who cares! What an effort from your team, what an effort from Team Switzerland as well."
The Swiss FA said the chocolate should be distributed among Irish FA staff, however the association has instead decided it should go to kids supported by Cancer Fund for Children, which has been the Northern Ireland players' chosen charity since Euro 2016.
Phil Alexander, CEO of Cancer Fund for Children, added: "We're extremely grateful to the Swiss FA and Irish FA for this generous donation which will be very popular with the children and young people we're supporting this Christmas! The Northern Ireland team have been brilliant supporters of the charity and we look forward to working with them again in 2022."
Switzerland topped Group C with 18 points from their eight qualifiers (five wins, three draws), while the Italians finished second on 16 points (four wins, four draws) and Northern Ireland third on nine points (two wins, three draws, three defeats).
After finishing as the runner-up in the group Italy must now navigate play-offs to secure a place at the World Cup finals next year.
The Italians are on Path C in the European play-offs. They will have to defeat North Macedonia in a semi-final on 24 March and then the winners of the other Path C semi-final between Portugal and Turkey on 29 March to make it to Qatar.