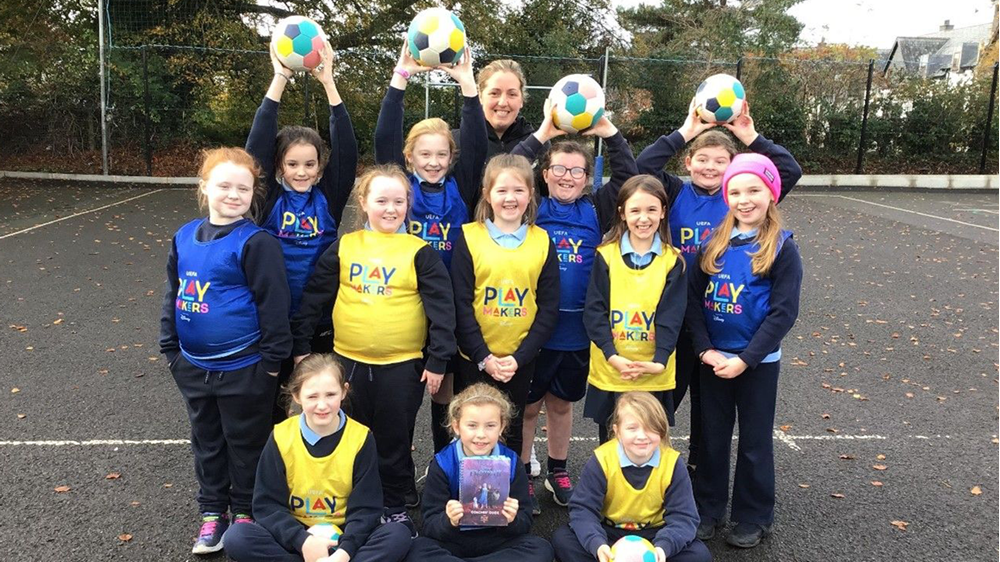 More than 1600 young girls across Northern Ireland have been introduced to football this year through the Playmakers programme from UEFA and Disney.
Using Disney's world famous storytelling and inspired by research showing the positive role of storytelling in helping children take up sport, Playmakers aims to increase the number of girls taking part in physical activity and to kickstart a lifelong love of football.
The Irish FA Foundation has been rolling out the programme to kids aged five to eight – primary one to primary four (Year 1 to Year 4) - across Northern Ireland since April.
Lauren Moore, Girls Participation Officer with the foundation, revealed 1655 girls have taken part in sessions during 2021.
Not only did it enhance the experiences of our children but it developed the confidence and skills of our own teachers, having a lasting impact
Unlike traditional football programmes, each of Playmakers' 10 initial training sessions follow the narrative of billion-dollar global box office smash hits like Disney's Frozen II and Disney and Pixar's Incredibles 2. 
Equipped with footballs, bibs and cones, trained coaches encourage participants to play the roles of popular characters, such as Elastigirl and Elsa and Anna, bringing the films' action scenes to life through movement, teamwork and their imagination.
The Irish FA Foundation now has 30 trained Disney coaches and is hoping to add to this number next year. And it has delivered UEFA Disney Playmakers sessions to 60 different classes in up to 30 primary schools.
One of the participating schools in 2021 was New Row Primary in Castledawson, Co Londonderry.
Principal Deirdre Graffin said: "I am so glad that we were able to access the Disney programme. Not only did it enhance the experiences of our children but it developed the confidence and skills of our own teachers, having a lasting impact."
And Irish FA Foundation coach Heather Kerr said: "I believe the programme has helped to reach and engage with some girls who are not currently interested in sport by using the story as a focal point.
"They were excited to be going to their Disney session each week rather than dreading sports/PE. The games used in the Playmakers sessions focus on a range of different fundamental skills and allow the girls flexibility in doing skills/movements at their own level.
"I think this is a great way to get the girls moving to improve fitness and also to introduce girls who might not otherwise be interested in football to the sport."
The Irish Football Association has joined more than 20 other UEFA national associations in committing to roll out Playmakers through schools, clubs and local communitiesAnd as it rolls out across Europe in the coming years new Disney storytelling will be added to the programme. 
In its early sessions Playmakers focuses on building girls' confidence in their movement, encouraging creative thinking and communicating easily with their friends. Later sessions introduce girls to basic football skills, but the programme continues to put the emphasis on making sport fun.
According to UEFA, Playmakers represents a first step towards achieving one of the main goals of Time for Action - the UEFA Women's Football Strategy, which is to double girls' and women's participation in football by 2024.
Image: Girls from New Row Primary in Castledawson had big fun taking part in UEFA Disney Playmakers sessions.