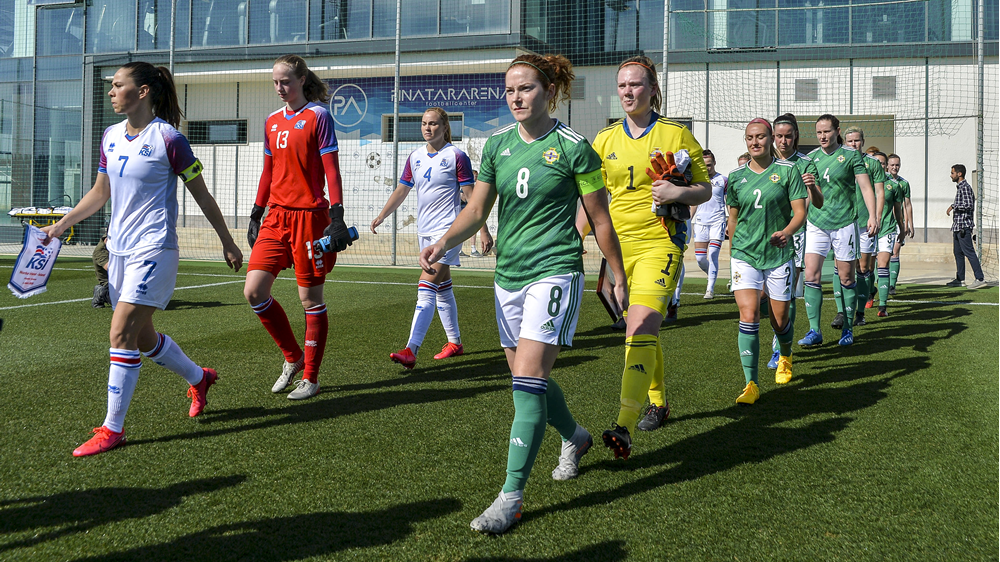 As part of an ongoing Northern Ireland National Team Instagram Stories series, we caught up with senior women's captain Marissa Callaghan for a quickfire Q and A.
Here the Cliftonville Ladies midfielder covers pre-match rituals, her inspiration and her career highlights. 
How did you get into playing football?
It was something that I picked up at a young age. I used to play with the boys in the street and a lot of my friends liked to play football as well. We had a five-a-side team and used to compete in competitions all across Northern Ireland. It wasn't until I was 13 when I joined my first ladies' team, which was Newington Girls.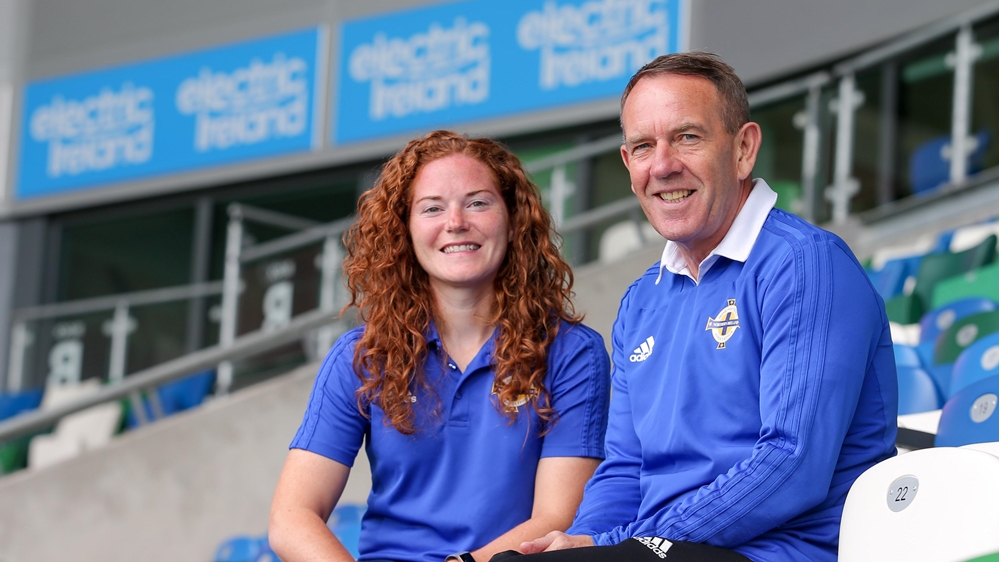 Above: Marissa Callaghan with senior women's team manager Kenny Shiels
Do you have any pre-match rituals? 
Along with a few of the girls in the Northern Ireland team, before we go to play a game, we get together and take a shot of coffee. It's a pre-match thing that we do, it gives us some positivity going into the game. 
Who inspires you?
I have a little son called Quinn and for me at the minute, I'm playing for that wee man. I just want him to grow up and be proud that his mum played for and has over 50 caps for Northern Ireland. I'll keep doing what I am doing and hopefully one day he'll look back and remember me playing with the green shirt on.
What has been the highlight of your career so far?
It would definitely be my first game as captain for Northern Ireland, walking out at Solitude in front of a home crowd and my family. I picked up two goals in that game and it was actually the game Simone Magill scored the quickest international goal. So it was a special game and a fantastic win!
What advice would you give any young girls starting off in football?
Enjoy it. We are just as good as the men, go out there and give it all you've got. Love the game. I love the game and I get to travel across Europe and wear the green shirt and represent Northern Ireland. 
I feel very lucky to have those opportunities and if that's something you want to do, then dream big. Listen to your coaches, listen to your parents, work hard and have fun because you do your best when you're enjoying things. 
You can watch Marissa's responses, brought to you in conjunction with Electric Ireland, on the Q&A highlight on Northern Ireland National Team Instagram page.