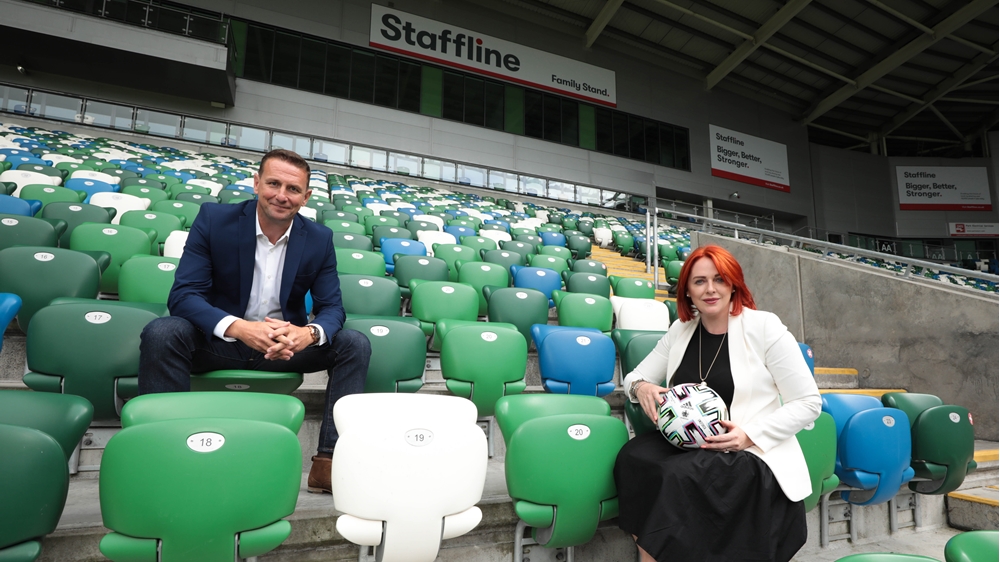 The National Football Stadium at Windsor Park has welcomed in a new look to its Family Stand. 
The newly-named Staffline Family Stand has been announced after the re-branding of Grafton Recruitment - one of the best-known names in the recruitment agency sector - which now goes under the name Staffline Recruitment Ireland. 
Established in 1986, Staffline Ireland has 10 offices including in Belfast, Dublin and Cork, and in the coming months is set to launch operations in both Galway and Dundalk.
Stephen Bogle, Head of Sales of Marketing for the Irish FA, said: "We're delighted to be playing our part in heralding in a new era for Staffline and the next step in our continued shared journey."
Staffline Ireland Managing Director, Tina McKenzie, added:  "Despite the recent pressures of both Covid-19 and ongoing Brexit uncertainty, we are in an excellent position to further strengthen our offer, and we will continue to offer dynamic recruitment solutions in the fintech, cyber security, pharma, science, agri-food, manufacturing and professional services industries.
"Our ongoing partnership with the Irish FA can help us achieve these objectives." 
Find out more about Staffline here

Image: Naomh McElhatton Group Sales and Marketing Director at Staffline pictured with Northern Ireland senior men's manager Ian Baraclough at the National Football Stadium at Windsor Park.