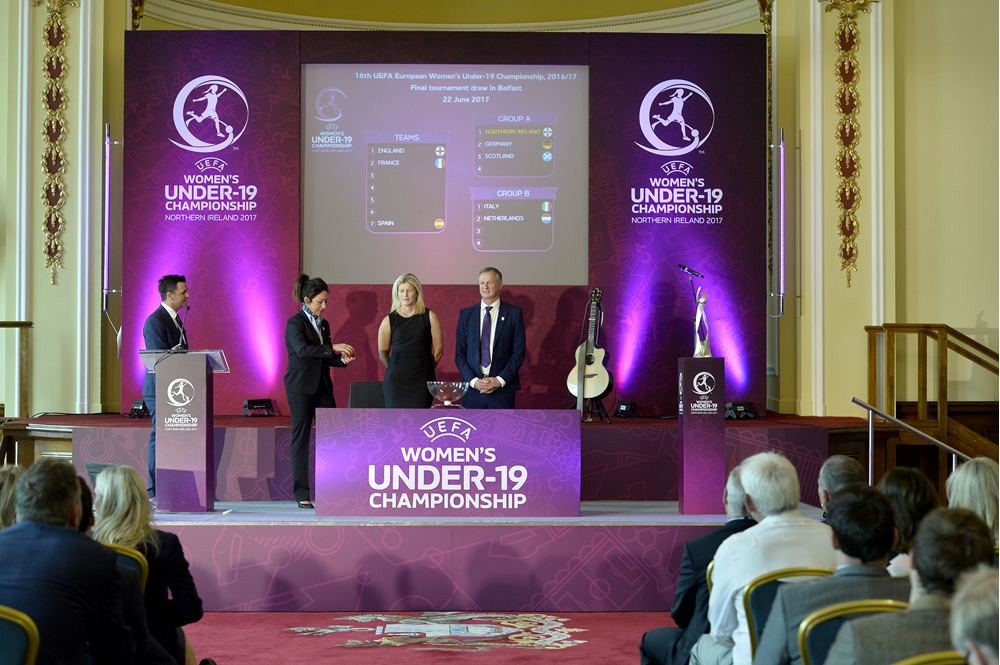 Northern Ireland will face Spain, Germany and Scotland in the group stages of this summer's UEFA Women's Under-19 Championship.
The draw for the finals, which are being staged in Northern Ireland from 8-20 August, was held at Belfast City Hall this afternoon.
The other group will see holders France, England, Italy and the Netherlands face each other.
The group games will be played in four venues across Northern Ireland: National Football Stadium at Windsor Park, Belfast; Mourneview Park, Lurgan; Ballymena Showgrounds and Shamrock Park, Portadown. 
Northern Ireland's first game of the tournament will see them take on Spain, last year's runners-up, at the National Football Stadium at Windsor Park on 8 August (19:00 kick-off). 
In their second Group A game, at Mourneview Park in Lurgan on 11 August (19:00), they will face Scotland.
And their third and final group game will be against Germany at Ballymena Showgrounds on 14 August (19:00).
The winners and runners-up in both groups will face each other in the semi-finals at the National Football Stadium at Windsor Park.
After the draw, National Women's Coach Alfie Wylie said: "It's fantastic and very exciting. We can look forward to three wonderful games.
"Taking on Spain, who were finalists last year, in the first game will be a great occasion. They are a superb team from a top footballing country.
"The senior teams of all three nations are taking part in the Women's Euros this summer. This is a fantastic opportunity for our girls to test themselves against some of the best teams in Europe."
The full list of fixtures for the tournament is - tickets are now on sale via the Ticketmaster website - as follows:
8 August


Scotland v Germany
National Football Stadium at Windsor Park, Belfast
15:00
Northern Ireland v Spain
National Football Stadium at Windsor Park, Belfast
19:00 
Italy v England
Mourneview Park, Lurgan
15:00 
France v Netherlands
Ballymena Showgrounds
15:00 
11 August

Italy v France
National Football Stadium at Windsor Park, Belfast
15:00 
Netherlands v England
National Football Stadium at Windsor Park, Belfast
19:00
Germany v Spain
Shamrock Park, Portadown
15:00 
Northern Ireland v Scotland
Mourneview Park, Lurgan
19:00 
14 August
 
Netherlands v Italy
Shamrock Park, Portadown
15:00 
England v France
Ballymena Showgrounds
15:00  
Spain v Scotland
Mourneview Park, Lurgan
19:00 
Northern Ireland v Germany
Ballymena Showgrounds
19:00 
17 August
Semi-Final 1 – Winners of Group A v Runners-up Group B
National Football Stadium at Windsor Park, Belfast
15:00  
Semi-Final 2 – Winners of Group B v Runners-up Group A
National Football Stadium at Windsor Park, Belfast
19:00 
20 August
Final
National Football Stadium at Windsor Park, Belfast
19.30