While searching through the entries for June's GAWA Superfan, there was a video that really stood out for it's creativity, passion and absolute comedy genius! 
As you can see from the video above, Matty Irwin has collected a number of video clips across several games and events announcing his support for his hero, Josh Magennis.  In what started out as an accidental cry of admiration, steamrolled into a GAWA tradition. A montage of JOSH MAGENNIS was born that will have you hitting that play button over and over again. 
Matty said, "I had become a big fan of Josh a few years ago through watching Northern Ireland. I took a video of me shouting without realising during a qualifying game and people found it funny so I decided to carry on recording my support for Josh.
I would have no idea how I would react if I met him, it would be like a dream come true to meet the hero, sometimes I feel he can hear me when I shout"
Submissions this month came all the way from the Swords of Baghdad with Aileen Acheson. There were Northern Ireland pet pooches from Izzy Darragh and even a GAWA themed hen party in Ibiza from Maria McRoberts.  
Mega fan Ross Newton, even managed to capture the GAWA singing Snowpatrol's 'Run' in the crowd during the Azerbaijan game.  A feat that was noticed by our very own Gary Lightbody!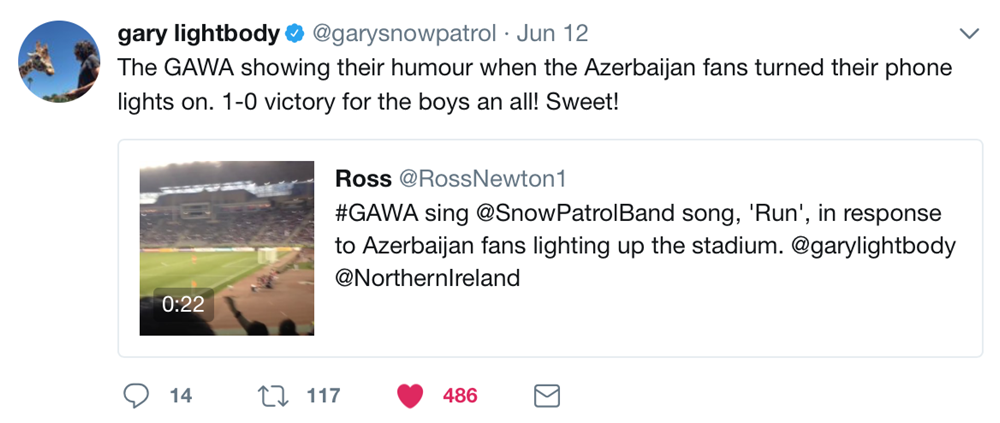 Get creative next month and you could follow in Matty's footsteps by being our GAWA Superfan for July! There were plenty of fantastic submissions, you can see a gallery of a select few below.