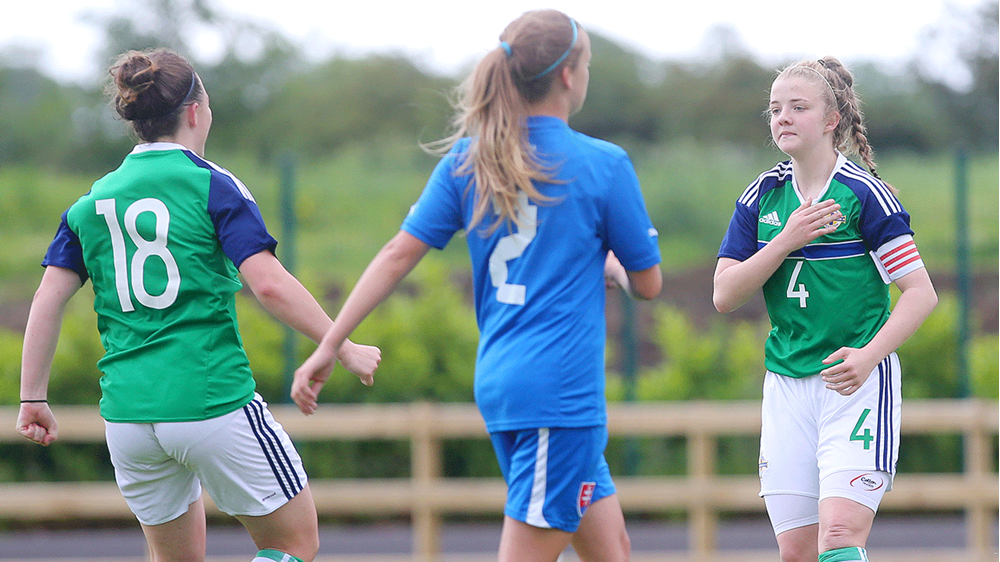 Northern Ireland Women U19s drew 1-1 with Slovakia in the second game of their double header ahead of the UEFA Women's Under 19 Championships in August. 
Diana Lemesova gave Slovakia the lead with a free kick from 25 yards just before half time but Northern Ireland Women Under 19s Captain Emma McMaster equalised from the penalty spot in the second half.
Manager Alfie Wylie made five changes to the team that endured a frustrating evening in the first of these two games as preparations continue ahead of the UEFA Women's Under 19 Championships in August. 
Northern Ireland began as they left off on Wednesday night by attacking on the front foot and created two early chances. 
Right midfielder Clare Grouwinkle crossed into Megan Reilly whose effort was straight at Dominika Rezekova in the Slovakia goal and the duo linked up moments later as Grouwinkle crossed to Reilly again who this time beat the keeper, but not the crossbar.
Slovakia had the next chance as Laura Zemberyova crossed low into Kristina Panakova but she couldn't connect properly as it went out for a goal kick. 
The chances continued for Northern Ireland with Reilly again involved as her corner found Brenna McPartlan but her effort was deflected for another corner which resulted in a goal kick. 
Slovakia then took the lead with a few minutes remaining before half time. A free kick from Lemesova found a way past the hands of Northern Ireland keeper Caoimhe Callaghan.
And again at the start of the second half it was Reilly in the thick of the action. A flick on from McPartlan found Reilly in the box with space to shoot but her shot couldn't beat Rezekova.
But then came the equaliser. Louise McDaniel went down under a challenge just inside the box with the referee pointing to the spot. McMaster took the responsibility and calmly slotted in sending the keeper the wrong way. 
The chances for the winner kept coming for Northern Ireland with the standout moment being another great save from Rezekova. McPartlan had the chance to make it two goals in two games but couldn't beat Rezekova from eight yards and she dived down low to her right to push it away to ensure it ended 1-1.
Northern Ireland: Callaghan, White (Moore), Rose Sell (Robson), McMaster, Burns, Coppel, McDaniel (Wright), McPartlan, Magee (Monteith), Reilly, Grouwinkle Subs: McCaughtry (GK), Moore, Robson, Monteith, Beattie, Wright, Collegian, Bassett.
Slovakia: Rezekova, Cermakova, Vagaska, Lemesova, Bochinova, Bogorova, Panakova, Mrazikova, Gmitterova (Dianiskova), Sediva (Gasparovicova), Zemberyova. Subs: Gyomraiova, Gasparovicova, Semanova, Cimermanova, Scasnarova, Jancova, Dianiskova