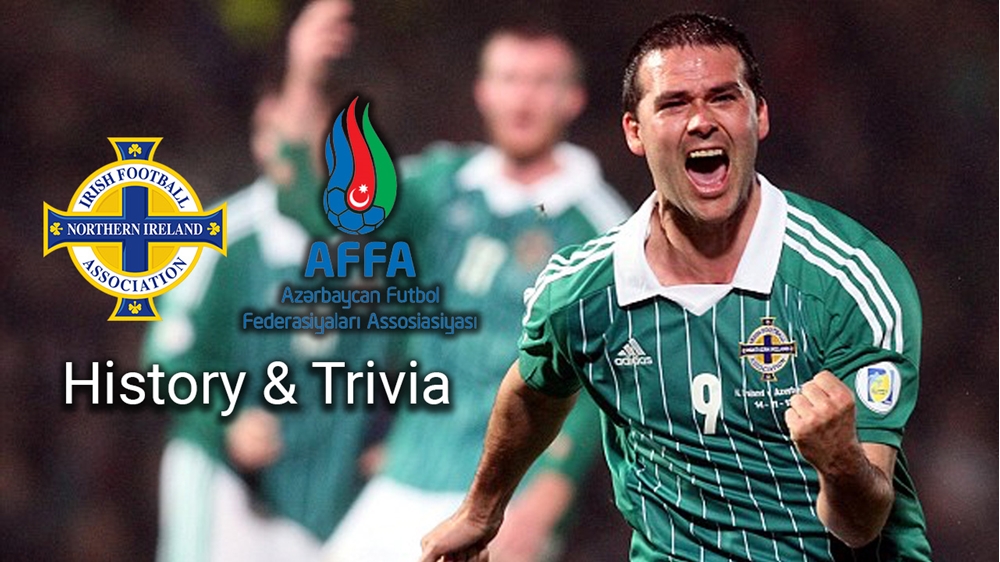 At 5pm on Saturday 10 June 2017, Northern Ireland will take on Azerbaijan at the Tofik Bakhramov Stadium for a FIFA World Cup Qualifier 2018 group game.  How much do you know about our buddies from Baku? 
Northern Ireland have played Azerbaijan five times since 2004 and are unbeaten in all but one game in 2013.  Our record currently sits at won two, drawn two and lost one.  The reverse fixture of this Saturday's game brought the biggest victory with a 4-0 home win in Belfast. 
The 1-1 draw between the sides in 2012 was significant for Northern Irish goal scoring legend, David Healy.  His equalising free kick was his last ever goal for the GAWA.  
Going way back to 2005 for our first victory against the 'Milli' saw Warren Feeney and Stuart Elliot get on the score sheet in a 2-0 victory at the National Football Stadium at Windsor Park.  Stuart whipped in a particularly delicious free kick. 
A win on Saturday would take us to only two points behind (13) group leaders Germany who are currently sitting on 15.  It would also provide valuable breathing space between rivals Azerbaijan and keep the pressure on the Czech Republic.  How much do we really know about our opponents though? 
Azerbaijan Trivia
The capital city is Baku
Azerbaijan means 'The Land of Fire'
Their football team's nickname is 'the Milli', translating to 'the National Team'
They have an entire city built on stilts above the water
Baku has their own version of Venice, allowing you to travel around parts of the city in a gondola 
They account for 40% of the world's mud volcanoes (400)
They are home to the World Arm Wrestling Federation
Azerbaijan is roughly four times the size of Wales
Bread is sacred here and rarely thrown away with leftovers occasionally being hung from trees
Home to a carpet museum, which is shaped like a rolled-up carpet
It's customary to put a sugar cube or some jam in your mouth before drinking tea
The national animal of Azerbaijan is the horse
They have the largest KFC in the world, built inside a temple
Azerbaijan are playing Northern Ireland at 5pm on Saturday 10 June 2017