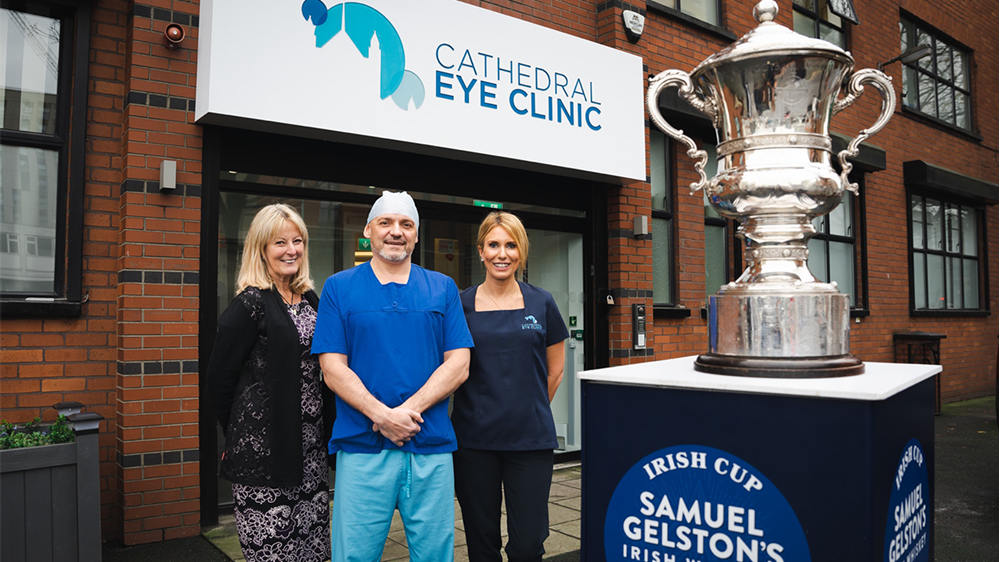 Cathedral Eye Clinic has signed up as the official eye health partner to the Samuel Gelston's Whiskey Irish Cup in a multi-year deal.
Based in Belfast's Cathedral Quarter, the company runs the most advanced laser eye surgery treatment clinic in Ireland. In its state-of-the-art facilities it offers a world class patient experience with quality care, clinical excellence and patient safety as key tenets.
Joyce Shaw, Clinical Services Director at Cathedral Eye Clinic, said: "Professor Jonathan Moore, myself and the team at Cathedral Eye Clinic are proud and delighted to be continuing our long standing relationship with the Irish FA in becoming official eye health partner of the Samuel Gelston's Whiskey Irish Cup.
"Since our partnership began in 2019 we have improved the quality of life for many members of the football community, from players to coaches, referees and fans. 
"Our clinic offers a comprehensive range of treatments, including SMILE, the most advanced form of laser eye surgery available and the only clinic in Ireland to offer this, lens replacement procedures, cataract surgery and all other eye-related treatments/surgeries.
"Our key focus is looking after the eye health of all of our patients and it's great to see that the Irish FA is committed to investing in the wellbeing, and in particular the eye health, of its players, employees and the football community as a whole."
Stephen Bogle, Head of Sales and Marketing for the Irish FA, said: "We're thrilled to extend our partnership with Cathedral Eye Clinic for another three years and are delighted to welcome them as the official eye health partner to the Samuel Gelston's Whiskey Irish Cup.
"We look forward to working with the team in the coming years to improve awareness on the importance of eye health for players, officials, fans and staff alike."
Apart from striving to achieve 20/20 vision for its patients, Cathedral Eye Clinic continues to offer valuable contributions in the field, spearheading clinical research, innovation in clinical practice and presenting at some of the world's largest ophthalmic conferences and events.
Cathedral Eye Clinic offers potential future patients the chance to book directly on to a 20-minute complimentary video/telephone appointment with its team of experts.
On the call they will discuss each patient's visual requirements and start to detail out pathways (including timings and costs) towards optimising their vision and achieving a better quality of life.
Further information is available at cathedraleye.com.
Image: Cathedral Eye Clinic's Clinical Services Director Joyce Shaw, Clinical Director Professor Jonathan Moore, and Rachel Lyness, Business Liaison, announce Cathedral Eye Clinic's support for the Samuel Gelston's Whiskey Irish Cup.